I decided to buy some new ESR Meters (Equivalent Series Resistance) as my old one had died ages ago and I was getting into repairing a few old bits of kit that I have around here.
I have a number of Capacitance meters that do a very good job of reading the values of a Capacitor but these are not really all that good at checking capacitors when they are still soldered in place, and even if they are removed, even reading the values of the capacitors can be painfully slow, even my best meter which is the Fluke 8842A can take up to 10 seconds to read a capacitor, although 10 seconds does not seem that long it's way too long for me.
I also have some old meters that are very good at reading leakage especially when pushing the voltage above the rated voltage to see just how good they are, but these are for projects that you are happy top take time over and not for quick testing.
I decided to get three different ESR meters, and from three different sources:
The Cheap One – MK168 Transistor Tester (£22:00) from eBay
The Recommended One EVB ESR/Low Ohms Meter – (£45:80) Direct from Supplier EVB Meters
The Dearest One – Peak ESR70 (£70:50) from CPC/Farnell UK
All the meters that I have chosen not only are ESR meters, but they also will read the correct capacitance values as well.
Here is my finding on the following bits of kit…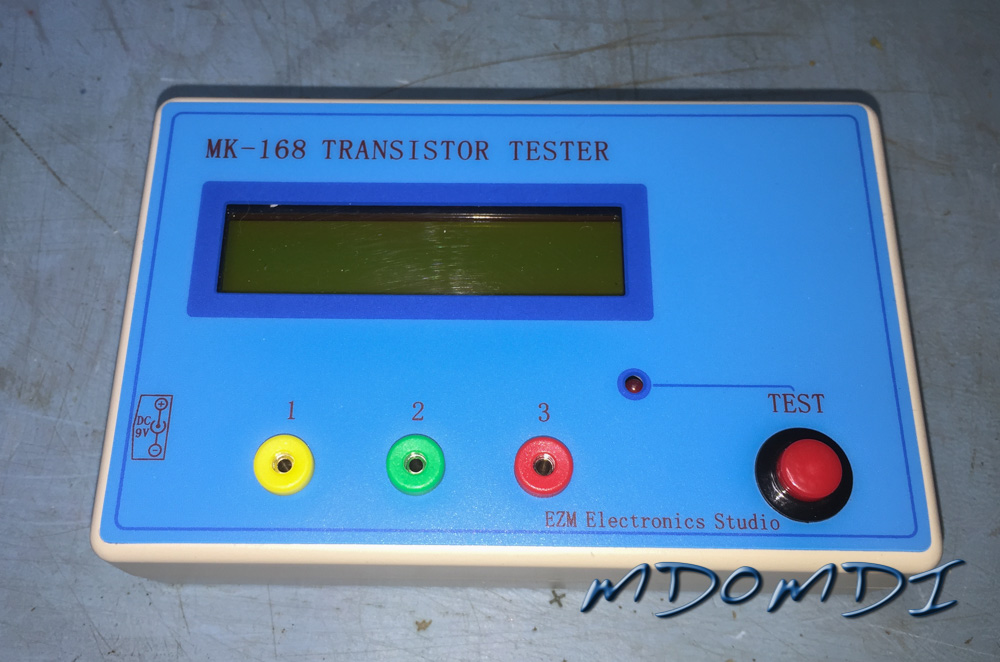 This little box measuring 123mm wide x 78mm height x 35mm deep (including buttons) looks as you would expect, cheap! but it is the only device that will in theory test Transistors as well as Capacitors, in fact the true label for this meter is "Transistor Tester Capacitor Inductance L/C/R NPN PNP Mosfet Resistor Meter" and although this is the cheapest meter out of the ones that I have ordered, it does seem to do the most!
There is no fancy box (at least with the one that I got sent there wasn't), mine was delivered in a self seal plastic component bag, it was quite well wrapped in bubble-wrap as well with each of the separate parts individually wrapped up.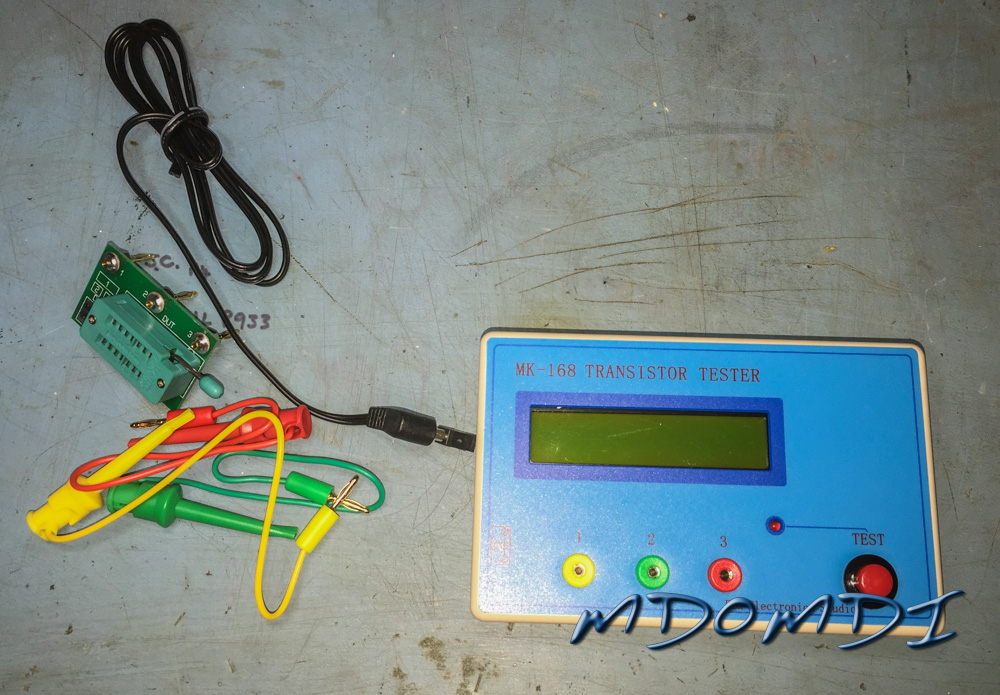 Working from the top of the above photo we have a power lead, it comes with a small DC plug already installed on one end and with the other end just cut off, it seems to be an adequate length at 78cm from the base of the DC plug, for some reason they have also supplied a spare PCB mountable socket, supposedly in case you damage the one inside the unit, I cannot see any other reason for this, but it's a nice touch and unexpected, even if it is unlikely to be used.
The next item is a PCB mounted zero insertion socket, this allows a couple of different ways to test the component in question, you can either hold the component against the soldered pads on the left hand side of the unit for a quick way of testing numerous components, and then for a totally hands free option you can use the zero insertion socket which is a nice, but simplistic touch.
The PCB itself is a very low quality double sided option and the 2mm pins that connect the board to the main unit are gold plated, but are the type that spin on a shaft which would mean that after some time they could become a problem as the coating between the inner and outer surfaces may degrade, personally I would have preferred to have seen some standard sized banana plugs here and maybe increasing the cost of the unit by a £ or two would have covered the cost of such an improvement, we will have to see how this goes in year or two down the line, maybe I will update the page after a bit of time has gone by to state if this has caused any issues further on.
The last accessory including is the three colour coded test leads, again certainly not the quality of a set of leads that you get with a Fluke or Agilent, but this you would not expect for the cost, they are cheap but more than suitable for doing the job, I have seen cheaper out there and again my only real gripe (such a very small one) are the 2mm pins again.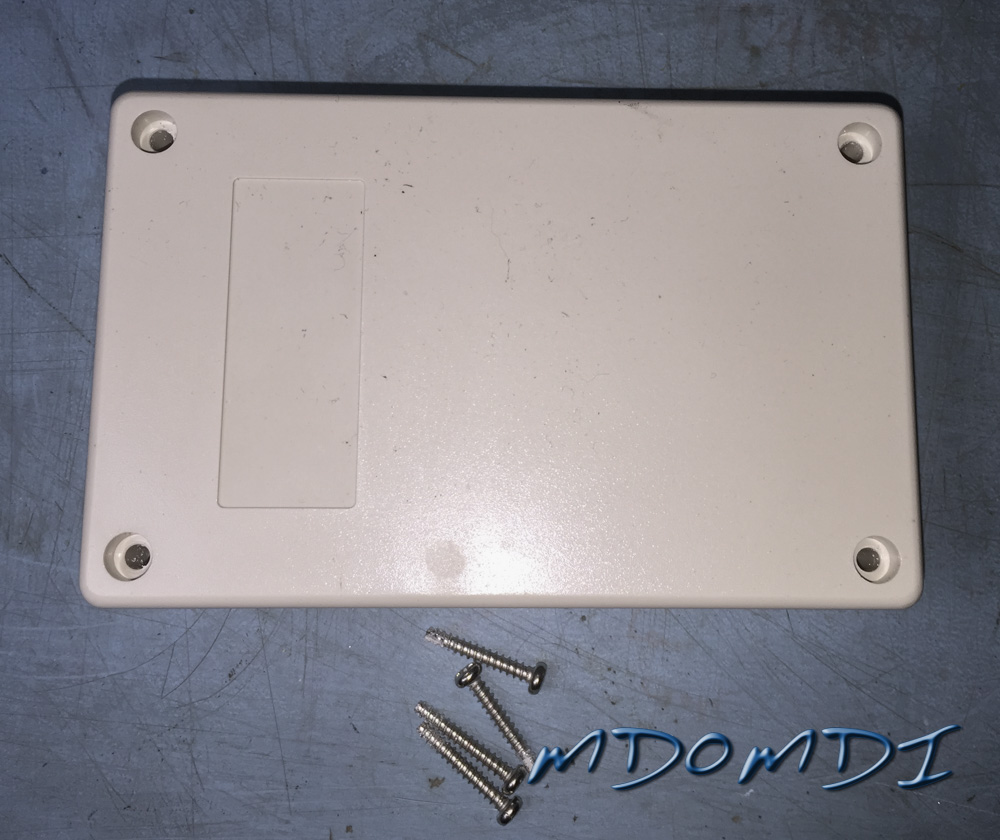 To take the unit apart you will need to remove the 4 self tapping screws. I really wish that these were bolts that went into threaded inserts, I can see that after time the thread will be reduced to nothing and they will no longer do there job meaning that either larger screws would be needed or the good old sticky tap! Again I know that the unit is cheap and I should not moan about small things like this, but as you need to get into the unit to install a battery from time to time I can see this being annoying latter on…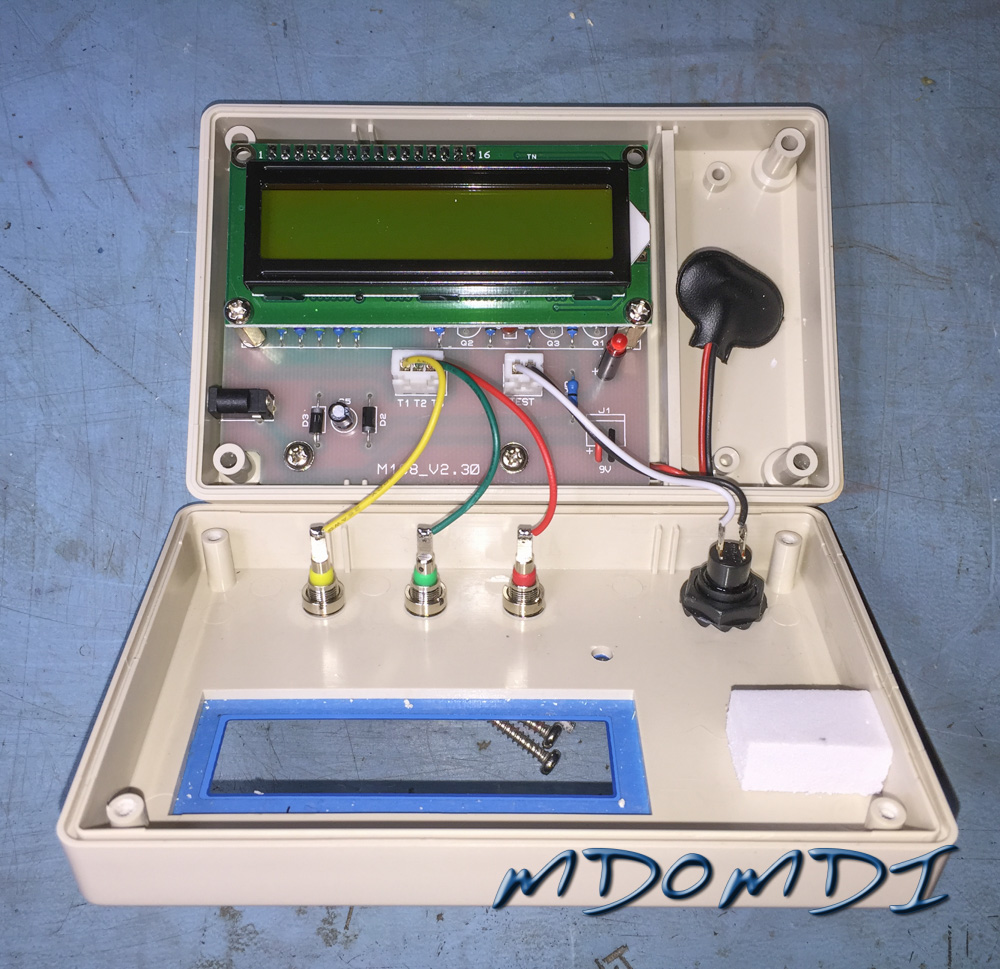 The layout is clean, and yes there are too many self tapping screws on show (again threaded inserts please!), but the guts of the unit are clean, well laid out and slightly better quality than expected, although I half expected to see a vero board here I am glad to see small touches of quality creeping in, for instance each of the leads for the test sockets are also colour coded and are not soldered straight into the PCB but are connected via good quality PCB mounted connections.
Once the unit is has been opened you are greeted by a rather pleasant site.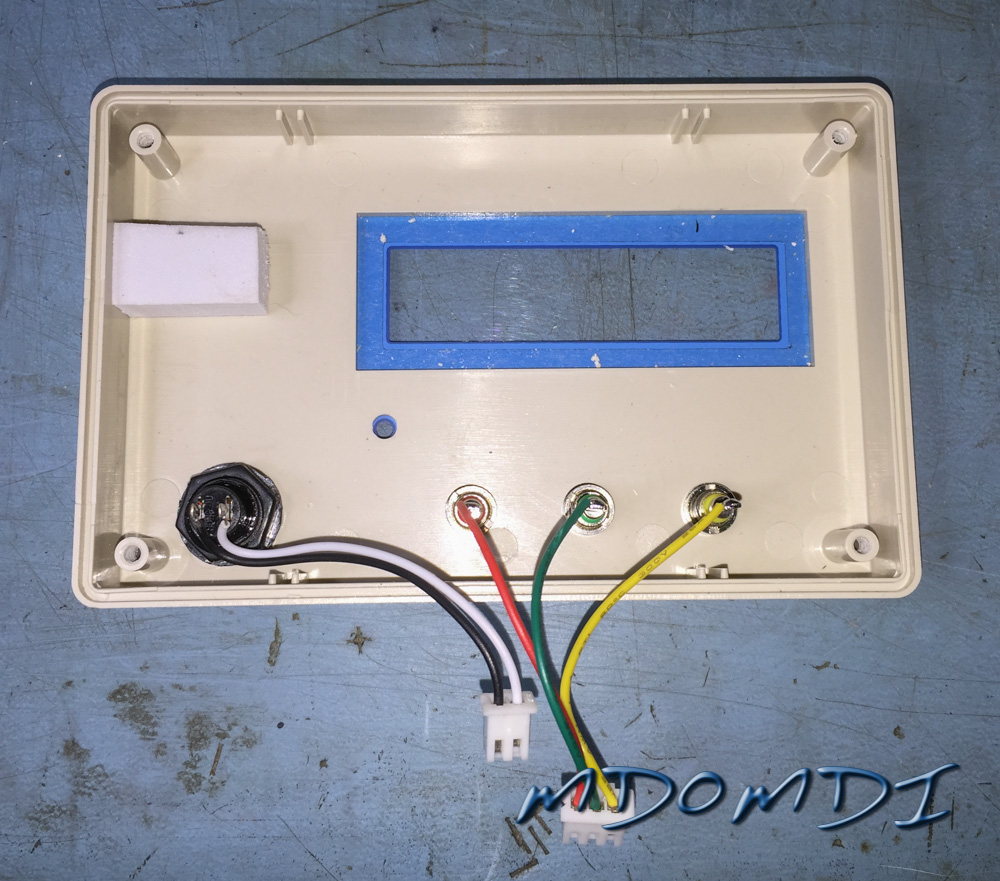 In fact the connection were so good that it took a good tug to separate the connections so that I could get the front panel out.
The plastic of the unit is not the normal (VERY) low end Chinese 'cop out', but it is not hard wearing, heavy duty plastic either, it does look like it will handle being thrown into draws and onto the workbench without too many problems, but I doubt that it would handle being dropped onto a hard floor, but hopefully those reading this look after there test equipment.
The white block on the left of the above photo is a small foam pad to help hold the battery in place, no frills here but it does the job.
As for the soldering itself, certainly in this version that I have here it is very good, no tell-tail blobs of excess solder and all of the wires are uniform length and none of the coatings are burnt due to excess heat or cut shorter than some of the others, kind of what we expect from any country producing electronic equipment, but in this case, this looks as though it came out of one of the better areas of China for mass production of cheap equipment.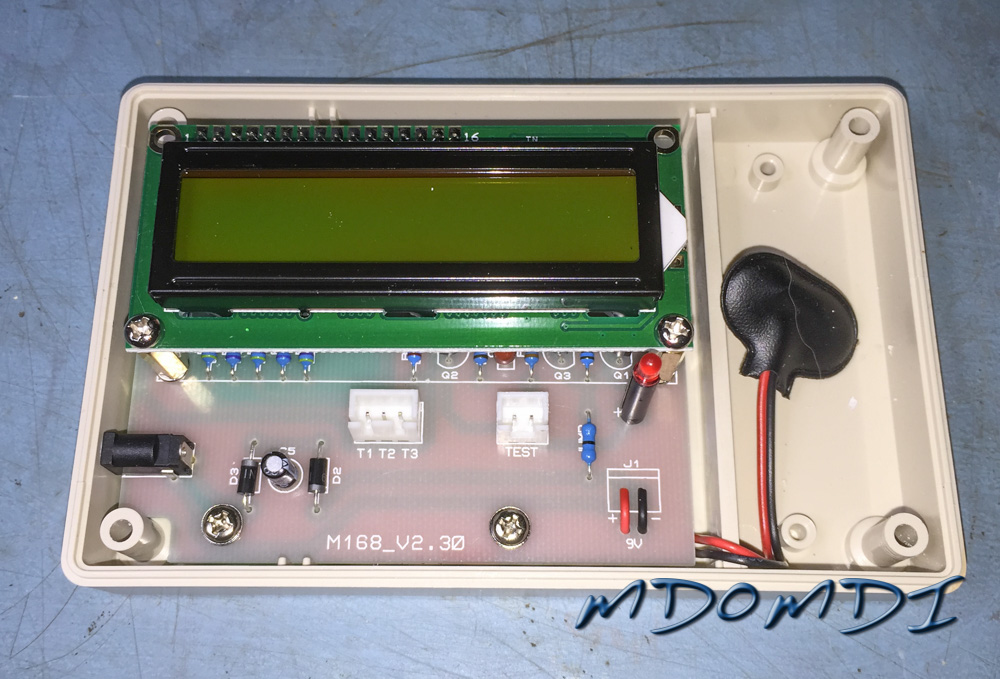 Back to the inside view now and we can start to talk about some of the features of the build quality that stand out. First off the 9v Battery connection.
This could have been a straight connection to the PCB, but in this case they brought it through the PCB and then back again to act as a strain relief, such a simple idea and it shows at least that the designer of this unit and then those assembling it did care about the finished article.
I personally am not too bothered that there is not a 9v Battery holder in the unit, they never seem to last too long and always get broken, and I think the lump of foam in the front cover is more than adequate to stop the annoying rattle and thud that you get from having a loose battery within a unit.
Another nice feature is the fact that a power socket has been fitted to the unit, so often people do not do this and you are just left with the battery to rely on, but in this case you do have the ability to plug this into a power source.
The display is a very standard display, it is the same used by Cumbria Designs in the Microcode CW Reader that I built a while back.
The board itself is a cheaply made board but again slightly better quality than I expected, it is neatly laid out and some thought was put into this, certainly not a rush job and I know I keep saying it but it's cheap, what do you expect,?
Overall the unit is VERY basic and cheap, but it is what was expected, what came as a very pleasant surprise is the build quality and its functionality, it does what it claims, its fairly fast at returning readings, and when running all the tests that I did, it certainly was near to the same results as the other two units, and not once did it contradict the other two units in any way, certainly worth considering if you are on a budget.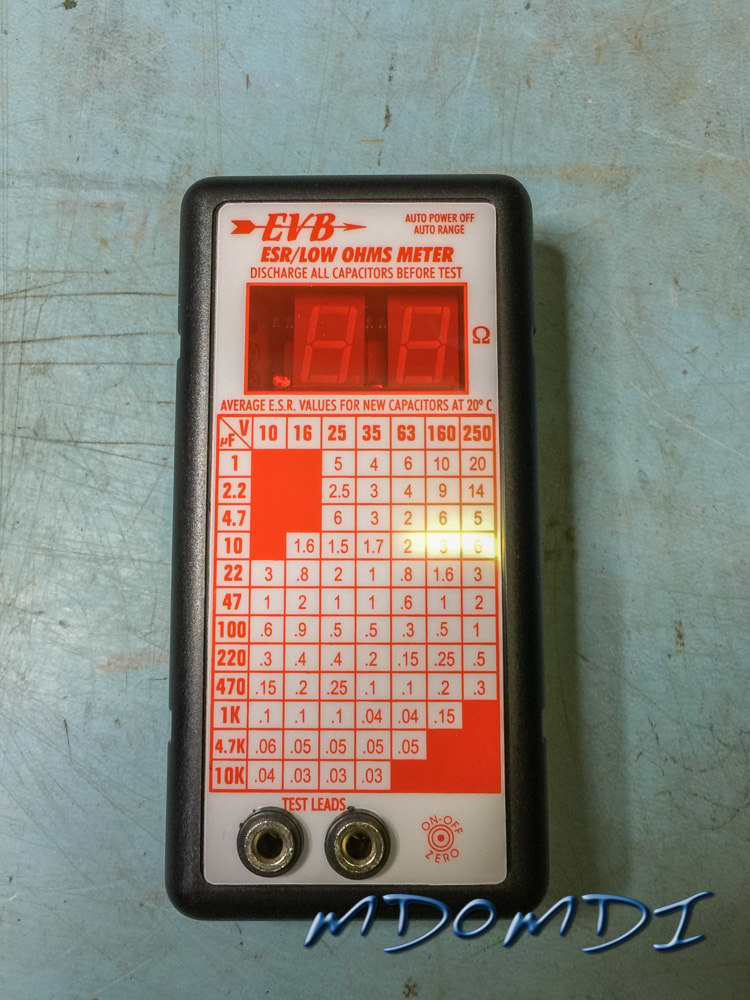 This unit seemed to be the most recommended unit I came across during my hunting the internet for possible option.
On first inspection it looks a bit of a let down to the cheaper model, no sexy LCD display that the other two units have and the case itself seems to be a very plastic and breakable affair.
On the plus size it is the only one that has a matrix for average expected values when you test a capacitor, the other two unit you have to find the manual and look through it to find this matrix.
The packaging was adequate, certainly no box, just a bubble-wrap bag and the odd bit of tape.

The biggest let down for this unit is the quality of the leads, talk about cheap! The leads with the previous unit are a better quality than these and these were quickly thrown in the bin as I have loads of test leads that will suffice anyway.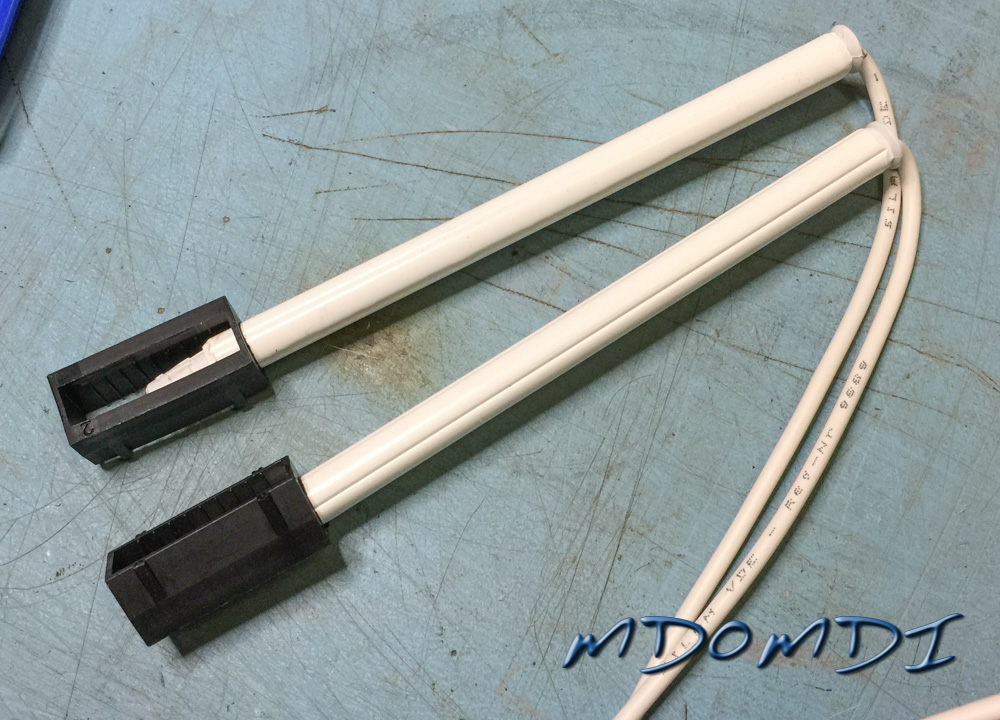 I did however use these leads for the initial tests of the unit and the readings were the same as with a good set of leads.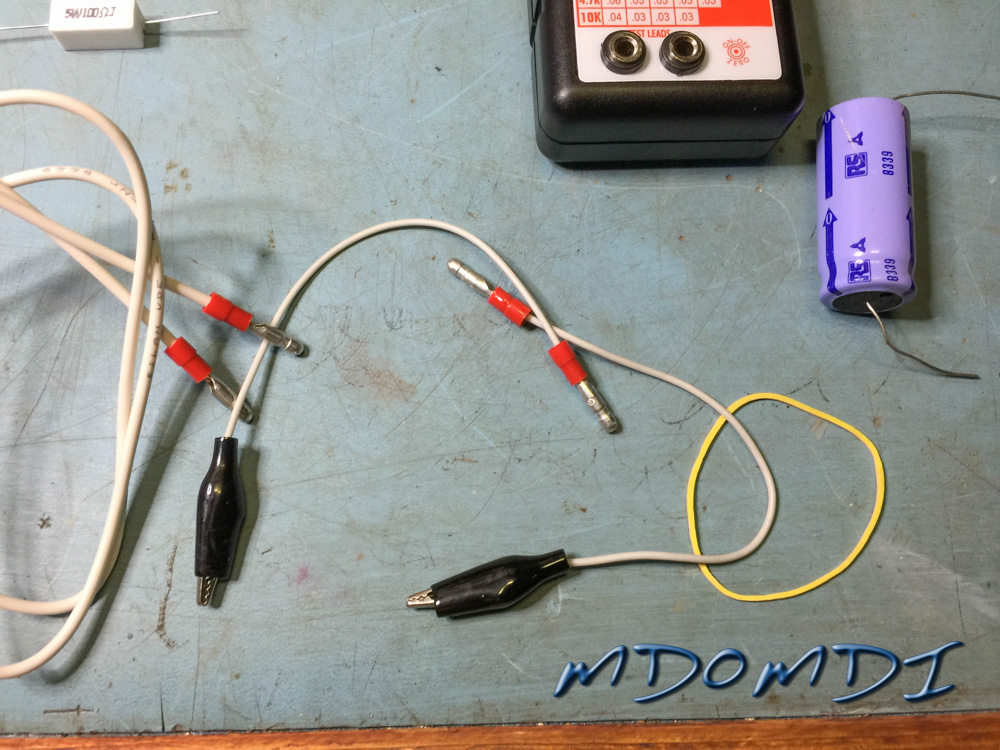 This was the only unit to come with a resistor to aid in discharging capacitors, but to be host, this is a bit of a gimmick, I certainly would have preferred a better set of leads.

Now to have a look inside. There are no screws here, the case is held together by plastic tags, I think screws would have been a nicer option, I can see these tags breaking and then having to resort to tape to hold the unit together in the future.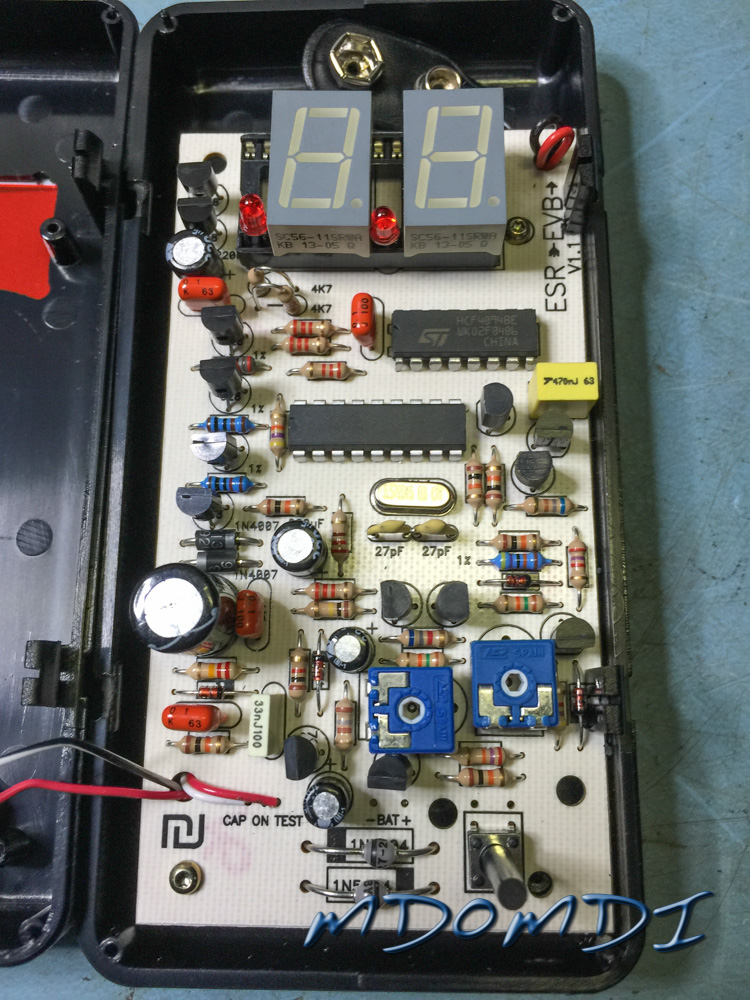 Inside the unit we find a fairly well laid out board, again signs of cheapness creeping in especially with the LED displays being socketed in a DIL socket.
Craftily one of the IC's in the middle of the board has been painted to stop anyone finding out what this IC is, that said it would be fairly easy to work this out.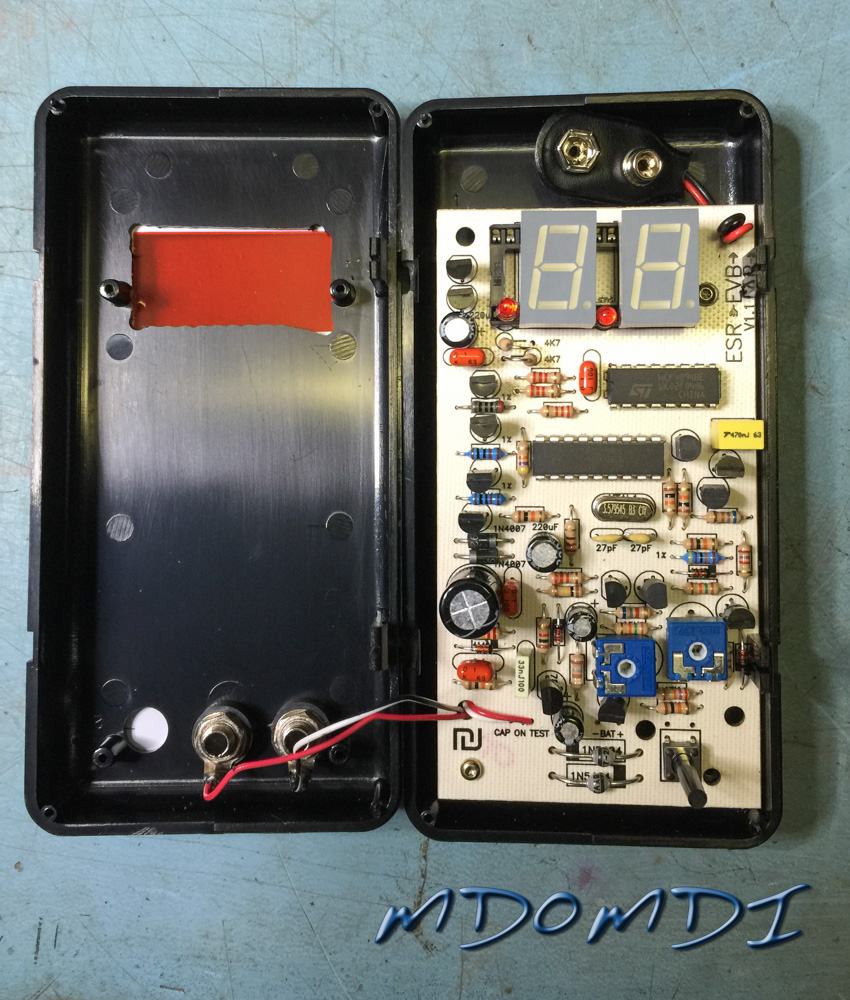 Even looking at the way that the hole has been cutout for the display lets the build quality of this unit down a little.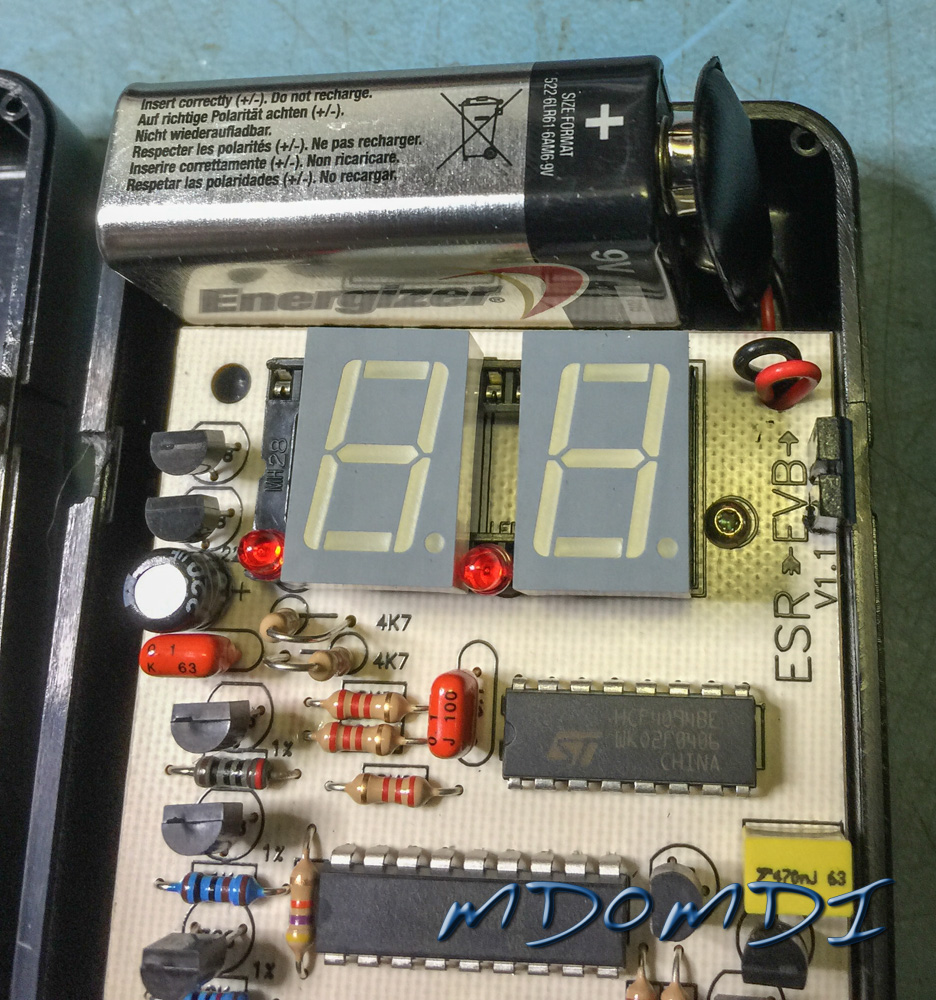 Fitting a battery is no hardship, and the battery fits into the space provided snugly, meaning that at least you are not left with that horrible rattle that you get with some very cheap handheld units.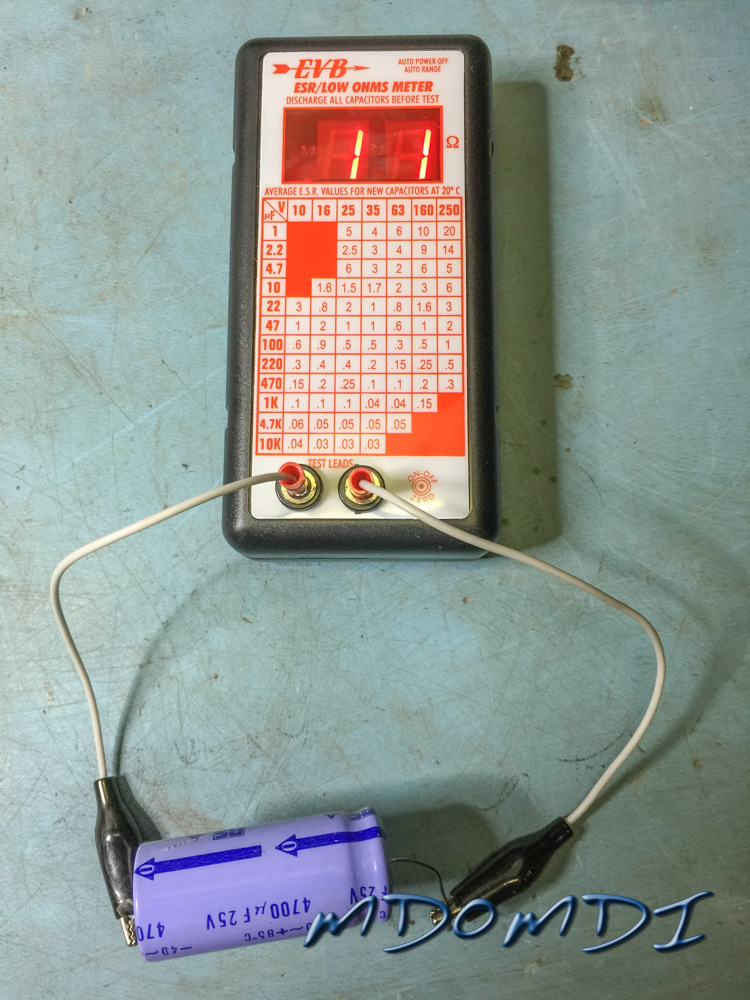 As for the actual operation of the unit, this is very painless, simply switch it on, attach a capacitor, and it then automatically tests it!
I do feel very bad about slagging off the build quality in places, but there are things about this unit that just cry out cheap! That said, it works, and the readings given are nearer to the Peak Meter than the first meter I tested.
Was it worth the money? Well Yes, even besides the quality of the leads… Would I recommend it, Yes. It does what it states on the tin, and because of its size and accuracy, I have used this in preference to the other units.
Speed wise this unit is just a tad the fastest at giving you a value, and its size being the mid sized out of the three units means that it is nice to handle and use. I should say that it this point I have used this one more than the other two units, I have changed the leads, I have never had to use the resistor!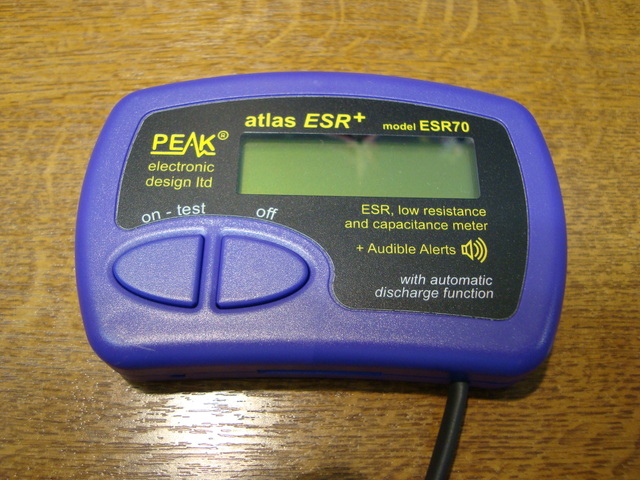 Peak Meters are all very good, and well they need to be as they cost normally double what the others do with regards to equivalent meters.
That said, paying less that £100 for a meter seems OK by me, especially if it works, and thats one good thing that you can say about all of their kit, they do what they are made for.
It arrived in a small box, nothing special, and no real packaging so to speak of, this may have been because the unit was ordered from a large supplier (CPC) and maybe this is an OEM package so to speak, not sure, but that said it was better packaged than the others.
The first thing that you notice with any of the Peak Meters is that they are small, and in VERY small, they fit in the palm of the hand quite well.
The leads supplied are the same style of connection as the first meter that I have looked at, but they are much better quality, and all gold plated and terminated really well.
By the way I am using images that I located off the internet here as I have not had the time to play with this meter much since I got it as I have been documenting the PICaSTAR build which is taking up way too much of my time
I will upload my own images soon when I have time.
To open the unit you have 3 screws on the back of the unit.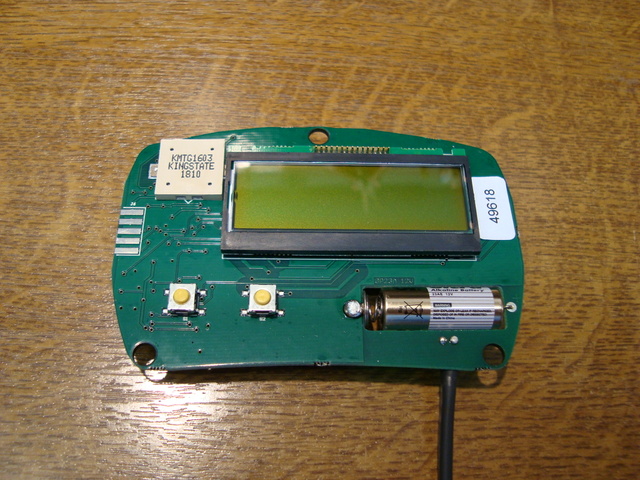 This is where the two other meters vary drastically, there is nothing inside this unit? well OK, a display and a couple of buttons.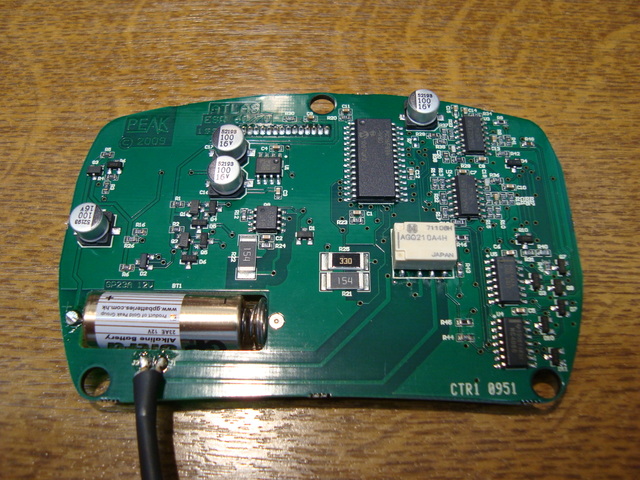 On the back of the unit though we can see its all surface mounted and very neatly done, certainly no home made boards here, and you would normally expect this with Peak Meters.
This meter was the dearest of the lot, and because it is by Peak, I have to assume that it is the most accurate and without having access to a capacitance standard I cannot test it. But testing this against the other meters all of them came very close or dead on with all the capacitors and types that I tested with this meter and the others.
It is very easy to use, and seems to be quite quick, though I did come across 2 times where it would not read a value and the other two meters did which was a little worrying.
My only gripe with the unit is the lack of a case supplied, for its cost I dont use it that much, I leave it on the workbench as I don't really want to throw it into a draw of other test equipment without a suitable bag, something I will have to order soon.