TONO THETA 5000E Sender-Decoder - Rear Panel
This section will introduce you into the rear apron connections on the unit.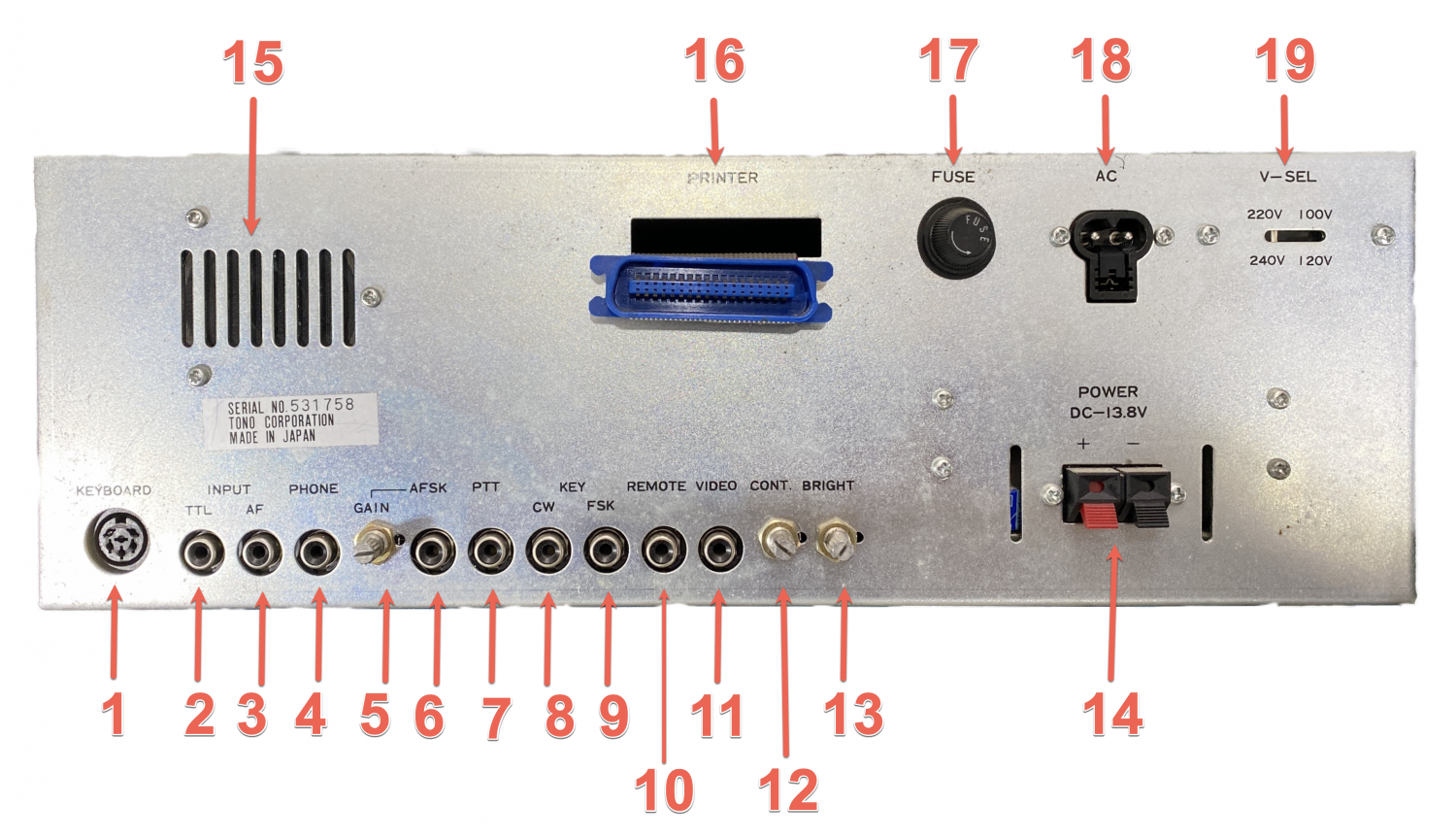 This is an input accepting TTL levels for connection of an external terminal unit or key driving the input of the Theta-5000E.  Its use is selected from the front panel.
This is an audio input from a Transceiver, Tape Recorder, etc.
To defeat internal speaker and use external speaker or headphones.
Adjusts the output level of the AFSK jack.
This is an audio output from the AFSK generator and may be used to feed a Transceiver, or Tape Recorder.
This jack controls the PTT (Push-to-talk) line of the transceiver if desired. It switches on when the unit is in the transmit mode.
This is a keying output for use with accessory equipment.
Provides a composite video signal for an external CRT (75 ohms) .
Controls contrast of the display on the built-in CRT.
Controls brightness of the display on the built-in CRT.
for a 13.8V DC (13.5 16V DC) power source. (The AC cord should be disconnected when the DC source is connected to the unit.
built-in speaker to monitor audio signals.
Slot provided in cabinet for exit of a flat ribbon cable. Printer connector port is inside the cabinet.
replace with the correct size fuse only:
100V/120V AC 1A fuse holder on rear panel
220V/240V AC 0. 5A
13.8V DC 3A
fuse holder on power source board.
accepts AC cord for power supply. When the AC cord is plugged in, the unit will not accept power.
Last Updated : 26th July 2023