Back on the Island at Last
Lost so much time, things seem Okay and then you wake up to find yourself in hospital again.
So much seems to have been going on, and although I find my self stuck to a need, I do feel alright except for what's happening in my mouth.
Everything seems to be on battle followed by another, you seem to get Okay then you are shifted on or need to move, I have never liked hospitals, certainly not alone there, and now with Covid restrictions at its higher limit, now being in hospital means you won't have any visitors at all, 
I have lost so much weight during this fight, I don't recognise my legs at all, I use to run up and down scaffolding or tall masts, now I need a had trying to get onto the pavement, and god knows when I will walk again, it certainly is going to be years before the new normal appears, but it's going to depend on what tastebuds I'm left with, and recovery is going to be a very long time, I cannot see me working for a few years at this rate,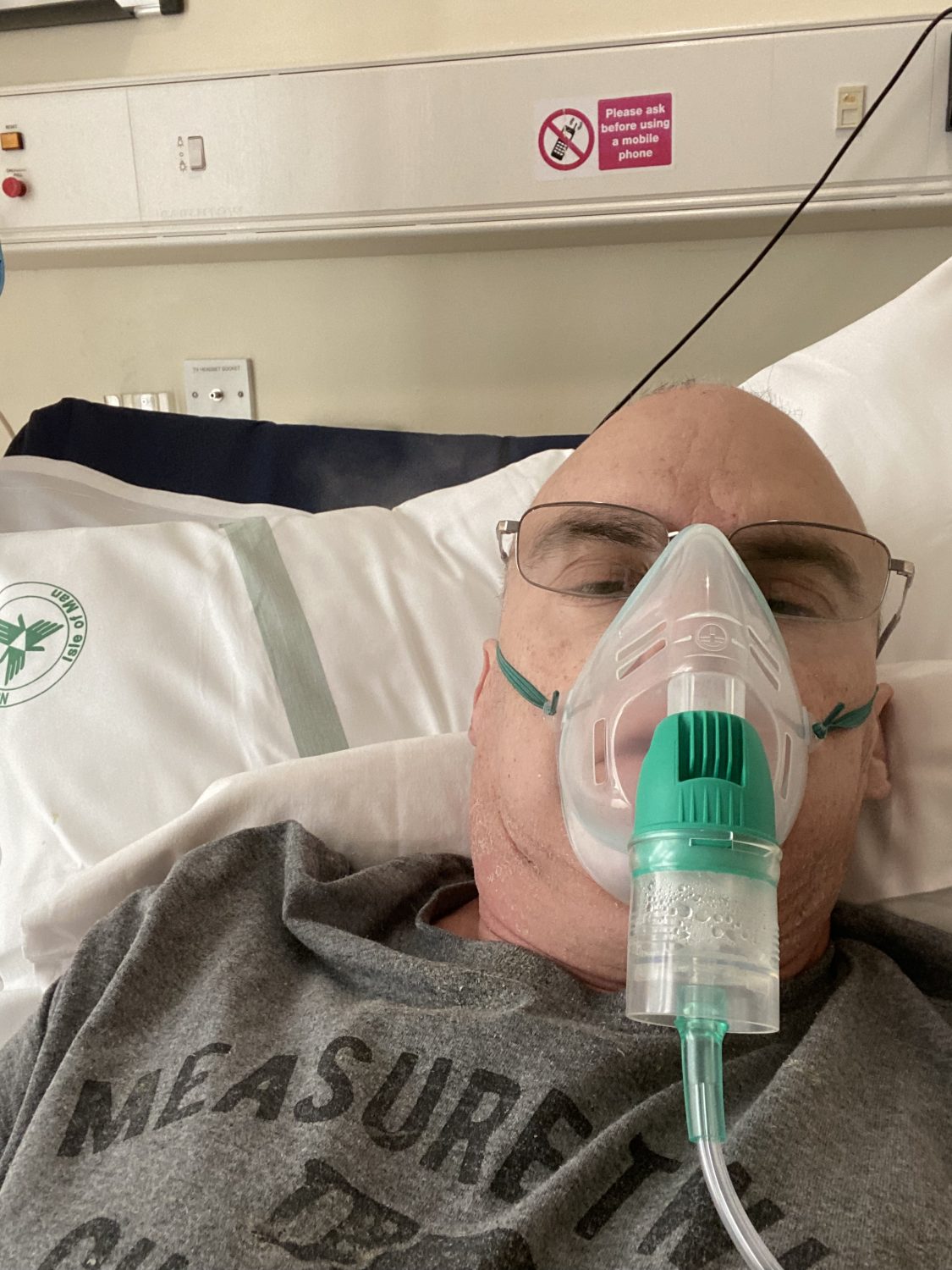 Since leaving clatterbridge the damage caused externally has at least started to clear up and even nearly look normal, inside is a totally different ball game, the pain is constantly 7-9 all the time at the back of the throat to about 5-6" down the throat, the solid slime is the problem, it it either making you sick, whilst it loves hanging out of your mouth when you have been trying to throw it up, then takes wraps of toilet paper to hold it, or when left it is solid with the consistency of treacle or tar, this is the main problem, my tongue is coated in the stuff, layers over layers, hardened and really painful to pick off. Canton even hope to taste anything through this, but after a whole day picking, pealing, and being sick, you start to taste things again, it's subtle but it gives hope
Sadly we loose another SAWLE
You always know something has gone wrong when family get in touch and it's always at a bad time, as with my mum, this Cancer  had just stuck it's nose in, this time with the last proper'male', Francis. And with what seems to be a curse to me, I am trying to recover, not fit enough to travel 5 ft let alone 500ft with, this Cancer is in the way.
He was fighting Parkinson's and seems to have had a stroke which was sadly just too hard for even his strength to fight on through and passed away in his sleep, thankfully in a way the best way for a great man to begin his next big series of adventures 
He bought me my first motorcycle, and once I passed my test he managed to get hold of an old BMW 75-5 ex Police Motorcycle, sadly I sold it ages ago when times were hard, and since moved to the Island I have been trying to find an old BMW Boxer as I missed it but so hard to find nowadays, now though I am more determined, it will be a way to remember him properly.
What is it with me and family funerals?
When my Dad died I was 11 years old and held back maybe being thought of as too you, this has been my biggest regret till this day, and still to this day I have only seen photos', usually small bunches of flowers over a family plot. 

I have just been looking back through time and I have missed everyone, Uncle Ron who's old lorry cabs we would sit in when we can down, I loved their garden, it was like entering a magic garden before you got to the house, Living next door to them was Uncle Douglas and Auntie Pat, I really use to love St. Mawes.
It always seemed a friendly place and that maybe I am being punished  for not playing by the rules but I've spent a lot of time I'll, and presently practically bloody worse off than what's killing me, well maybe I will return there on day, but may just have to take a trip on a motorbike instead on-day we'll overdue