So I have now been in Liverpool for a week, and really hate every minute of it, it's costing me more than I can afford, things are not just great. It seemed to start off alright, they are on the ball here, you get taxi's to and from the appointments, that normally arrive way ahead of time, but all are pleasant and very helpful, at least they know when my appoints are, because my brain is now mush. Even at the very plush new Clatterbridge Cancer Care, every is organised properly, which is very reassuring especially when I can't remember what is going on.
My first Chemo was on Monday and it's now Friday and I am suffering lots now, vertical is a challenge, it's hard to say what's up, but I'm feeling shit, not exactly sick but really not at all well, they do a lot more tests here than you get at Nobles, and my bloods are very messed up, with a very low white cell count that they seem to worry about.
I have been able to keep my mind occupied with some work on the Internet, when at least it works here, if you have to stay at StayCity in Duke Street you will find that the Internet is basically pathetic, in the end I had to buy EE eSim's but this is also pretty shit, I can honestly say that 4G in the Isle of Man is actually better than it is here, and it's pretty crap on the Island, so just don't expect wickedly fast Kevin Bacon advertised Fibre Broadband, more like 4800 baud dialup modem from the 90's. So even trying to keep occupied is not that easy.
The apartment that you have to stay in are rather pleasant, although a strange layout, again the ones in the other StayCity in Liverpool have a much better layout, I have had to buy a desk and borrow a coffee table from maintenance to give me somewhere to operate from, as I said they layout is not ideal, one large double with on-suite, and a small single with a separate toilet, no real area to set a computer up, and the TV's they have here are really shit, cannot work out how to get the TV guide up, all free view channels but no way as easy to use as a good old Samsung TV, the washer dryer does not dry, and is the smallest washing mashing I have ever seen, meaning that it is constantly on, the staff here though are very helpful, and the only fun time is Friday evenings when these places fill up with hen parties, etc, hopefully will not be too loud.
I managed to have one good meal here at the local steak house that was truly outstanding, I would have loved a glass of red with it, but that's the problem when your the only person who likes red wine.
Being very much wheelchair bound means a few challenges, we popped to the local 3 floor Tesco supermarket for food on the first day that we were here, but that turned into a really big disappointment, I can honestly say that our small Tesco on the Isle of Man is so much better than the Tesco's in Liverpool. Still needing food, and desperately trying to locate some long missed 'Irish Cheddar', the Taxi driver said that there is a big sainsbury's local to us and gave us the address to lookup, so next day we went for it, a few wrong turns, thanks to the Apple Mapping (even though it was set to walking), it ended up being a 4 mile walk, over some of the worst 'anti-wheelchair' Pavements and Kerbs I've ever seen.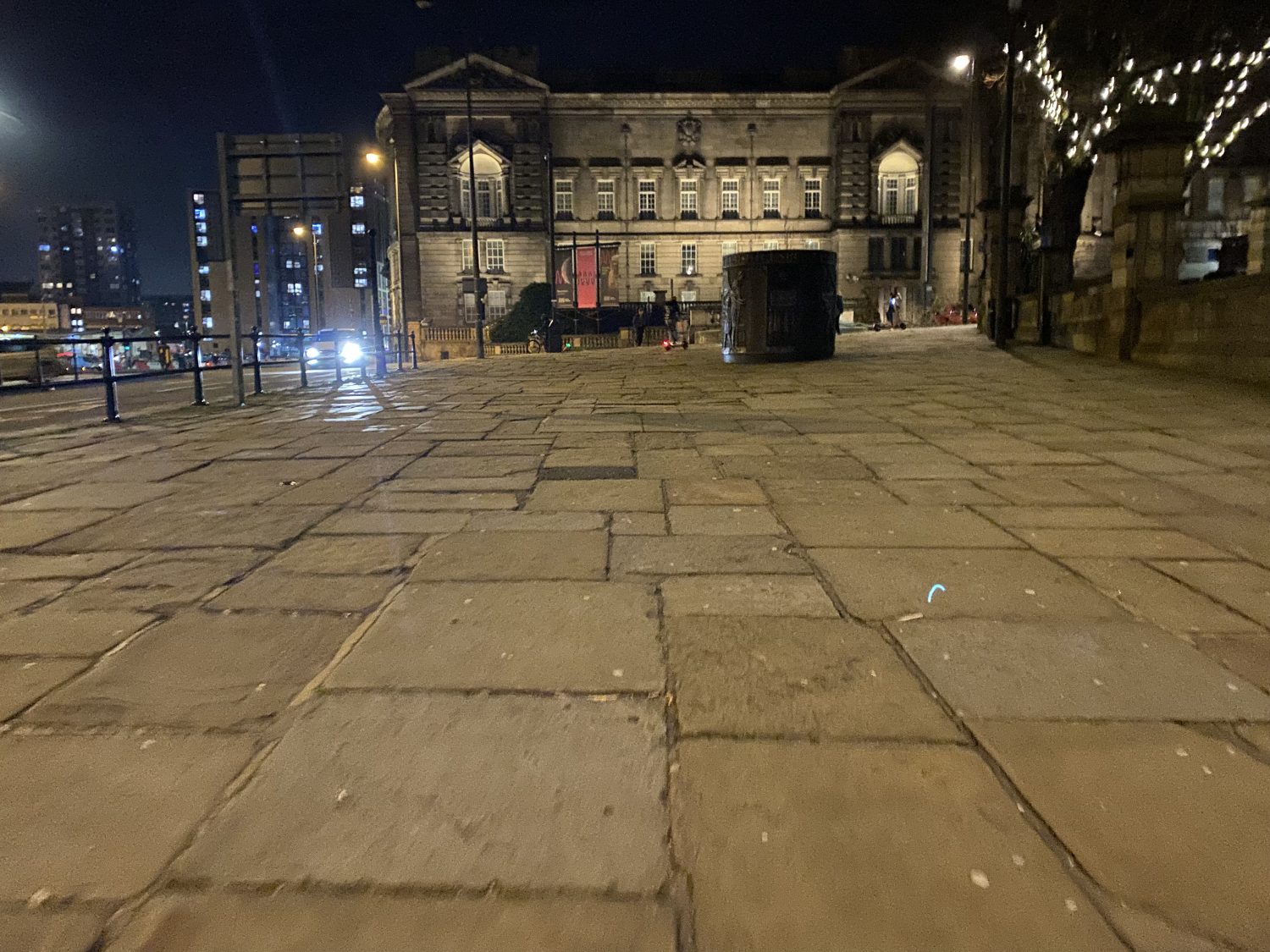 It was like I said a very long and cold trip, but kind of well worth the trip, the shop is big and has everything I wanted, no cheese though, so still after that, but it's been 20 years now since my favourite cheese, you would have thought that living on an island in the middle of the Irish Sea would mean that Irish Cheddar would be an easy find, but sadly no. We deciddd to get a Taxi back, no way can you fit about 10 bags of shopping on a wheelchair, this cost £20, so for future reference a good food shop is going to be £40 out of pocket before you buy the food, I did say at the start that this place is costing me a fortune.
The first few days have kind of been alright, except for the worrying about those at home, poor Douglas is not in a good way at the moment, and he is very much on my mind, one of the few friends I gave left, I should be there to st least help if ever called, then there is Bob as well, he does not have it too easy at the moment, but the last time I sore him he seemed alright, and then there is home, not been this long away from and missing home and all within, especially the cats.
It;s nice being here for a change, but cannot believe just how much things cost, it's not cheap, money reserves are below zero, stuff has been sold to cover things, would not mind much but I've sold stuff that cost too much and now cannot be replaced, it's alright for those that can afford to go on holidays, etc, but when you don't work because you cannot, you aren't entitles to sign on for support, and basically have not earns a single penny in well over 20 years now, things get more than tight, now I've had to sell a few things that I will never replace, or get back, life is definitely a shit, I don't have a lot really, everything I get I seem to have to get rid of to just survive, and now I have this literally around my neck and I am worried, I mean what's the point sometimes, why go through this if I have nothing to enjoy when out of the woods and hopefully feeling better, I have plans but they always seem to get crushed along the way, why do some people have all the luck and get to keep things they hold close to them, whilst others like me, just seem to part with stuff that they would rather not, I seem to loose more than most, I really hated parting with my old Triumph this year, and soon after that went a very expensive Canon Lens, along with a lot of Amateur Radio gear. I can only hope that things will get better, but I am kind of feeling very low about it all, it's not fun having Cancer, but it's even worse when you don't have much to look forward to, yes I am feeling sorry for myself, but a lot more people have a much easier time of this than I do….