Yaesu FT-980 Restoration Project - Part 1
Possibly Manufactured in April, 1983 which would make this a very early radio in the Yaesu FT-980 line-up as they started making this radio in Jan 1983. This is assuming that the Serial Number is starting '3D' as it looks more to me like '30, but after seeking knowledge from the font of knowledge, i.e. the Fox Tango Website, the serial number should be start with a 'Letter' followed by a 'Number', but this one certainly looks like two numbers…

This is a sorry looking radio, it has had a very hard life indeed, it looks a mess, the Handle is missing, and someone has over it's life, lost the original screws and replaced them with whatever they could get their hands on, the case is scratched it bits and even the front panel has had the odd knocking about.
So certainly not 'Mint', but it does light up! I was given the unit to check over and before I could stop them the person who passed me the radio (who is not an amateur) plugged it in and switched it on without an antenna connected and started pressing buttons here and there without a care or any understand of the consequences, but that said, at least I know that it did light up about a month ago.
So, we have a very untidy HF Transceiver that was in it's year of manufacturer one of the top radios of its type at the time, but it was a strange time as around then Yaesu were still selling the FT-902DM at nearly the same cost of the FT-980, and they also had the 'VERY' popular and fantastic radio (Very much on my 'Wish List'), the Yaesu FT-102.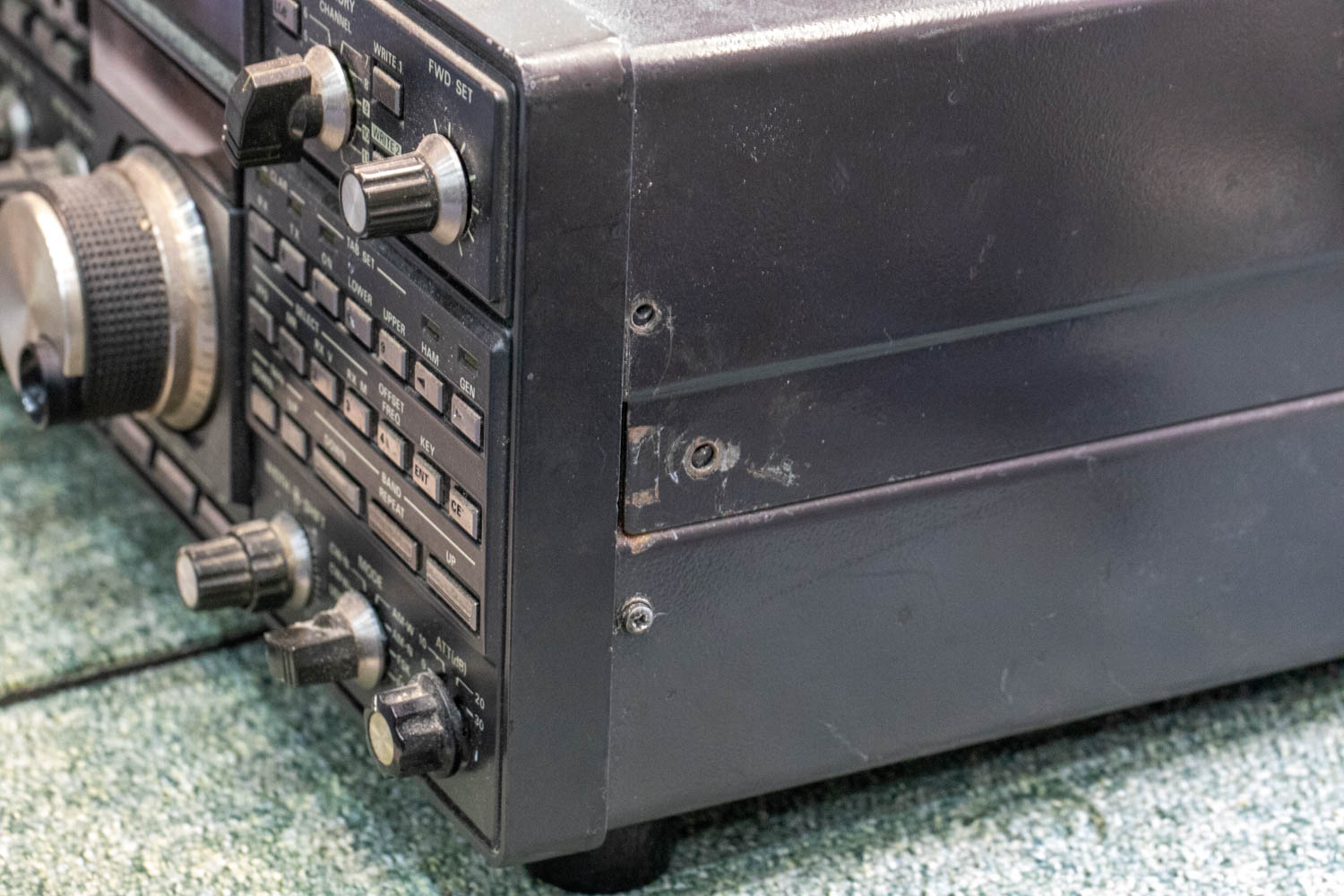 I found 5 different types of screws located in just the top case, and there were a few missing totally, so not really off to a good start.
And of the screws that are left in the unit, every single one of them is showing signs of being handled by a gorilla or similar intellect.
With the cover removed and put to the side we find two yellow wires with crimp connectors on each end of the wires attaching them to a rather industrial looking speaker fastened to the inside of the top case, kind of reminded me of those cheap old CB radios that we once played with back in the 80's, and not what I would expect from something claiming to be from Yaesu with a price tag of nearly £1000 in them days.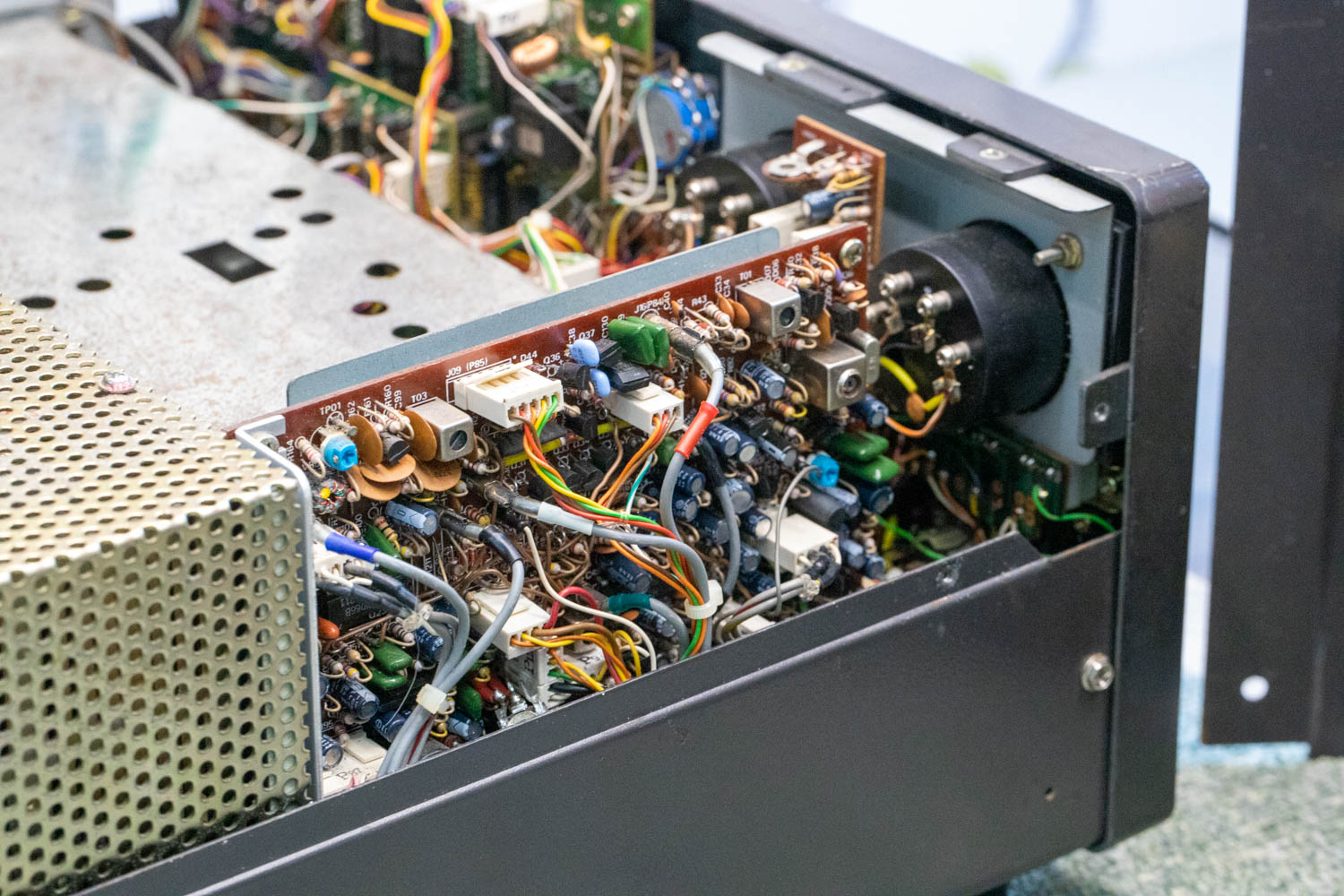 The inside was a bit of a disappoint to me really, excluding the signs of age from the cheap polished metal shielding that was everywhere in those days and now showing its age with rust spots appearing all over it, it was the cheapness that was a little of a disappointment to me, I was hoping for a little bit of the quality that you found in the late FT-101ZD Mark III's or the FT-902DM, There is a kind of solid looking quality with those units but this is far from it, there is very little neat and tidy cable management, in fact I would go so far as to say that I have seen CB Radios that were neater inside than this unit, which is a shock for its time, This was the radio that everyone that wanted an FT-ONE and couldn't afford it at the time, kind of went for this instead, I think spending nearly £1000 on this radio and then opening it up, even back then, I think I would have been annoyed with what I sore, maybe it's just me, but I would have expected more.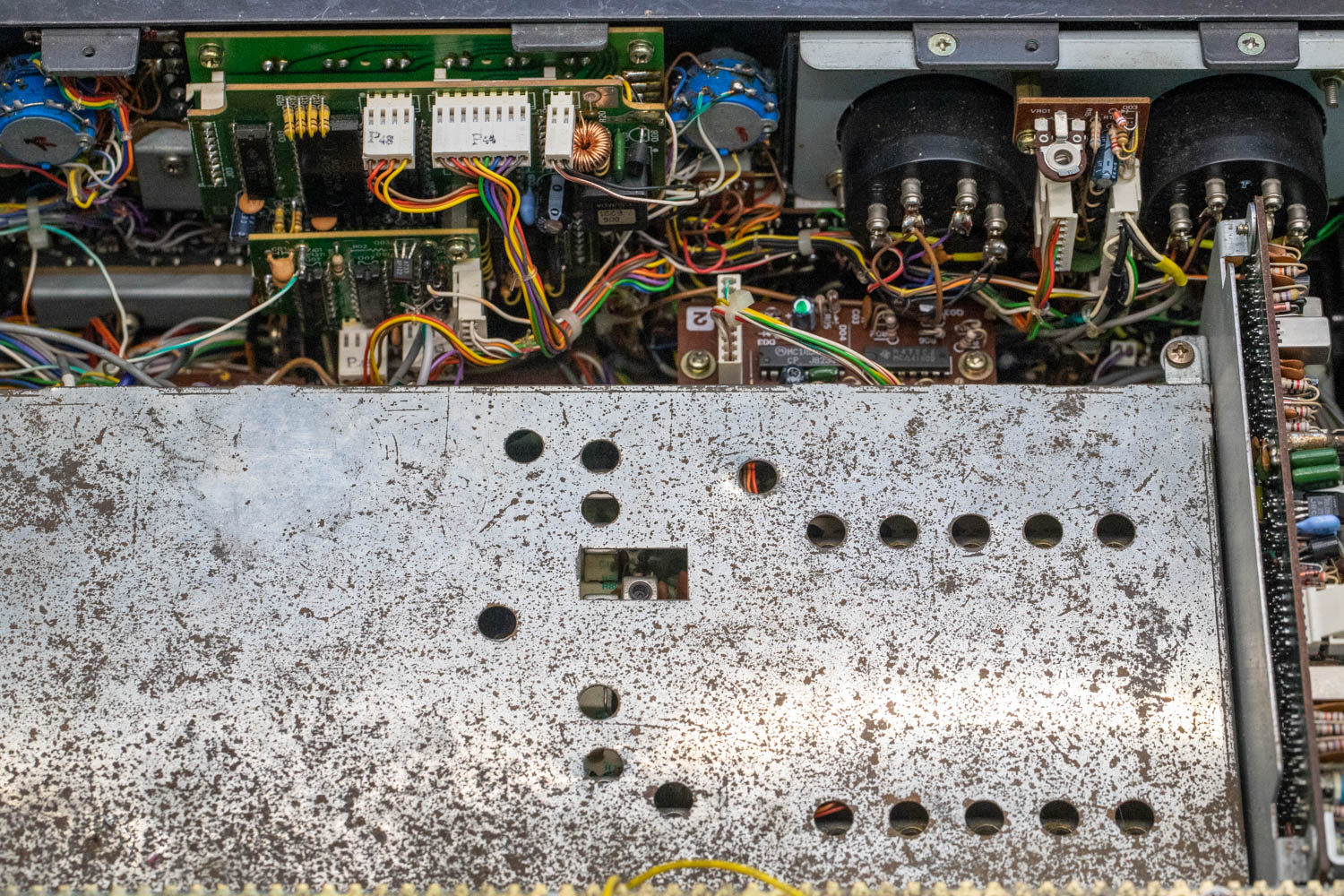 It's Getting Messy - In That Bodgy Sort of Way...
I was expecting a few Bodges, And I think there are a couple that I have found, some may be for a reason, but I cannot tell what that may be at this stage, still not applying a meter to the set yet and certainly not really up to doing much more than just having a look around to see what may or may not need doing.
One thing I have discovered is that the wire used in these old radios is a little worrying, when you touch it, it feels very much like the wire that crumbles to the touch or at least splits to allow wires to touch, certainly not a nice feeling anyway.
You certainly expect a level of quality with Yaesu kit and this does not look like something that Yaesu would have done, not investigated much about this yet but certainly will do.
The capacitor is the same make as the ones fitted inside the radio but the implementation of this one is a little less Yaesu, this may not to be a customer's bodge, but a Yaesu one, that said I don't think I can forgive it and I may have to attack this one soon.
I know that the 'Red' and 'Black' leads here are for the Battery Backup, but the small bodge to elongate them could have been done a little neater, I will replace this with possibly a small Molex connector similar to the ones all over this unit so that it will match in better and also look as though it was a factory fitting.
Scroll down to see what downloads are available for the FT-980 and also a running total of what I spend on this restoration, and of course a list of people that have helped along the way.
There will be a long break here as I really am not well at the moment, but once I can handle working on this kit I will get back to it and post updates.
For some really useful info and help, check out the Forum via the link below:

517.34 KB 0 downloads

1.61 MB 2 downloads
Replacement Knob for the FT-980 purchased off eBay.
Kerry Rochester  (G8VR)
Kerry has been a great help supplying a load of photos of his much cleaner model so that I can try and see what has been bodged in this one, he also pointed me in the right direction with regards to a set of Knobs for this model. Cheers mate, forever in debt to you.