HP 8640B Signal Generator Restoration Part 1
I was asked by a friend to have a look at an old HP 8640B Signal Generator for him, he did have in mind that he wanted to sell the unit, but this was soon long forgotten after we switched the unit on and found that whatever you try, the frequency on the display does not change and it also looks as though we cannot get anything out of the unit at all.
It is still very early days, and I am not even going to investigate the unit before I check over the outside condition.
So, what do we know about this unit?
It has not been used since at least around 2015 and although I have loads of photographs from the person that this belonged to, none show this unit on or at least in use in any way, so therefore I cannot assume that it worked correctly back then and may have come with faults back then.
It's a bit on the messy side, I would even say that this one has had a hard life just looking at the general wear and tear of the external panels and switches, etc, Knobs on the front panel are not default! Two of the control knobs are not the correct colour for the unit and the centre is missing from another, this is not uncommon, but I will want to sort out these little issues so that it will become more interesting to others with regards to selling the unit on once restored. The general look of the unit is tired, obviously lack of use has left the unit covered in dust and looking very neglected, and before I even start to look at the unit it will require a good clean to see what underneath is.
Wrong Screws! Well, I am not actually sure about this, but they just look wrong, I am on about the four screws in the top cover. I will need to do a bit of investigation as to if these are correct or not.
The unit would have been second hand to the company that used to own this unit, it has made it's way to me via at least two individuals, and although 1 of these was very capable of using and operating the unit correctly, I am not sure that the second person had a good grounding in electronics, also then you cannot be sure of other muppets that may have used this unit throughout it's obvious hard life, so we have to assume that it's been used by muppets all the way and miss-treated for most of its life.
All of that is obviously guess work from looking at the unit and making very big assumptions.
This is the same for all 'Restorations' Projects really, they are all stabs in the dark and all the time you are just waiting to come across, yet another bodges or fix that will have to be sorted out properly before you can proceed.
The lack of 'Frequency' control is hopefully nothing more than broken cogs, these units have a bad reputation with regards to the quality of the plastic cogs that were used inside these, So I am expecting there to be a real mess when it comes to the cogs or at least I am secretly hoping that this will be the case as this is a simple fix, well once you have found someone that can either make them for you or you are able to obtain replacement parts from someone, thankfully there is a great HP user group on groups.io that will hopefully put me in touch with wiser and more useful individuals that me.
Groups.io HP/Agilent/Keysight Equipment Pages
Click the link below to visit the groups.io forum for HP, Agilent and Keysight equipment, a very helpful society and a must for anyone seeking information opn Test Equipment made by these manufacturers.
The unit itself is in need of a good clean, it looks as though it has had a hard life and not one of a nice Test Lab, kept all warm and cosy for it's entire life, nope, this ones been in the field, the poor unit is covered in dust, scratched up all over and the odd dent to show it's age, It does at least light up, but sadly this is all we have as far as luck.
There are obvious signs of wear and tear in the forms of a dent in the rear filter mesh, and the odd scratches on all of the covers certainly shows a life of being stacked upon other equipment and not kept neatly in a lab environment, and then there are the obvious signs of bodge workmanship, the top panel has the wrong sizes screws, meaning that someone has been playing…
And sure enough on removing them someone has done the unforgivable and used Self Tapping screws in place of machine screws, this possibly means that the threads are ruined in the chassis, but I will have a go at applying a Tap to the unit and see if it is recoverable, the only option here if they are ruined is to drop in a spot of Aluminium via a tig welder and then re-drill and tap new threads which I will have to do if it is the only option.
I really hate people that are too lazy to do things properly, and feel that this sort of bodge is good practice, they would have had to wait a day or two to pick up the right screws from somewhere, or even find the ones that they removed and lost in the first place, sorry but it just annoys me and screams out that this unit has been played with by someone who does not care about their workmanship.
A lot of the remaining scuffs and scratches can be excused, the unit is old by todays standards, but this is HP, and although not truly digital and modern, it is still a VEERY good piece of kit and if it is performing as it should, it would still give modern units a run for their money.
This said, we have a long way to go, at the moment, it is basically only worth scrap, but with the amount of gold that is inside of these old units, scrap price may be pretty good.
Before I look inside the unit, the definite one for the list of things to do is the 'Wrong Knob's', not totally accurate, but they are possibly off a later model of this Signal Generator, and almost certainly off some kind of HP equipment, 'Peak Deviation' and 'Frequency Range' knobs look totally out of lace, I have only ever seen these with 'Cream' coloured knobs ad not these 'black' ones. I think I will have to check out a few photos on the web and maybe eBay in the hope of getting the correct knobs, or at least ones that look correct, maybe these are the right knobs from the factory, but even if this is correct, I need to change these, they either all should be 'Black' or all should be 'Creme'..
Another small problem (well for me anyway), is that the 'Output Level' knob has lost it's canter cover, something that will have to be rectified as it annoys me lots!
Anyway, enough about the outside, let's see what the inside holds for suprises…
A True Sign of Quality...
You don't see a lot of this nowadays in the new world order of a 'Throw-away society', These units were designed and made with the mind set of Restoration and Repair, absolutely everything is labelled and even on the top and bottom panels are lovely drawings that help you to identify each unit within the chassis, and at least working on these is a lot easier than other equipment, like that which I have also started looking at this week, i.e. the Quartzlock Model 282 Radiotelephone Test Set, Similar quality but a total lack of serviceability as you will see if you check it out.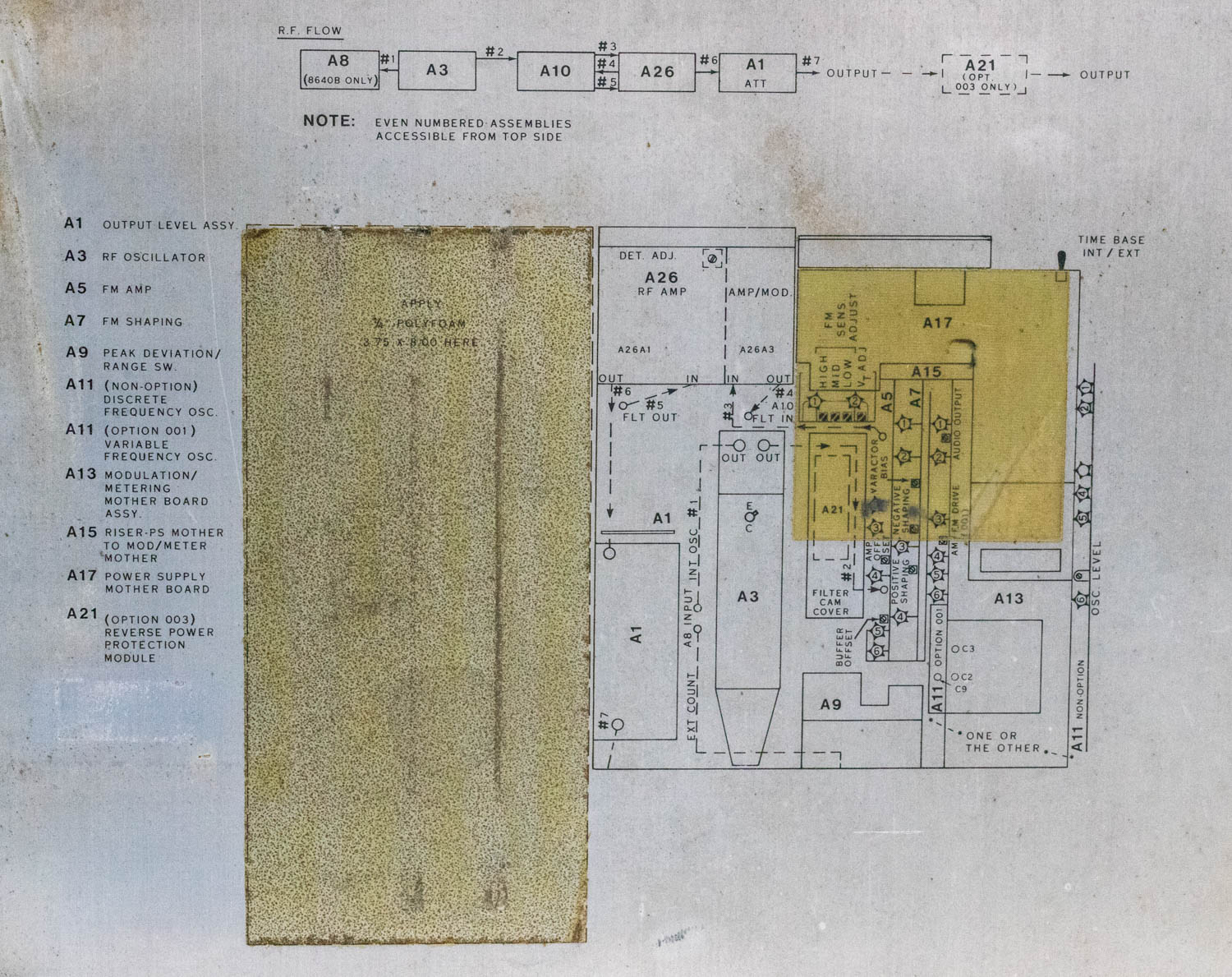 Everywhere that you look inside this unit, screams quality as you would expect from the big boys of Hewlett Packard, and there is not a single shortcuts taken inside these chassis, well maybe except for the obvious odd cog made from plastic that does not seem to survive the years, but besides the small grievance all we see is quality, there is gold everywhere, all of the PCB's have loads of gold all over them, nearly all of the internal connections are plated in gold, and then there is the quality of properly laid out cabling, it is almost a work or art.
There are some very nice surprises inside of the chassis as well, 'Not Broken Gears', it is almost a given that when you get one of these units you will have to replace the gears in at least one place, but I have a good find, not a single broken or damaged gear anywhere, in fact they almost look too good to be true, I have checked inside but still find the original grease that is always another problem with these units and units of a similar age, the old grease that they used in these units either dries up totally and leaves a sticky mess behind it, or it turns into superglue and seizes something solid, but I can see loads of old grease that does need to be cleaned off and renewed, but no new grease around the gears, so it is quite possible that this is a unit that has not been heavily played with before me, which does not explain the bodging that has gone one externally.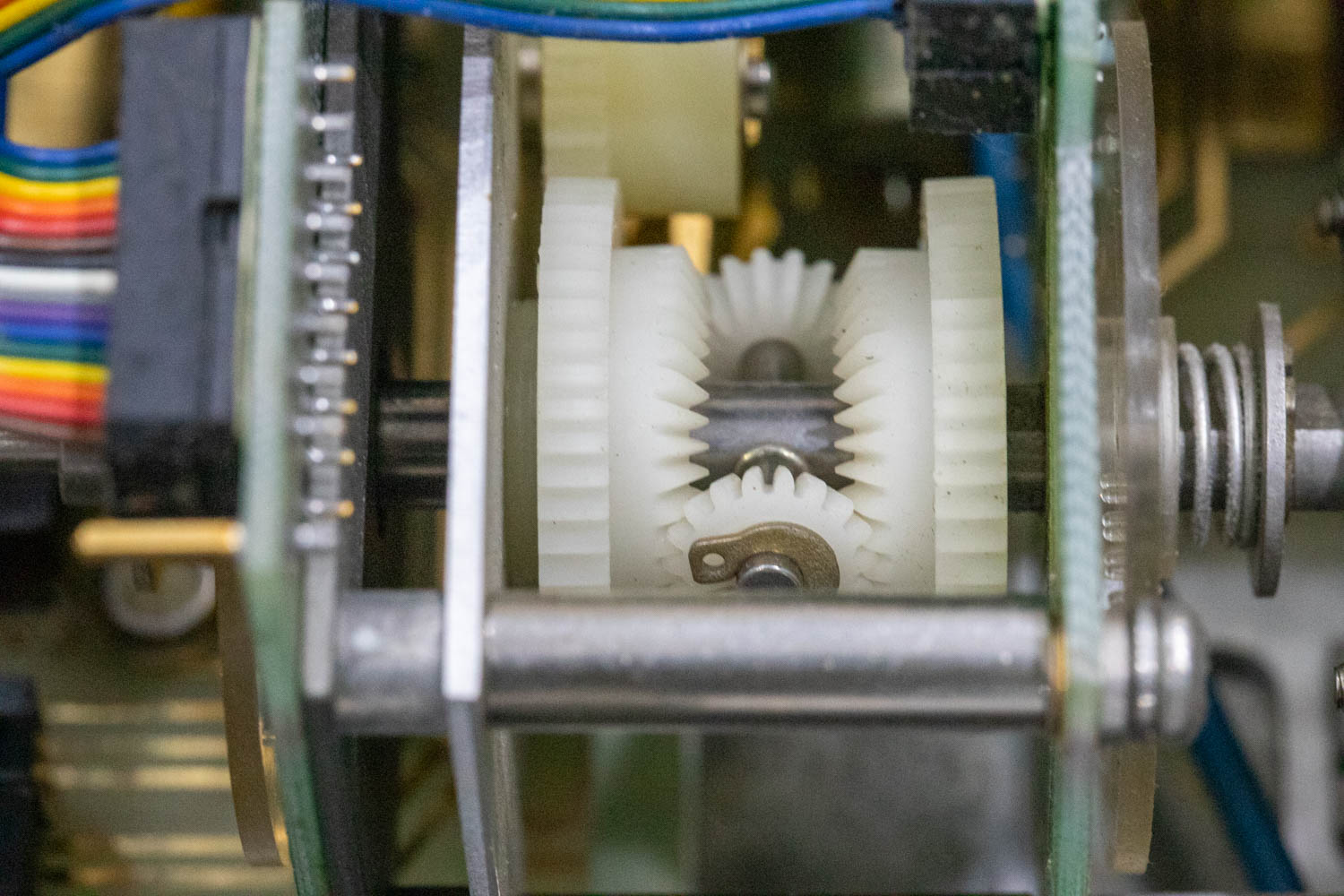 Another place where you normally see damage with these units is here, but in this case it all looks great, I am starting to wonder what is possibly wrong with this unit, maybe it just needs a good clean, re-grease, and test,
The lack of any visible damage within the unit is only starting to add more questions as to why this is not operating as it should.
So this is as far as I need to go today, the very first things that I will need to do is a good clean, both externally and internally, all the greased parts will require a good clean to get rid of the old grease and then reapply a good grease and then hopefully we will be able to give the unit a god check over with the Service Manual as well.
Below are a few more photos to check over until I have done a little more cleaning.