I have just happened to pick up a scrapbook which was made over quite a few years by a local Radio Amateur here on the Isle of Man and thought I would do a bit of digging to see if I can find out anything about him.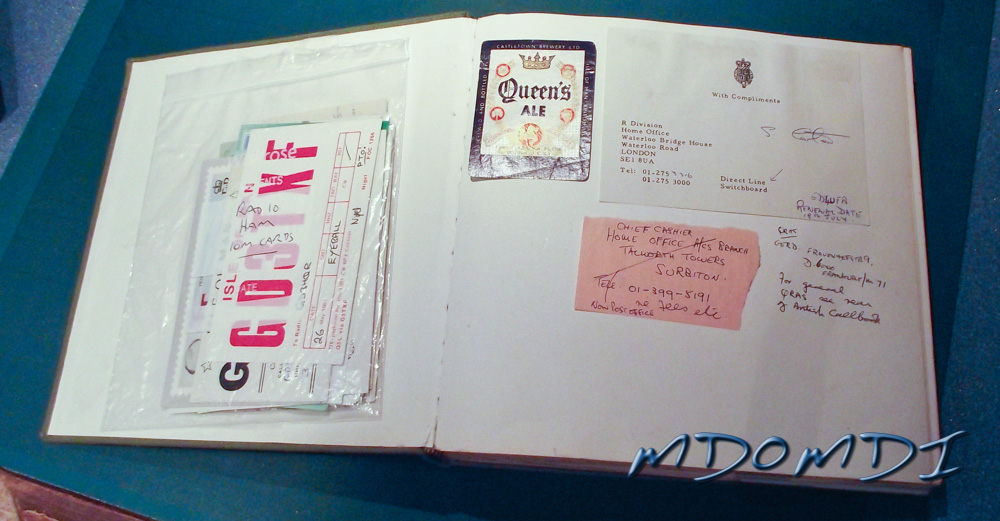 Inside the front cover of the scrapbook is a small clear envelope with a few QSL Cards inside, the cards all seem to be cards for GD3HQR and are from the following amateur stations: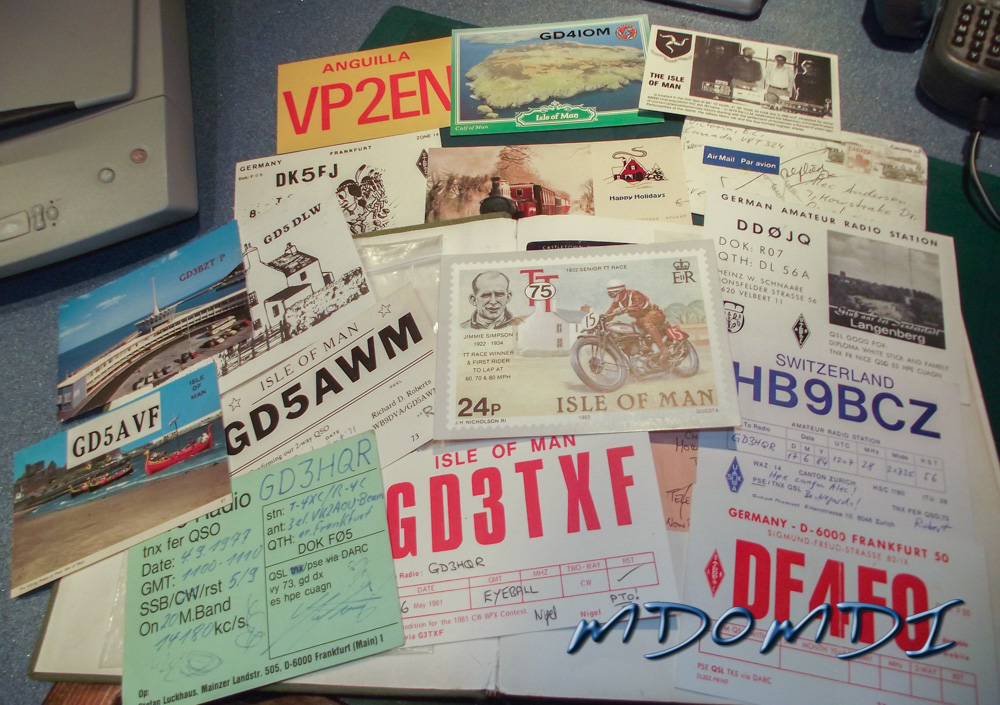 DD0JQ – Heinz W. Schnaare
DF4FO – Alfred F. Czok
DF7FH – Stefan Luckhaus
DK5FJ – Gerd Hiltl
GB0WCY – Special Event Station for 'World Communications Year' and also held here at the 75th Anniversary of the Isle of Man TT
GD3ABB – Cliff Fenton
GD3BZT/P – Bill Williams
GD3TXF – Nigel Cawthorne
GD4IOM – 1984 Dxpedition to the Calf of Man by IOMARS
GD5AVF
GD5AWM – Richard D. Roberts
GD5DLW
GD5DUR – Fread (DF4FO)
HB9BCZ – Robert Diamant
VP2EN – Dxpedition to Anguilla by IOMARS
There is no mention as to why these were special but they were kept separate to the others in the scrapbook, a lot of these are from Germans that visited the Island over the years the scrapbook was kept, and also other local amateurs that either worked Alec from here on the Island or away on DXpedition's for the local club.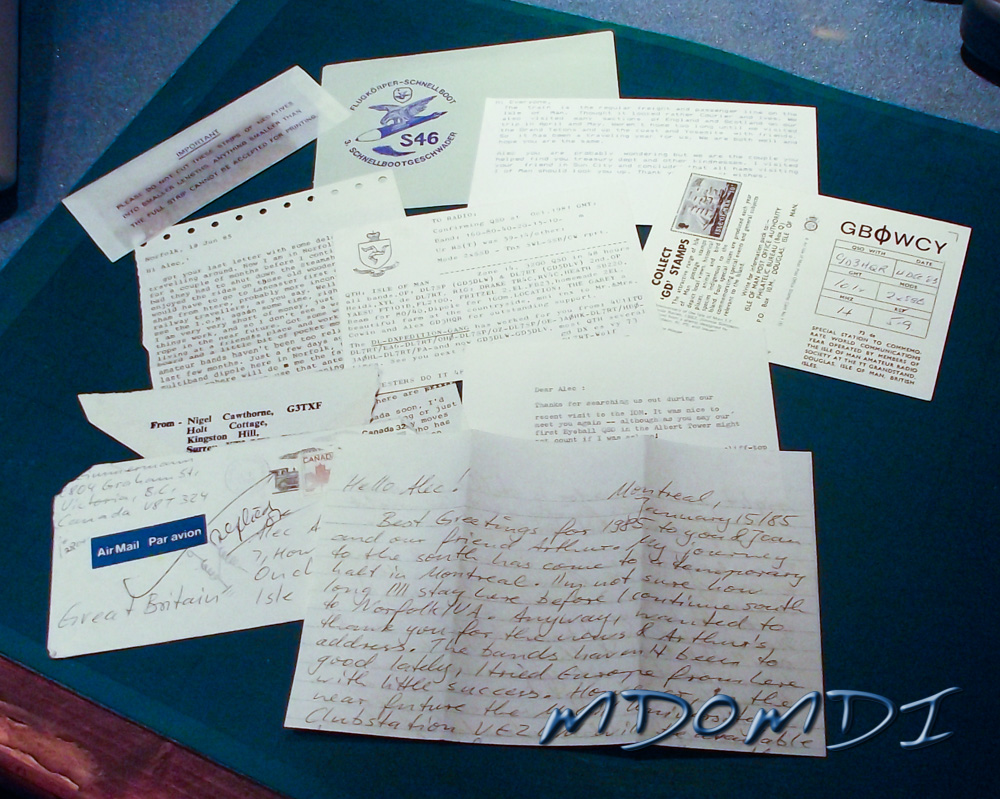 One thing does seem to be very apparent though, from the letters, and notes that he has kept from many amateurs, and that is that he seemed to be one of those amateurs that would help out many others both here and in foreign countries, he seemed to of help quite a few German and Canadian amateurs sort out local accommodation and logistics regarding DXpedition's that were held both here and on the Calf of Man, those were the days….
Below a group of Amateurs enjoying a relaxing time at the Kepple Hotel at Creg na Baa.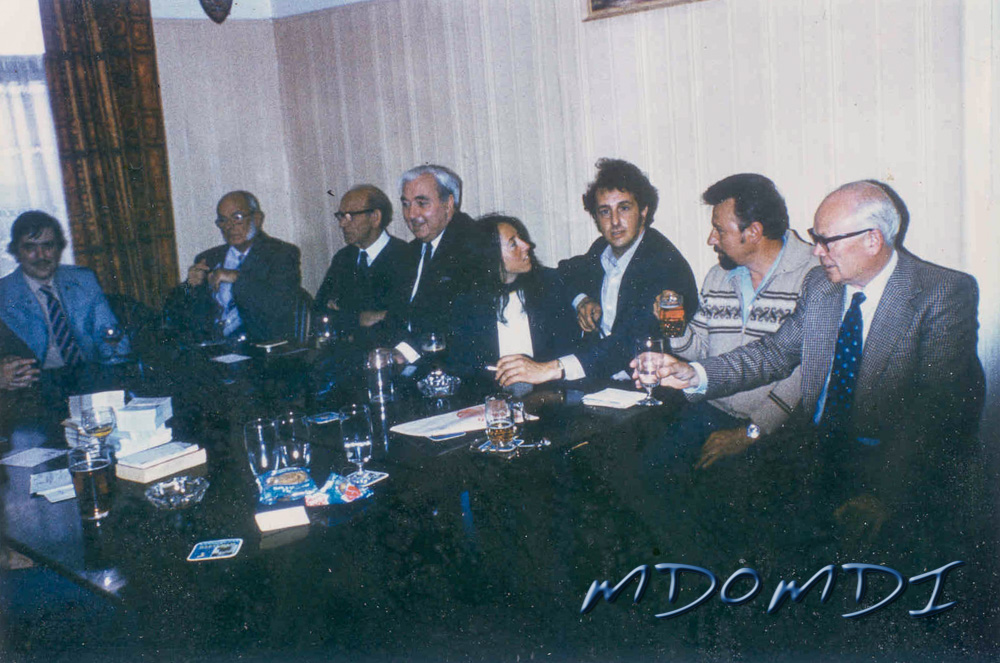 In the group photo above, working from Left to right are: Robert Ferguson (GD4GNH), Dick Robson (at the time a GD8 who later became GD4IHA), then George Ripley (GD3AHV), next is Ted Hayes (GD3KHE), then Carol Buckler (GD4HIT) and again with the hair (I cannot speak!) Mike Farrant (GD4BEG), next to last is still unknown at present???? Then finally far right is Alec Anderson (GD3HQR). The photo was apparently taken by Richard Rimmer (GD3YEO). Thanks Ralph and Mike for the Info…
Below I have a copy of the 1946 'The Transmitting Licence'. Me thinks the amateurs have it easy nowadays?
One of the many photos in the scrapbook of amateurs operating here in the Isle of Man that I had to put this in as I have a real affection for Morris Travelers due to my Dad owning one once was this photo.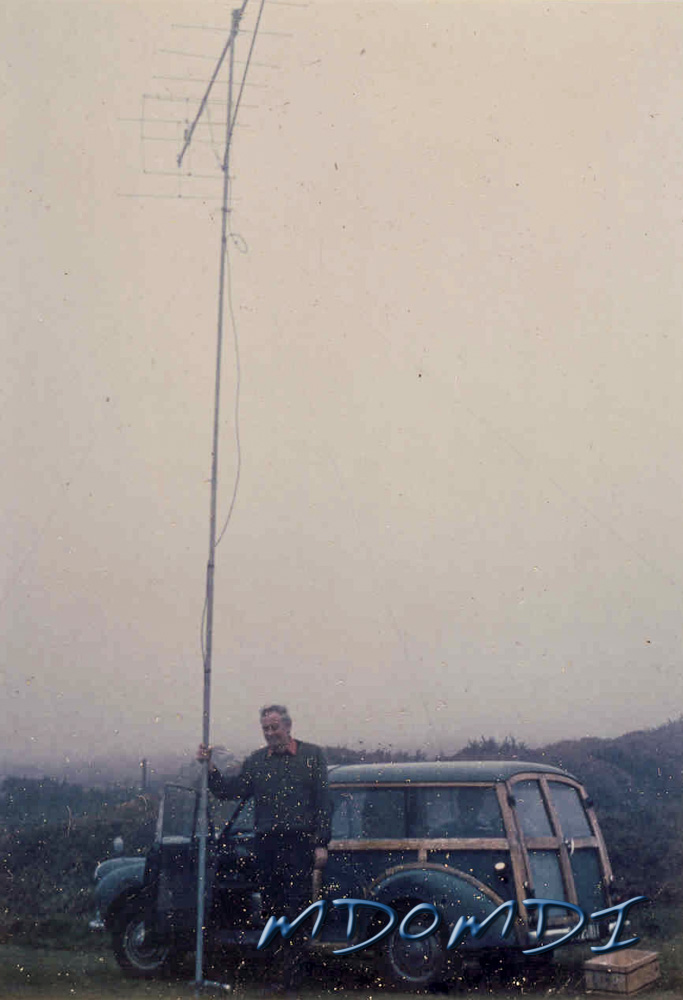 Richard Rimmer (GD3YEO) said that him and Arthur Sinclair (GD3TNS) use to go out in his Morris Traveler most Sunday evening during the warmer summer months, he said this was when he was young and mad, but as he's a Radio Ham he must still be a little mad!
This was apparently when the bands were buzzing with activity before the repeaters killed it all.
The photo above shows Arthur holding his 20ft 2 piece steel telescopic mast with a 14 element parabeam which use to collapse in 4 separate sections to enable it to fit in the back of the Traveler.
A nice bit of trivia here was that Arthur use to on a Belcom Liner-2 which revolutionized SSB activity in the 1970's, it's just amazing how far you could get in them days on 10W (see below).
They used to go to the car park up at the Creg Ny Baa which like today is one of the best locations on the island for VHF work.
Richard let me know that he still has his Belcom Liner-2.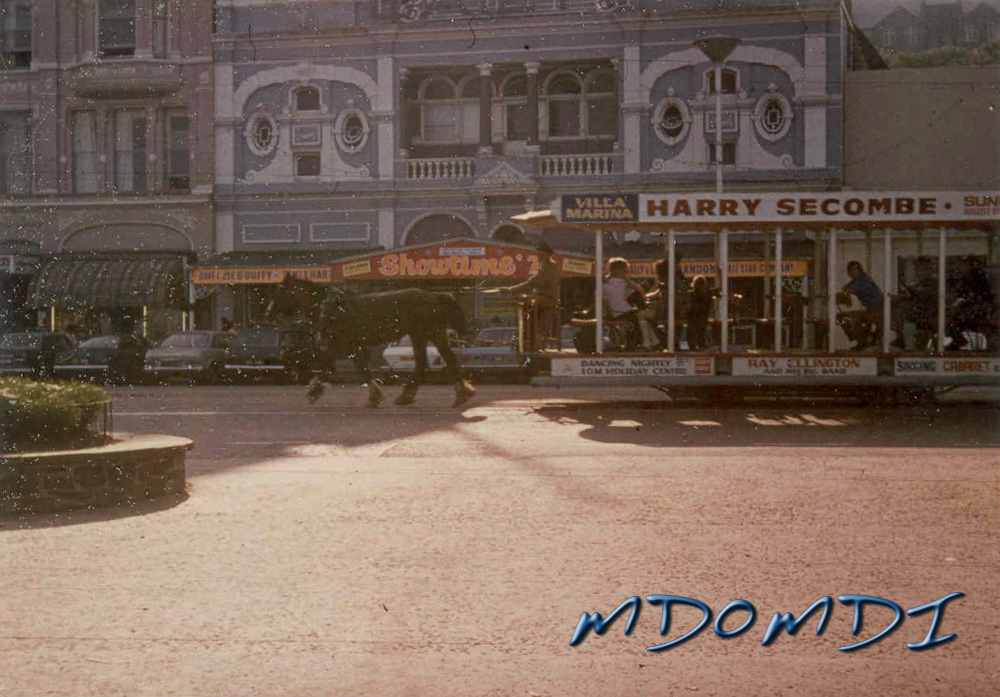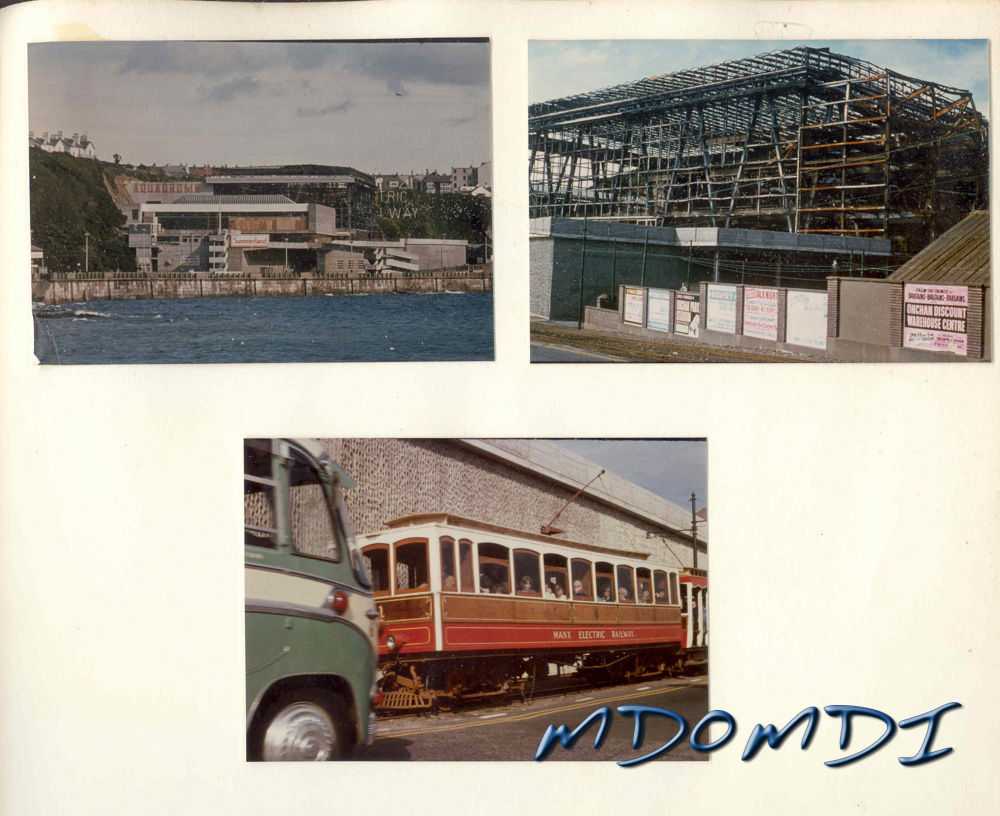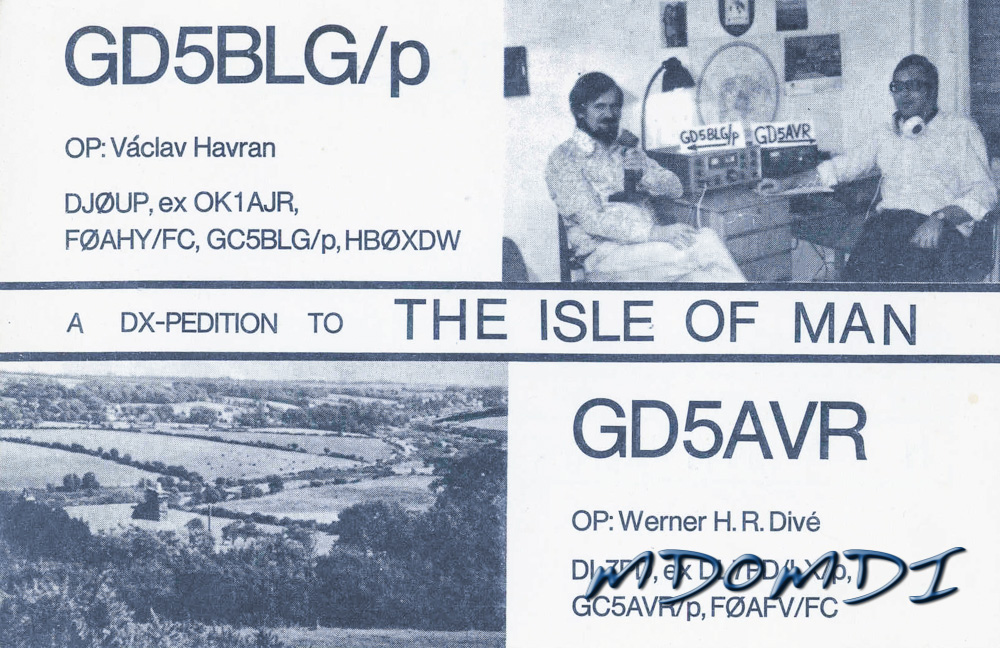 Some photos of a few German Operators that decided to choose the Isle of Man as a good location for a DXpedition (that sounds familiar), but from what I can tell from the scrapbook, these amateurs came back here repeatedly to operate from out shore, maybe someone knows if they are still around?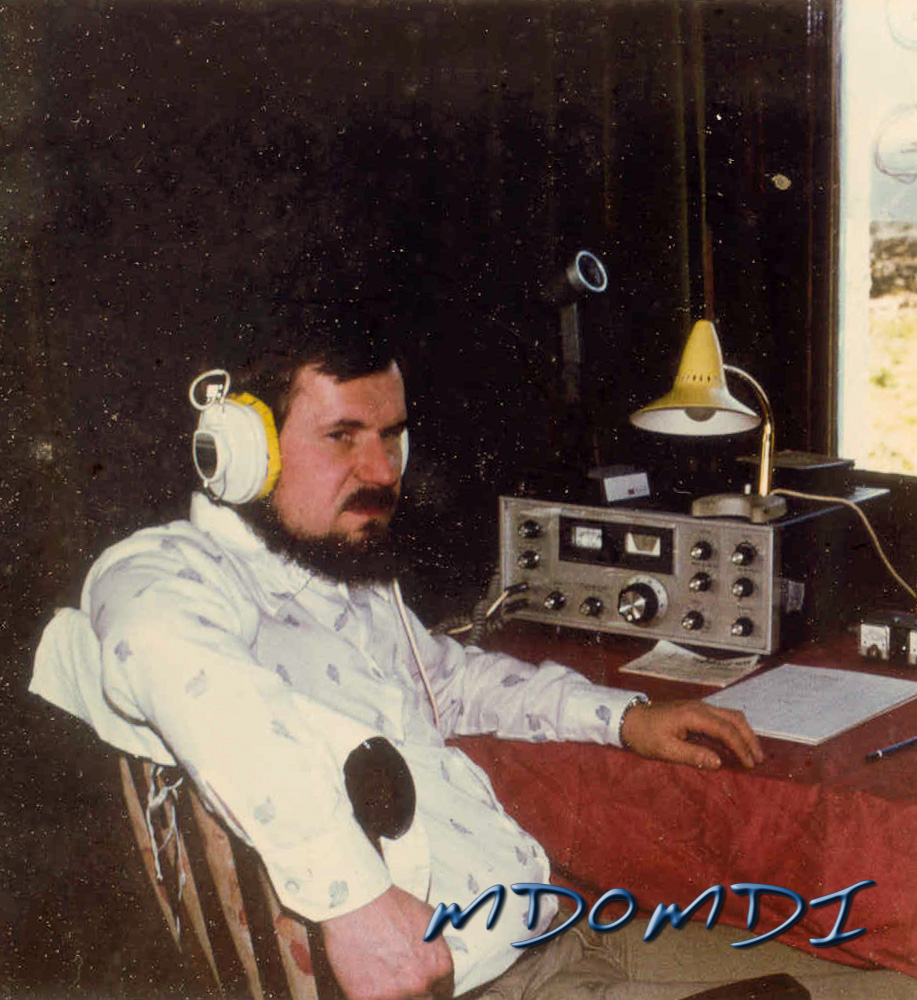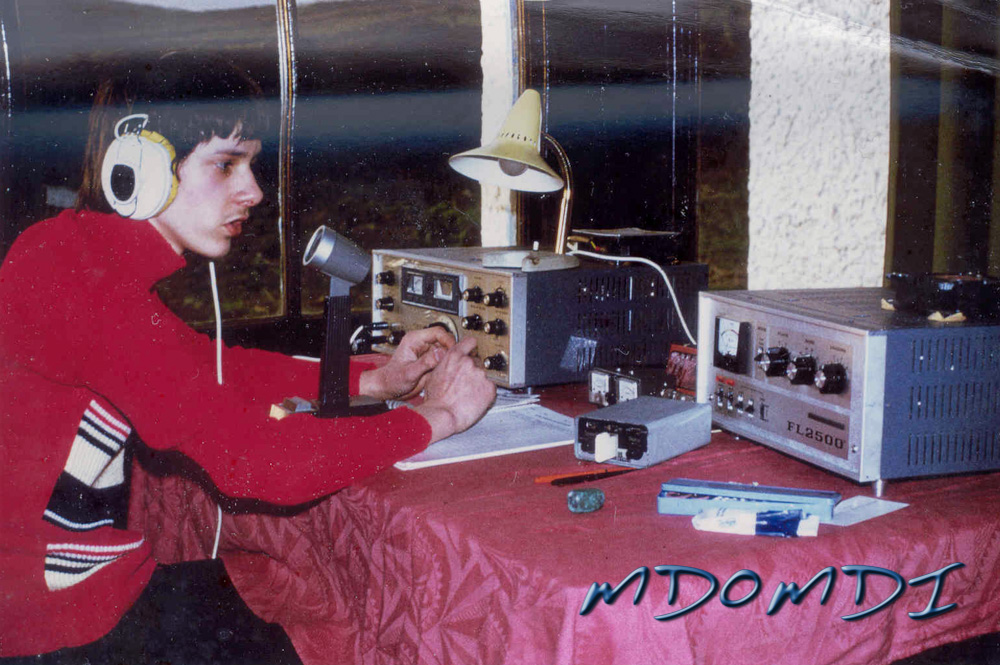 I got a very nice e-mail from Holger (DL7SP) who said that sadly along with quite a few of the people in these photos; Wolfgang (DL7RT / GD5DLV) was a 'Silent Key', Heidi (his wife) and Holger (DL7SP / GD5DLW) had visited the Isle of Man in October 1981 for a DXpedition.
They stayed in wonderful accommodation at 'The Gary' and had a really great time here, he said that he could remember the great time that they had with Arthur (GD3TNS) along with Alec (GD3HQR) and his wife Joan in Douglas.
Whilst here they worked in the WWDX-Contest under his call (GD5DLW) and made nearly 3200 QSOs.
There are also many press cuttings in the scrapbook, here is one where members of the then IOMARS are attending a local dinner in around 1975/6, note sure who some of these are but I have received a few nice e-mails from local hams who have prodded me in the right direction for a few of them!.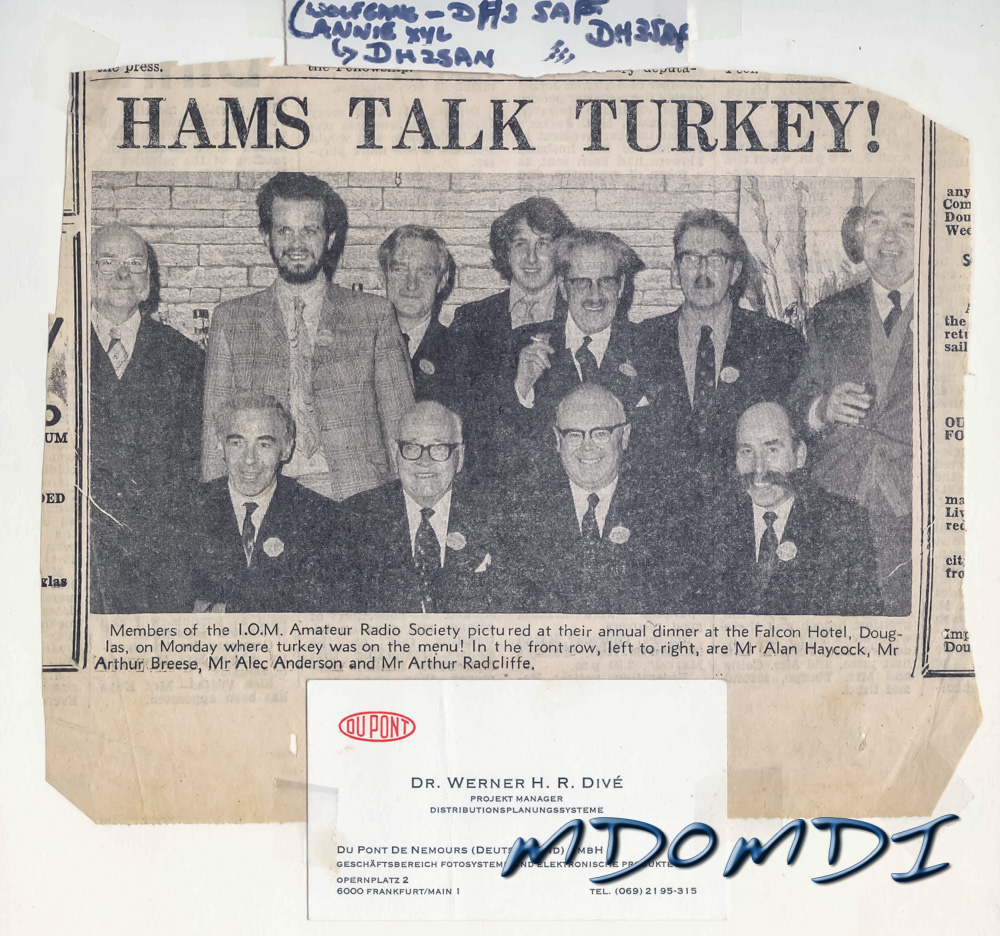 First the back row…. from the left is Dick Robson (GD4IHA), Second from the left in the back row is Alex Gartshore (GD3UMW / GD6IA), Third in line is Jock Galt who was the Postmaster in Ramsey and also examiner for the GPO Morse Test), The next guy in the middle with the long hair is local amateur Mike Farrent (GD4BEG) and to the right of him is an unknown, then next to last is Les Powell (SWL) who work for Douglas Corporation and never became a licence amateur. Then finally on the end is Ted Hayes (GD3KHE).
The front row as stated in the article, but this time with callsign's are: Alan Haycock (GD2HCX), Arthur Breese (GD2HDZ), Alec Anderson (GD3HQR) and finally Arthur Radcliffe (GD3FXN) who was remembered fondly for operating with a 2 element quad.
I have also been told that Nigel Cawthorne (G3TXF) , Roger Western (GD3SXW), and Buddy Robbins (GD5AVF) who use to spend there summers here ever year and operate from Peel.
In fact the GD3TFX Callsign was used 5 times between 1969 and 2000…
In November 69 Ron F5QQ (GD5APJ) obtained permission to use the Albert Tower just outside Ramsey for CQ WW CW.
Nigel G3TXF travelled over by ferry and Roger G3SXW flew in just before the Contest: GD3TXF.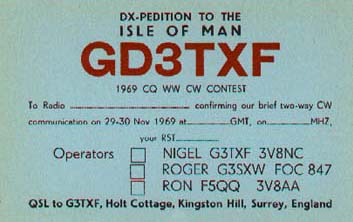 In April 1970 Ian G3WVG and Nigel G3TXF travelled over to the Isle of Man to operate the CQ WPX SSB Contest as GD3TXF with Ron F5QQ. Again the Albert Tower provided an excellent QTH.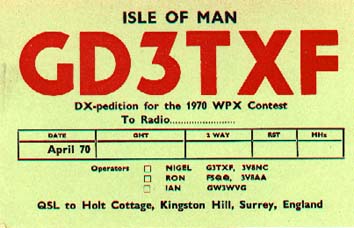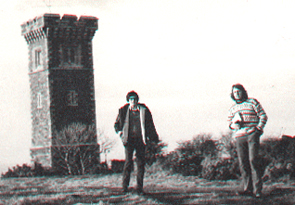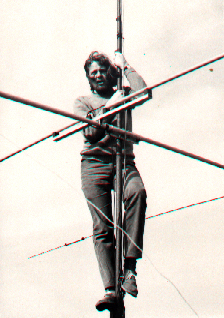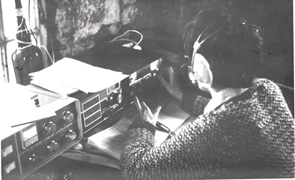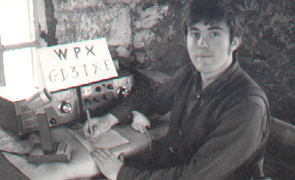 In May 1981 Nigel G3TXF operated as GD3TXF from a portable location (in the garden of GD5UZ).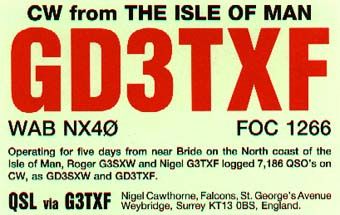 In August 1990 the team operating for five days from a B&B near Bride on the north side of the Isle of Man, RogerGD3SXW and Nigel GD3TXF logged 7,186 QSOs on CW.
Scaffold poles were hired locally to support an HF beam as well as a WARC band dipole.
The location of the garden of the B&B was excellent with a clear take-off to the North over ground sloping down all the way to the sea.
There were excellent openings to JA and to W6/W7.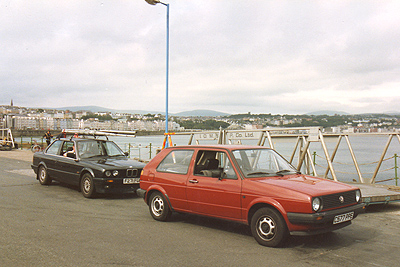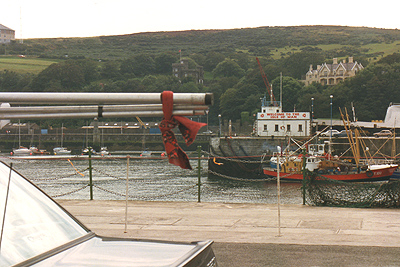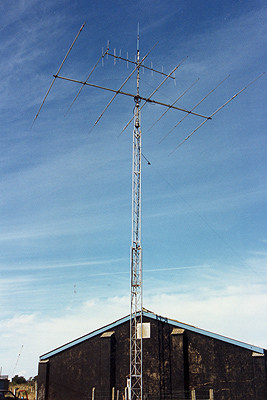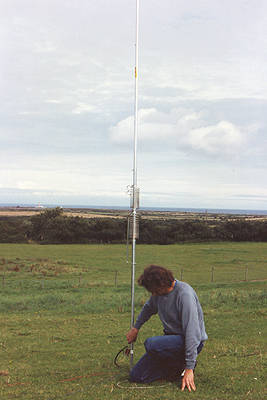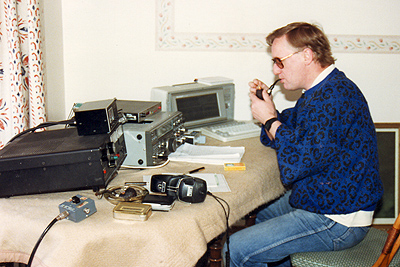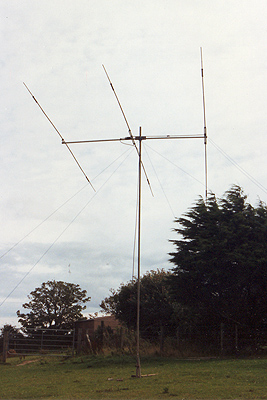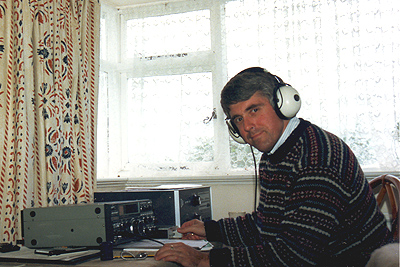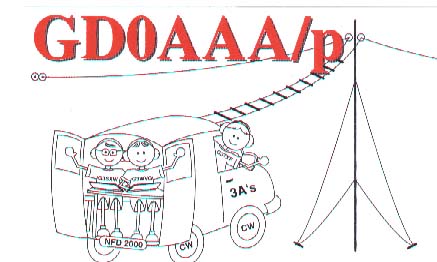 Another one of those interesting photos from the scrapbook, this is one of many of these people, and from the notes in the book Yasme operated here in the Isle of Man using the callsign GD5ACH. The other two in the Photo are Lloyd and Iris Colvin.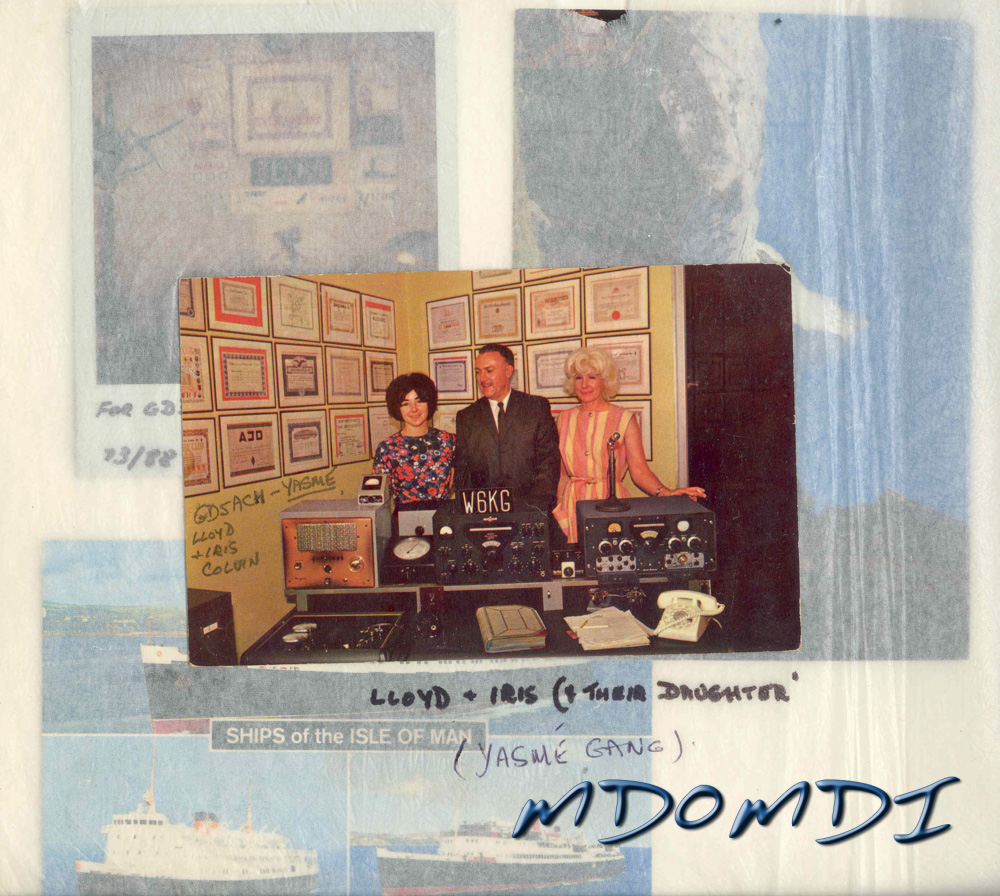 Well maybe not really another Party photo, but more like any excuse to get down to the Creg Na Baa for a drinkie!, Those were the good old days! They use to meet in the dining room at the Creg regally.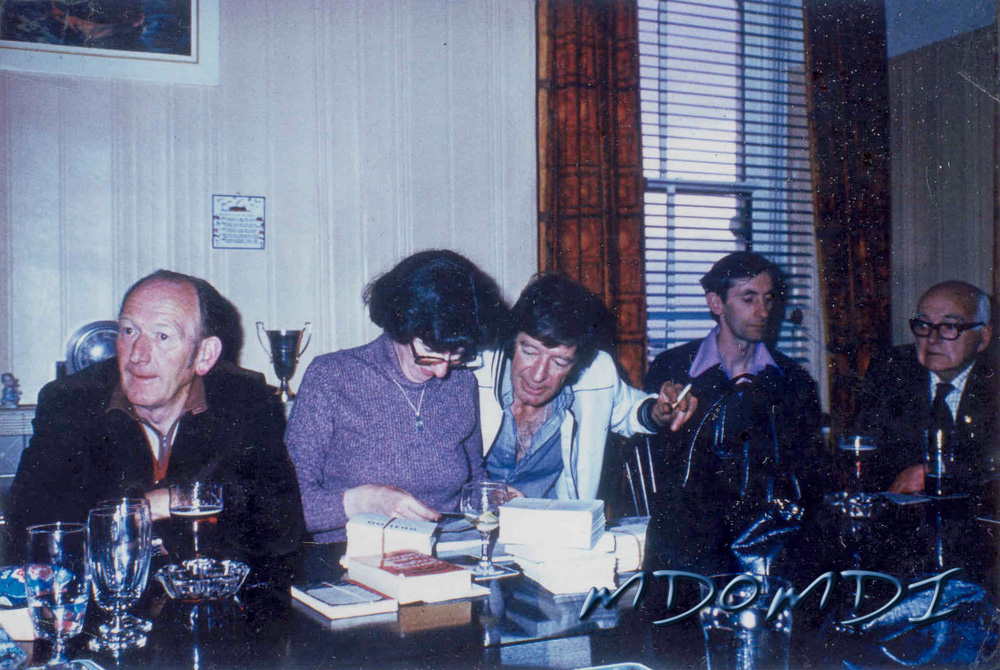 I have been kindly helped out here with a few of the names thanks to Arthur Radcliffe (GD3FXN). So working from left to right, we have Jimmy Corlett (GD3JAE), the woman looking at the QSL Cards is Anthea Mattewman (GD4GWQ), the very hip and trendy guy leaning in on Anthea we think is Norman Rimmer (no relation to Richard Rimmer) who used to own the Argyll Hotel in Port Erin and came from either Jersey or some far flung place down South.
Next to last is Richard Rimmer (GD3YEO), then finally we have Arthur Breeze (GD2HDZ).
It looks like they have the women well trained in them days as they are sorting out the QSL Cards whilst the guys settle down for a nice drink or two, those were the days….
Back in them days the club used to hold lots of meetings at the Creg Na Baa during the summer months.
Some of you may find this of interest, the very first 'IOMARS QSP' Newsletter from 1982.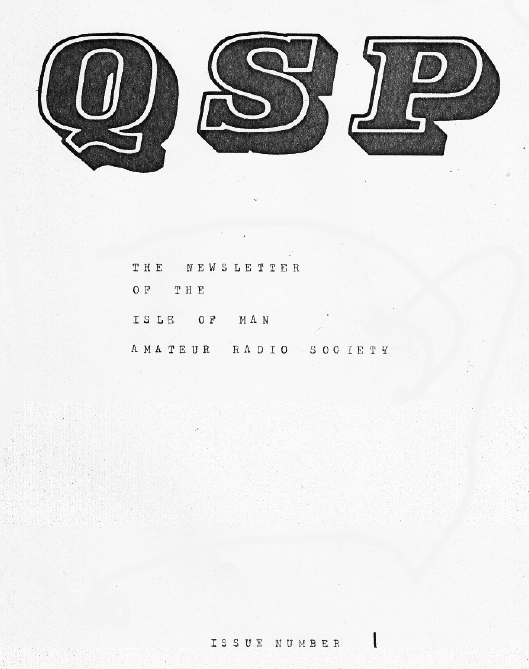 This one was titled 'The 3 Scalies'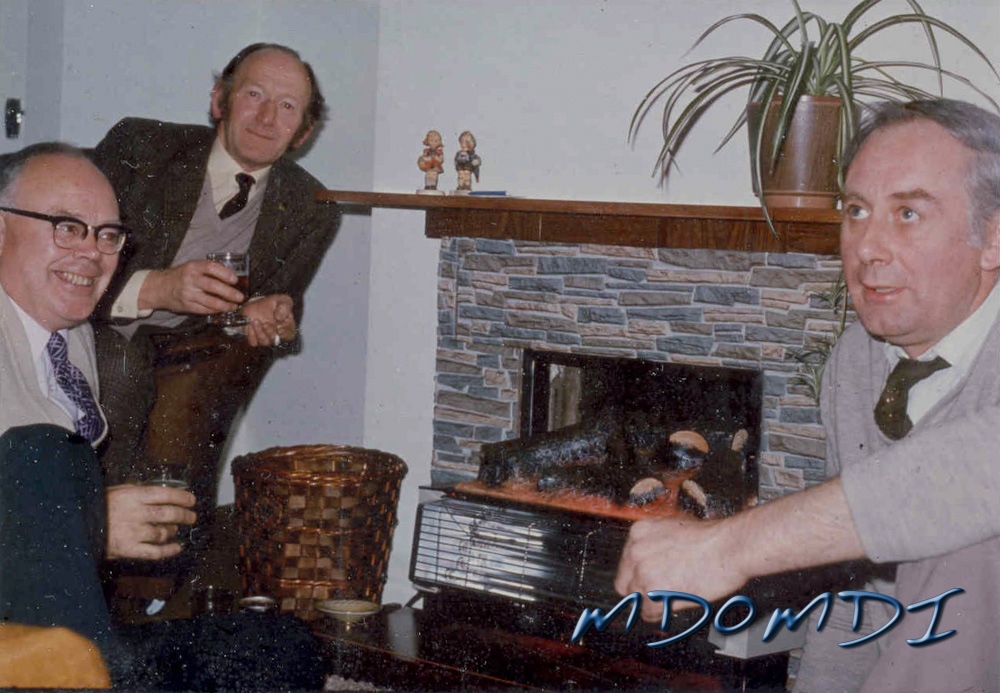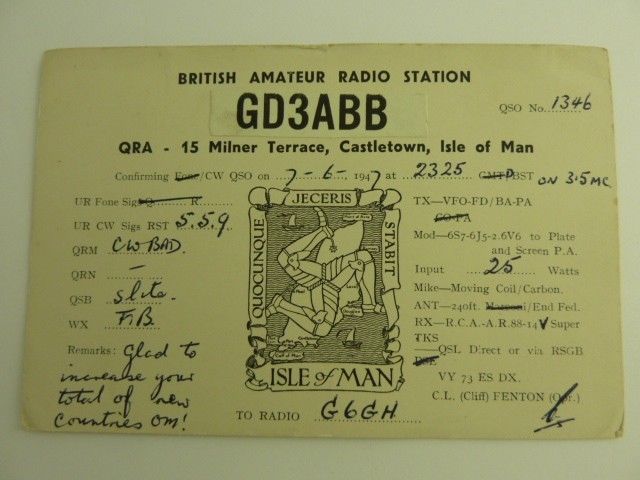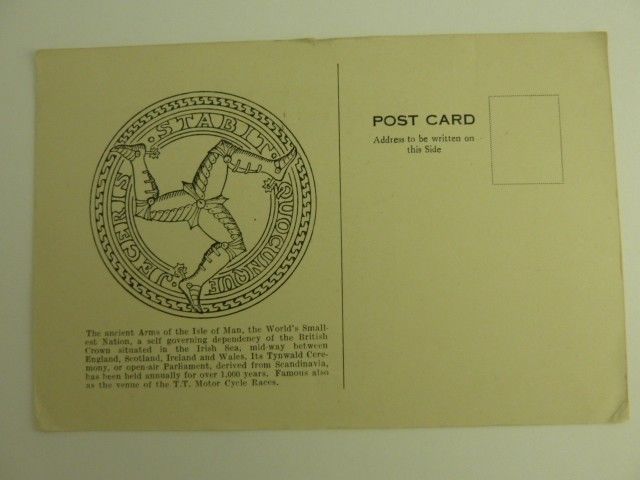 It is not only photos in the scrap book, but old bus tickets, souvenirs from the Isle of Man, even old stamps and postcards.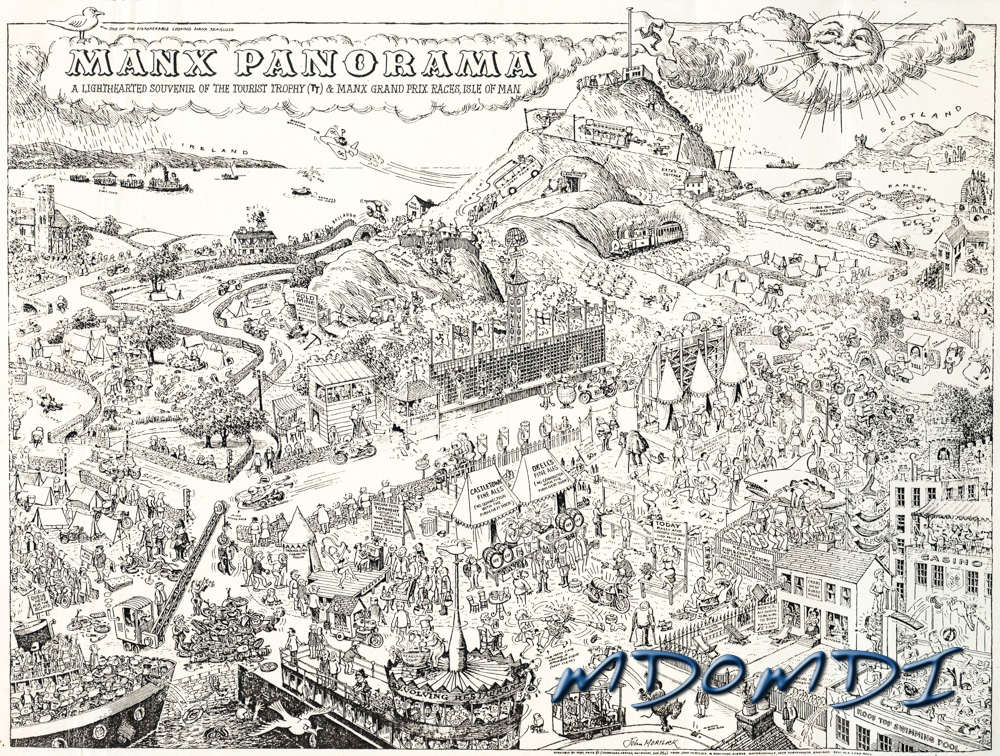 These were the days! And whilst on the subject, here is a couple of more pub related photos, though not sure who off, but they came from the scrapbook, so here they are…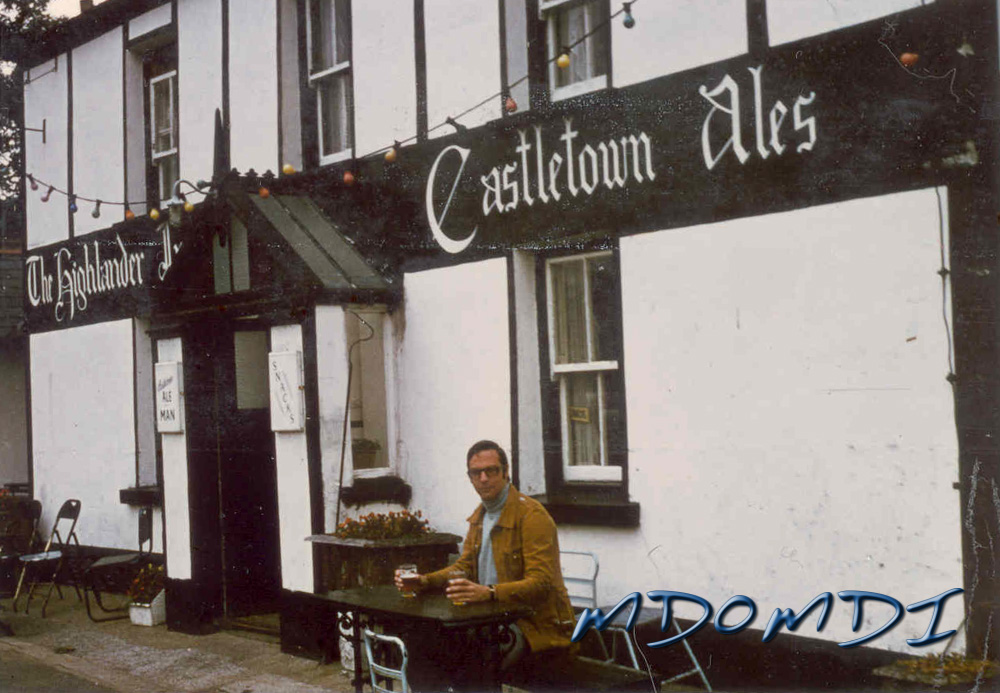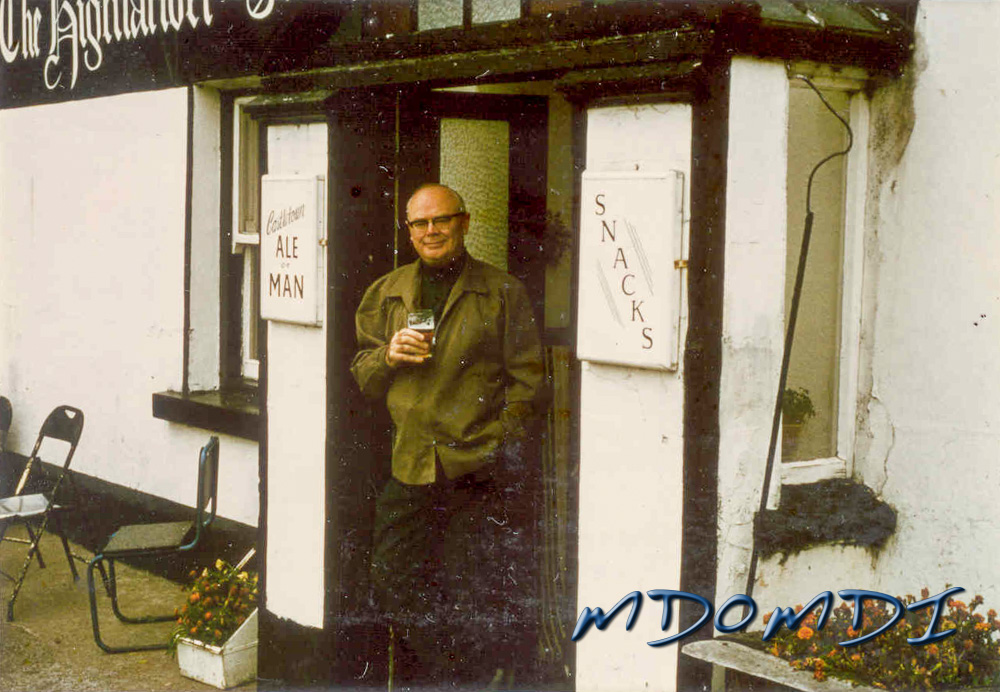 Below is a photo taken back in 1967, I am missing a lot of names from this one, but hopefully over time someone out there can fill in the blanks (come on Ralph, here is a real challenge for you).
First the back row from left to right, we have Charles Longworth (GD3???) use to live near to Ramsey Cottage Hospital, Malcolm S. Dickinson (GD3XJR) from White House Cafe, Laxey and later Port Erin, next to these two we have the father of our present QSL Card Manager; Jim Parnell (GD3YUM), then we have Reg Evens (GD3EPF) who was ex-RAF and later ATC at Ronaldsway, before moving to Leeds to become Chief of Communications at Leeds Airport.
Next we have Arthur Parr (GD3IWP) who was a very good friend of Richard Rimmer's (GD3YEO) dad, he use to live in Castletown in the late 50's and worked for what was then called the 'Air Ministry', this was back in the time when Snaefell was a manned radio station and the operators used to work one week, and have the next off, he was the one we have to blame for getting Richard Rimmer (GD3YEO) interested in Amateur Radio, he later retired to Poulton le Fylde.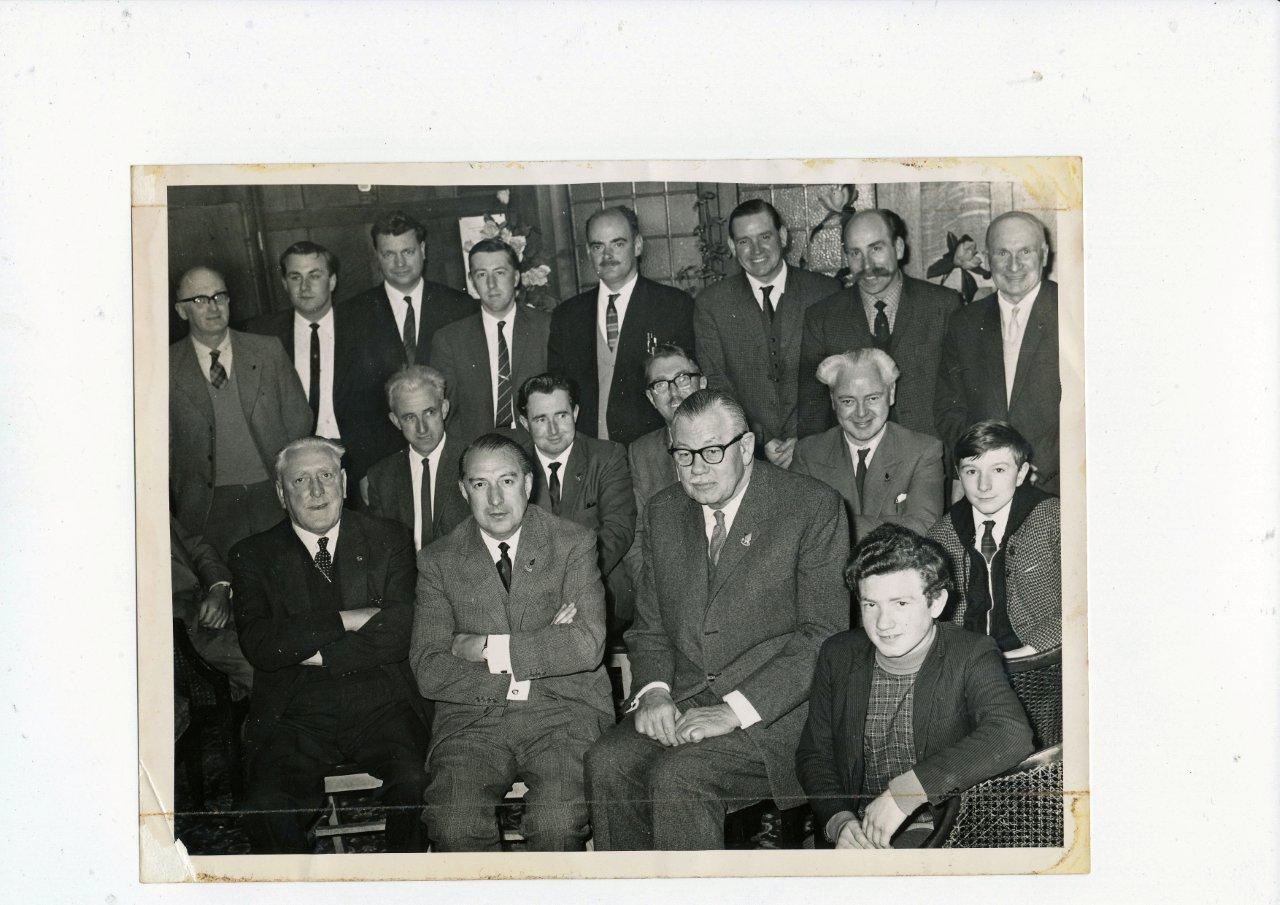 The next one (third from the right), I am afraid is unknown at present but check back soon and I will hopefully be able to find out who he is.
Second from the end with the very fine moustache is Arthur Radcliff (GD3FXN), then finally we have Les Higgins (GD3FOC).
Now for the mass at the front. The first of these is Harry Grist (callsign unknown), the next person is believed to have lived in Ramsey, but now one can remember much more at present.
The third one in we think was the RSGB Representative for the Island back in 1967 and is possibly Tom Moore (GD3ENK) of Moore's Mills, St. Johns. the next and forth person in is a very young Douglas Dodd (GD3RFK). Next to Douglas and trying to hide, is George Ripley (GD3AHV), this brings us to the one and only Arland Ussher (GD3TIU), who also held a the South African Callsign ZS1A, he use to live at Ballacotch Manor and later moved to a bungalow at Howstrake.
The next person and sitting slightly behind Arland is Harley Knight (GD3VEM), the last two youngsters here were apparently Shortwave listeners at the time the photo was taken, maybe someone can let me know if they ever got callsign's.
Here is a copy of the Millennium Award that was given to Alec Anderson (GD3HQR) during the 'Tynwald Millennium' Year of 1979 which was also the first year that the 'GT' prefix was used here in the Isle of Man. The award was given to any operator that worked more than a set amount of local operators on the Island during this event.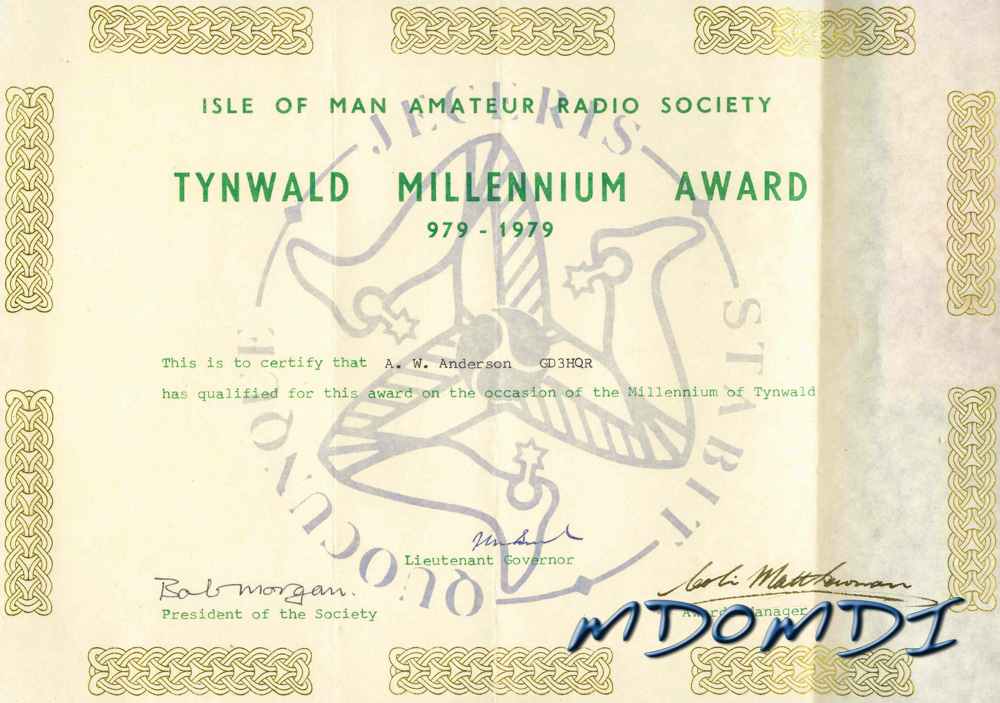 There are even Maps with notes by Alec which are obviously for a visitor here, as the notes point towards the nearest bus stops for town, nice walks to go on, the location of places such as the chippie and the supermarket and also how to find out where John Thorpe (GD3YDB) lived.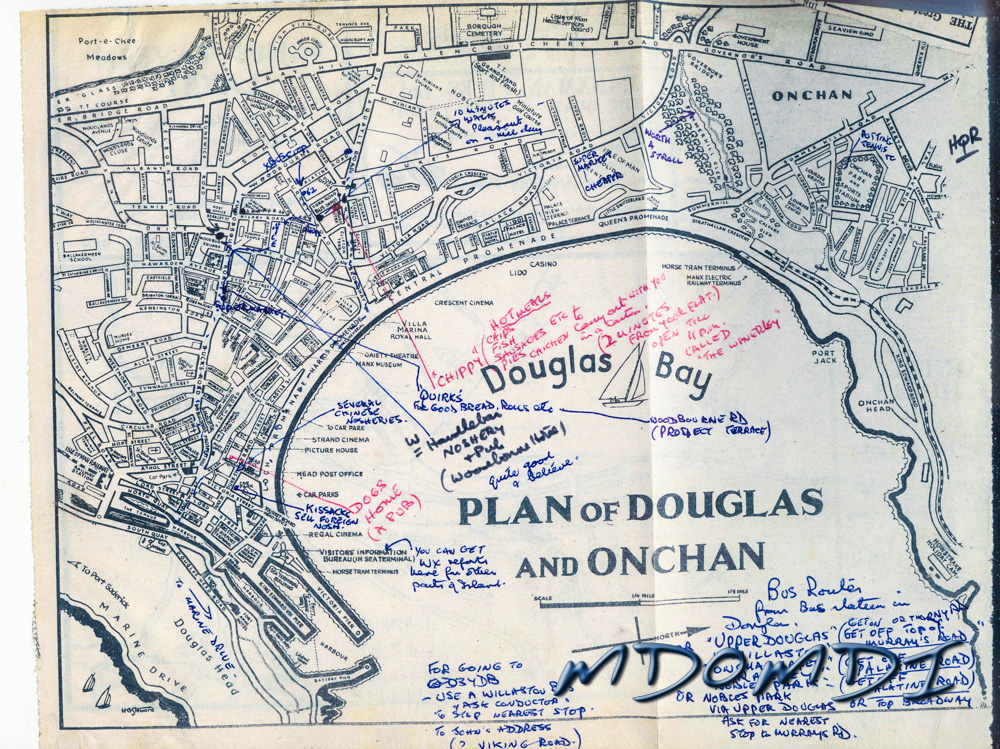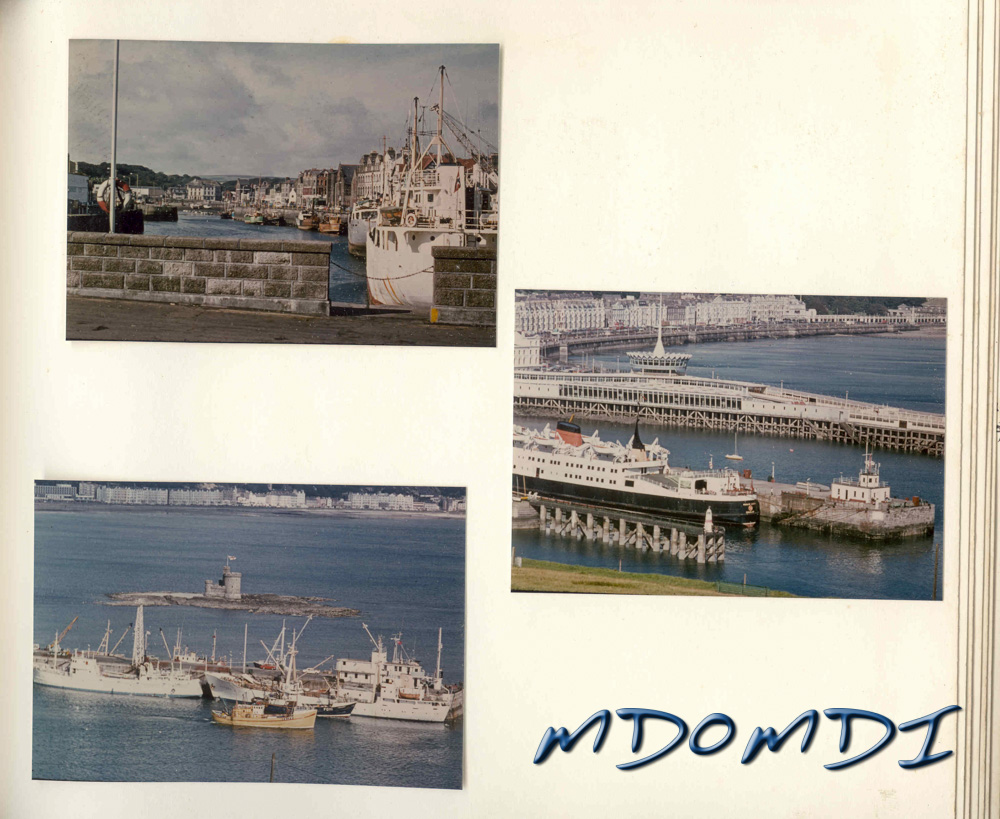 Here is a photo of a group of Amateurs with one of the old Steam Packet boats, but then fairly new, the 'Mona's Queen' in the background, heading off to Fleetwood.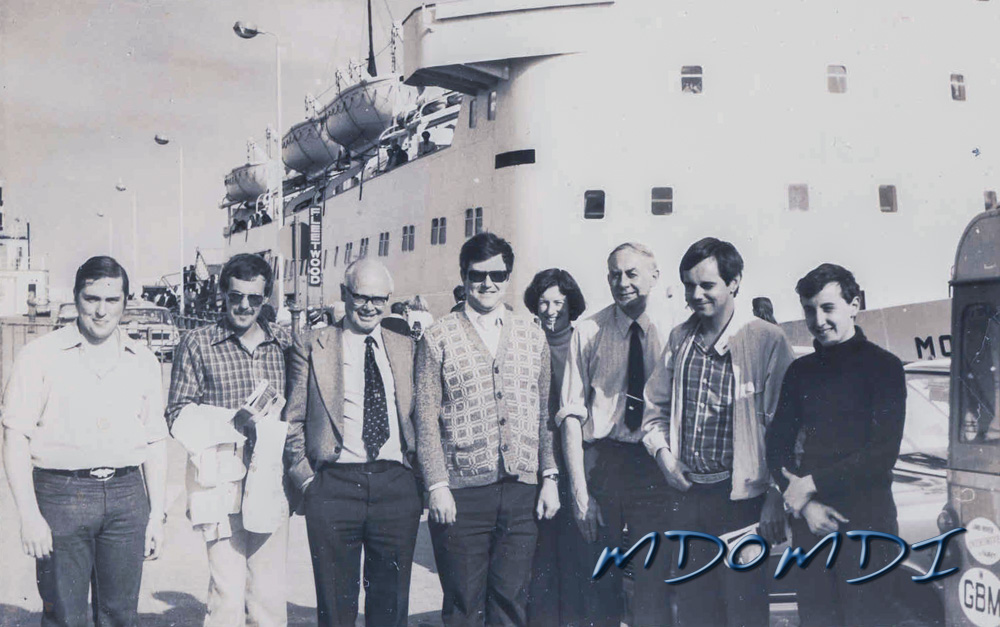 From Left to Right we have Robert Ferguson GD4GNH), then we have Swedish Tourist (more on this later), then Alec Anderson (GD3HQR), Colin Mattewman (GD4FWQ), Anthea Mattewman (GD4GWQ), you may recognize the smart one next to Anthea as good old Arthur Sinclair (GD3TNS), next person is a friend to the first Swedish Tourist.
On the end is a very young David Osborn (GD4HOZ) who is the present repeater keeper here on the Isle of Man.
These two Swedish Tourists were on holiday in Lancashire and were contacted over the radio, they came to the Isle of Man to meet up with these reprobates, for there sins they were treated to a tour of the Isle of Man. Just goes to show how nice the Island was in them days, you could actually drive straight down to the boat.
The photo was taken by Richard Rimmer (GD3YEO), you can see the back of his Series 2A Land Rover just on the right of shot.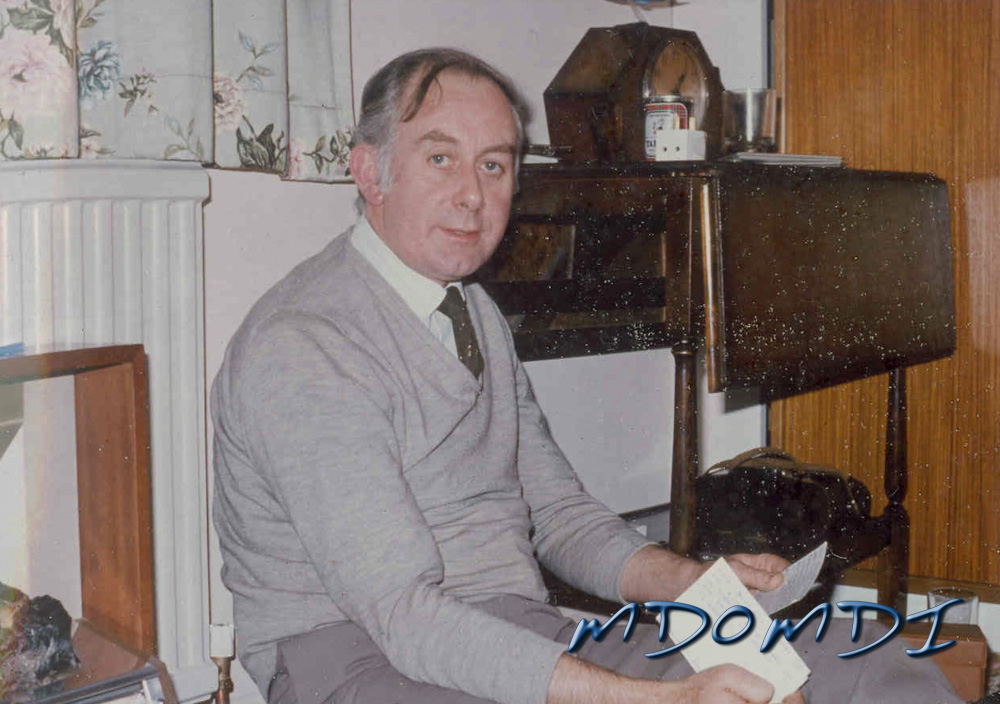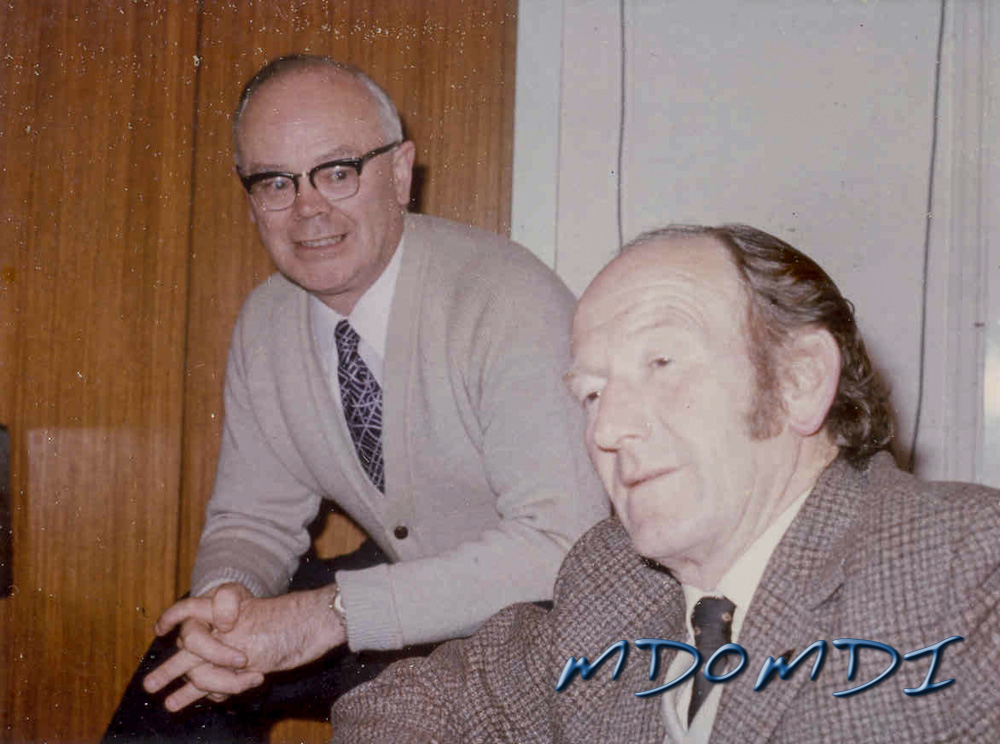 Found this among the many photos in the book, I know from the rest of the photos in the book that these three reprobates are all radio hams, The first photo, sat on his own is a very young Arthur Sinclair (GD3TNS), in the other two photos we have Alec Anderson (GD3HQR) with Jimmy Corlett (GD3JAE) who was captured and taken prisoner along with the rest of the Manx Regiment on the island of Crete during 2nd world war, and maybe not as dramatic, he was also the head of Raynet on the Island..
Here is a photo that includes a very well-known and respected local Isle of Man Ham Radio Operator, Arthur Sinclair (GD3TNS), and in the front is the person that created the scrapbook, Alec (GD3HQR) with who I presume is his wife.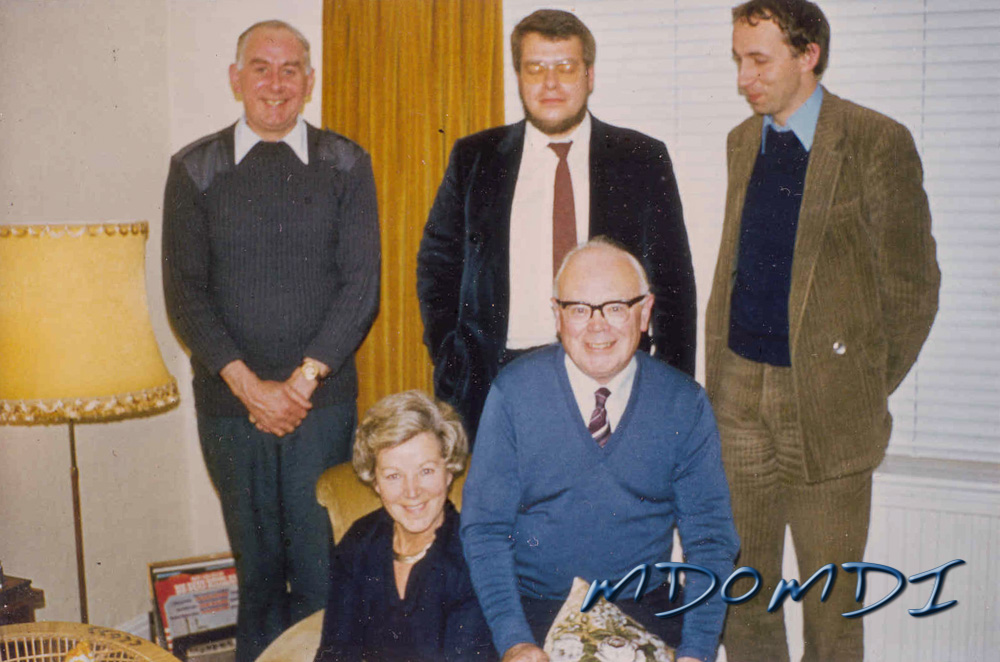 A QSL Card taken from Laxey of a crew from Germany, not sure about what they are wearing though, doesn't't do them any justice! Mind you they will say the same about us in about another 30 years or so….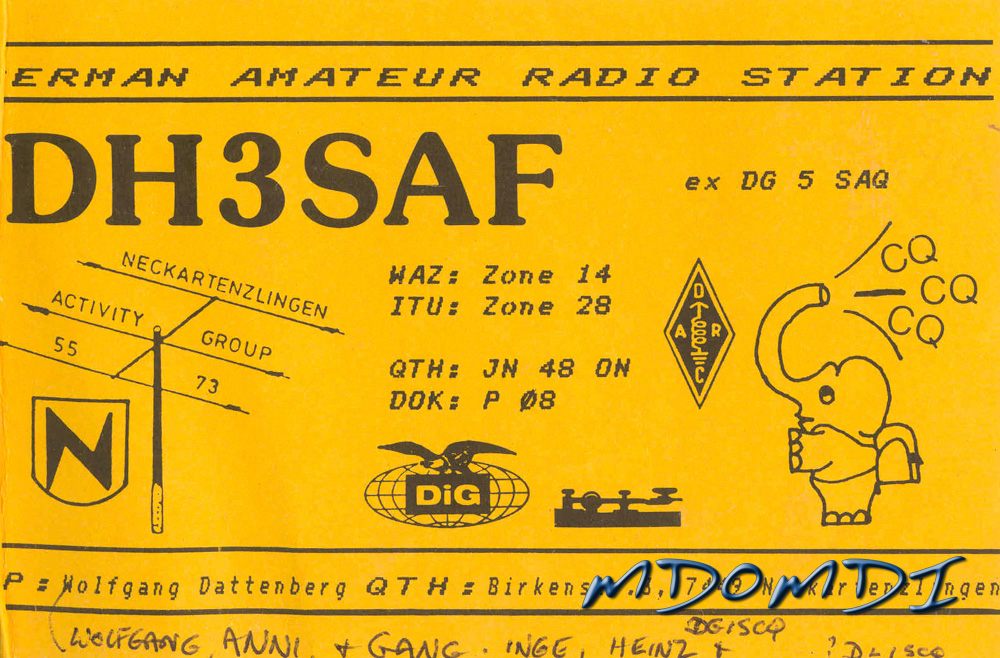 German Operators with their equipment working from the Isle of Man. Vasek GD5BLG (DL4FF), Ella GD5EOO (DK9ZL) and Stefan GD5CGV (DF7FH).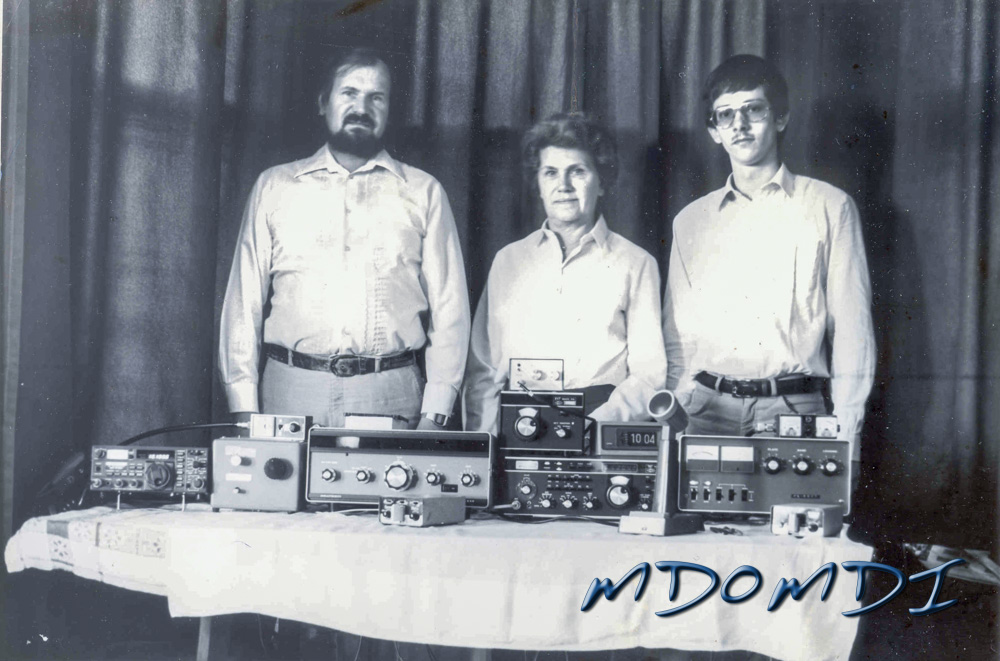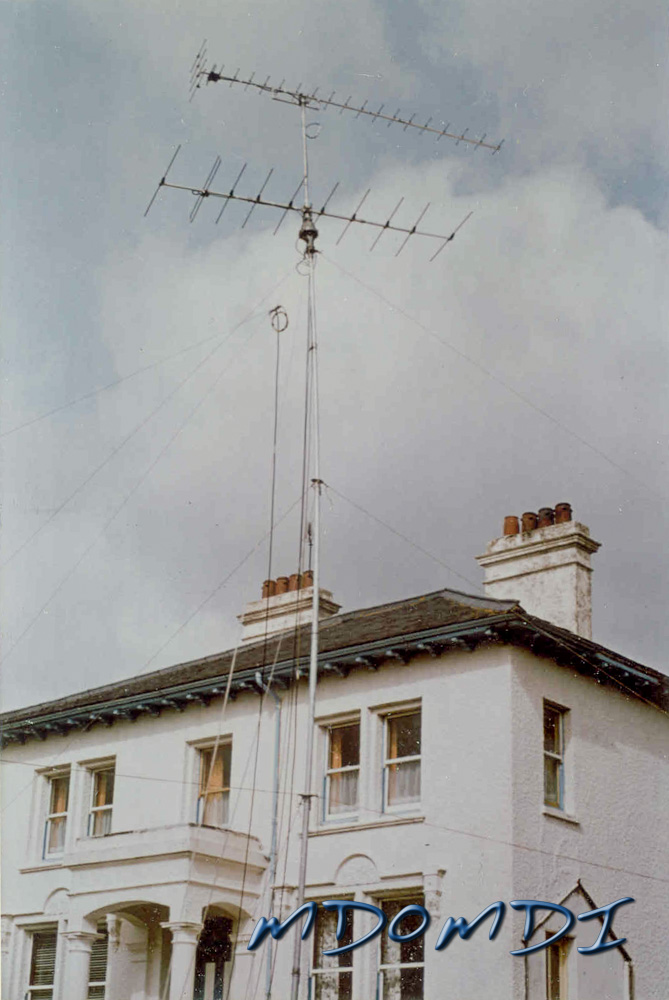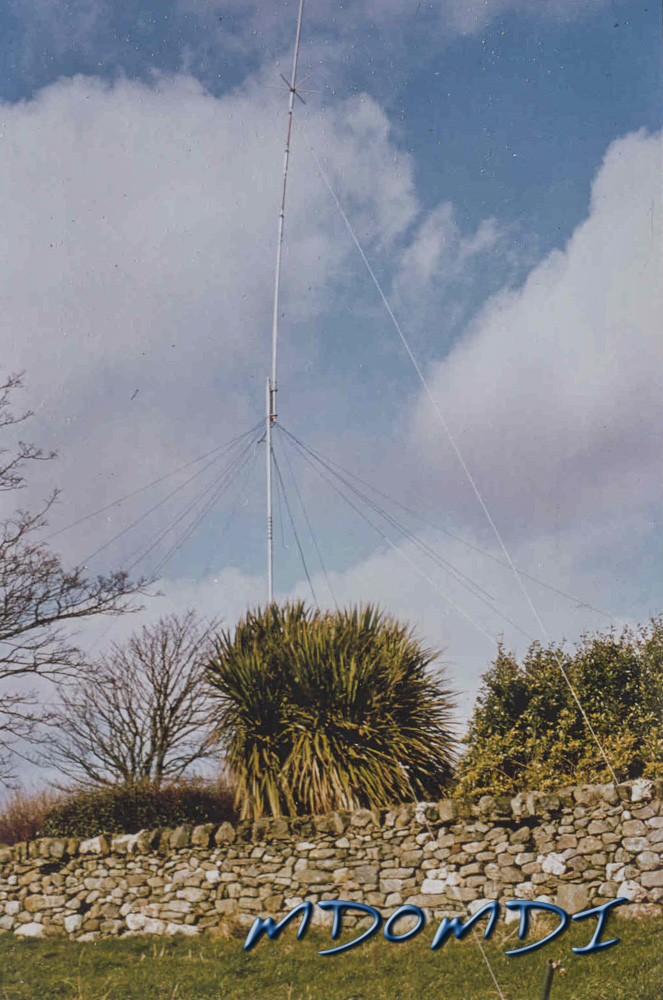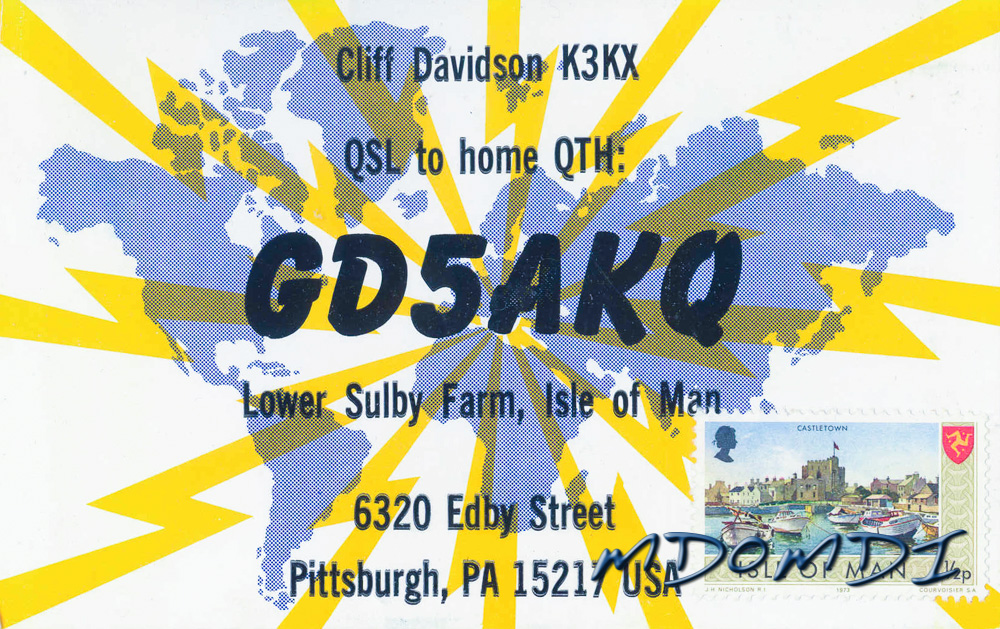 So if anyone out there can spare me some info on Alec Anderson and some of the other radio hams featured within this scrapbook, I would really like to hear from them. This scrapbook is a piece of Isle of Man Ham Radio history, and I have only glanced on the content of this archive and there is a lot of photos, newspaper cuttings, notes, and scribbles in the 73 pages which are stacked with loads of info.
The scrapbook should be in a museum, instead of being thrown out or ripped apart, I am very grateful that I managed to grab it before it got lost forever.
As a foot note, I got another e-mail from Roger Western (G3SXW), who said that it was a rather large coincidence that I just put this article together as he had written to Alec GD3HQR only last year and received a reply letting back letting him know that he had passed on.
He was feeling reminiscent at the time and wanted to let him know how very instrumental he was in encouraging his ham radio career. He was an 11 year old short wave listener at the time and Alec was the very first QSL card in his collection, a double-size full-colour picture of Isle of Man.
He was so thrilled and never forgot it! He states that Amateur Radio has been a really major part of my life ever since.
I would just like to add a personal 'Thanks' to Roger for the nice e-mail and the memories of Alec, he certainly sounded like a really nice chap and a great Radio Ham.
Thanks for the information Mike (GD4BEG) and Nigel (G3TXF), it was very much appreciated.
I will one day open all the sealed envelopes and look through the rest of this scrapbook, but it may take a few years to get around too, just too busy at the moment.
As a final Thanks, and I really do mean a BIG Thank You to those that have given up there time to help me out with these photos:
Douglas Dodd (GD3RFK)
Mike Farrent (GD4BEG)
Ralph Furness (GD4IHC)
Mike Jones (GD4WBY)
Arthur Radcliffe (GD3FXN)
Richard Rimmer (GD3YEO)
Holger Wendt (DL7SP)
Roger Western (G3SXW)