Eddystone Radio Downloads
As with most of these old radios nowadays, I have often had a bit of a problem locating information on them to help in the restoration of these beautiful old receivers, more often than not I have had to download a document from one siet, and another from another site to just find what is needed.
I have also noticed that quite. afew of the older sites that I used to find useful have now gone for good.
For this reason I thought that I would create another page to house my Eddystone Radio Downloads in the hope that it is another resource that will hopefully stay up and allow anyone needing a manual to be able to download it.
I hope that you find something useful here.
Check out some other useful pages on my site.
Eddystone Type EA12 High Stability Amateur Radio Communications Receiver
Eddystone Type EB35 Mark 1 AM/FM Receiver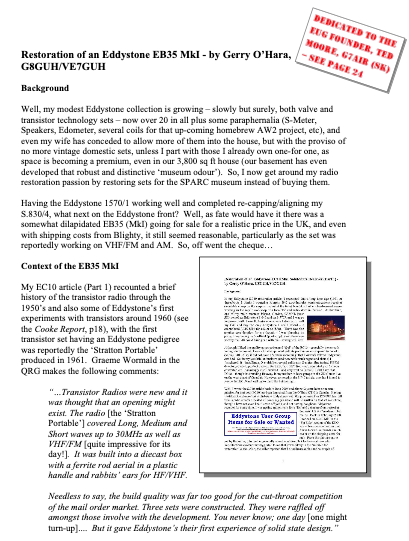 5.25 MB 0 downloads
Eddystone Type EB35 Mark 2 AM/FM Receiver
Eddystone Type EB35 Mark 3 AM/FM Receiver
Eddystone Type EB36 Broadcast Receiver
Eddystone Type EB36A Broadcast Receiver
Eddystone Type EB37 Broadcast Receiver
Eddystone Type EC10 Communications Receiver
Eddystone Type EC10 Mark 1 Communications Receiver
Eddystone Type EC10 Mark 2 Communications Receiver
Eddystone Type EC10A2 Communications Receiver
Eddystone Type EC659 Receiver
Eddystone Type EC670 Receiver
Eddystone Type EC958 High Stability General Coverage Receiver
Eddystone Type EC958/3-CAN High Stability General Coverage Receiver
Eddystone Type EC958/5 "Nebula" General Purpose SSB Receiver

Eddystone Type EC958/7 High Stability Communications Receiver
Eddystone Type EC964 Multi-Channel Crystal Controlled Receiver
Eddystone Type EC964/7 Single Channel HF/MF SSB Receiver
Eddystone Type EC1680/2 Seven Channel Receiver
Eddystone Type ECR Communications Receiver
Eddystone

Type EP14 Panoramic Display Unit
Eddystone

Type EP15 Panoramic Display Unit
Eddystone

Type EP17R Panoramic Display Unit
Eddystone

Type EP20 Panoramic Display Unit
Eddystone

Type EP961 Mark 2 Panoramic Display Unit
Eddystone

Type EP1061A Panoramic Display Unit
Eddystone

Type EP1061B Panoramic Display Unit
Eddystone Type LP3382 Active Aerial
Eddystone Type R101 C Receiver