There is a very kind friend of minewho has been very good to me in the past, We have had many a laugh and he is one of those chaps that you can listern to for ages and learn so much from.
Ages ago I sold him my Drake equipment, which not only did he take incredible care of it, but he also added a lot of items to it and he managed to clean up all the units and take care of each one of them.
Sadly due to medical problems he has decided to pass them onto me, and on one side I am beaming from ear to ear, but on the other side I am feeling a bit low for him, Amateur Radio has been a big part of his life, and to part with such beautiful equipment has to be hard, I hope that he knows that I will care and look after it.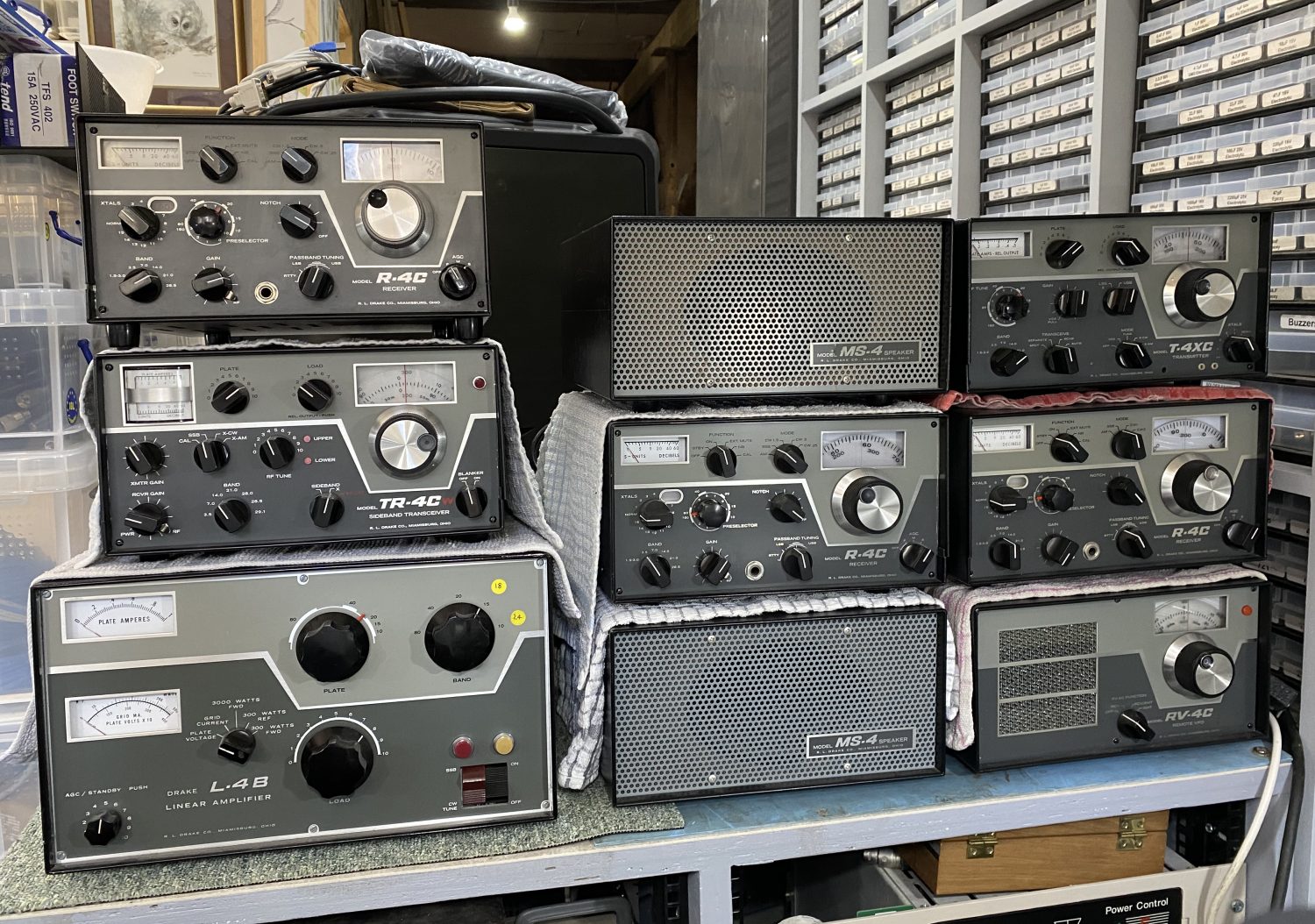 If this was just standard Drake kit here, this would still be a fantastic collection of old Amateur Radio equipment, but every bit of kit has been thoroughly gone through, all new vacuum tubes installed and all tested and working, and then….
There is the Rarity in the pack, a truly lovely piece of kit.
The Drake R-4C Sherwood Receiver.
You take an already great receiver, at let the guys at Sherwood add a load of Steroids to it, and you end up with a a masterpiece that stands above most present radio's even today.
This is a Rob Sherwood Factory fitted Receiver and not a radio that has kit parts fitted, every part of this receiver has been tuned to perfection.
I am so honoured to own this receiver, and never thought I would even see one in my lifetime, even in the USA these are dam rare, and understandable so.
But it's not just the collection of mint to nearly mint Amateur Radio equipment that I have acquired, it's everything else that I am so grateful for,.
So many spare valves.
Brand new from Drake shells.
And boxes and boxes of parts, from knobs to crystals, VTO's to Inductors, and so much hardware, either salvaged from other drake equipment or brand new parts like spare dials and front panels, even a complete chassis that is waiting for a Restoration job to be finishd.
It will take me months to catalogue all the parts, I am ever go grateful for the chance to look after this equipment, now I just need to finish the Radio Shack so that they can do what they were made for… 
Thank you so much old friend for letting me have these
Your kindness will never be forgotten.