HARI 160m-10m Windom Antenna
I have wanted a Windom for ages now and if fitness was normal I would have just ordered a good sized Balun and got some wire from Yesss Electrical and just made one, certainly more fun and enjoyable to boot.
But, Still pretty much knackered and very much chair bound most of the day, so would need to order one.
Problem #1 – Locating  Something of Quality.
I have a 'Ticks' that I wanted to make sure that I met, they were:
High Wattage Balun.
Strong Wires.
In-Stock!
High Wattage Balun.
Although we are limited to 400W in the UK unlike those great European Italian friends who seem to like at least 1KW before breakfast, and as I do not have the ability to use more than what the Elecraft K3 will put out which is 100W, I have the the thoughts that if it was made for 1000W or even 3000W, then the build quality will hopefully mean that it will last a long time. And some of the Baluns sold in the UK that are rated at 300W are a total joke! I have taken enough apart to know that if it states 300W it should really ready 100W at a push.
Strong Wires.
I do not havwe the luxury of being able to mount any antennas onto sturdy metal posts or masts at this moment in time, and therefore, especially with an antenna of this length I am having to use trees, which are great and very tall, but for some reason unknown to me they seem to move around when windy…
So, Just in case I have miss judged the slackness in the wires, I do not want them to snap for at least a year or two, and hopefully never, My 80m Homemade Dipole has been up now since 2008 and besides the odd snap in the rope going through the the trees, the  antenna itself has been great. But again its a quality thing, High Power Antennas cost more because they use better quality components.
In-Stock.
I thought that Wire Antenna would not be a real problem to get hold of but it seems all the big suppliers in the UK had no stock of what I wanted. Some had 80m-10m Windoms, but were 300W versions, others had Trapped Dipoles which I have used in the past and found to be really good, but I wanted a Windom and was stuck on the idea.
Wimo.de
In the end I had to order from Wimo.de in Germany, and even though I did not find the one that I really wanted, I did find one that would tick all the boxes, So quickly ordered, and yes it took over a week to arrive via DHL, but delivery for this was a lot cheaper than local suppliers so I think I will be using them again.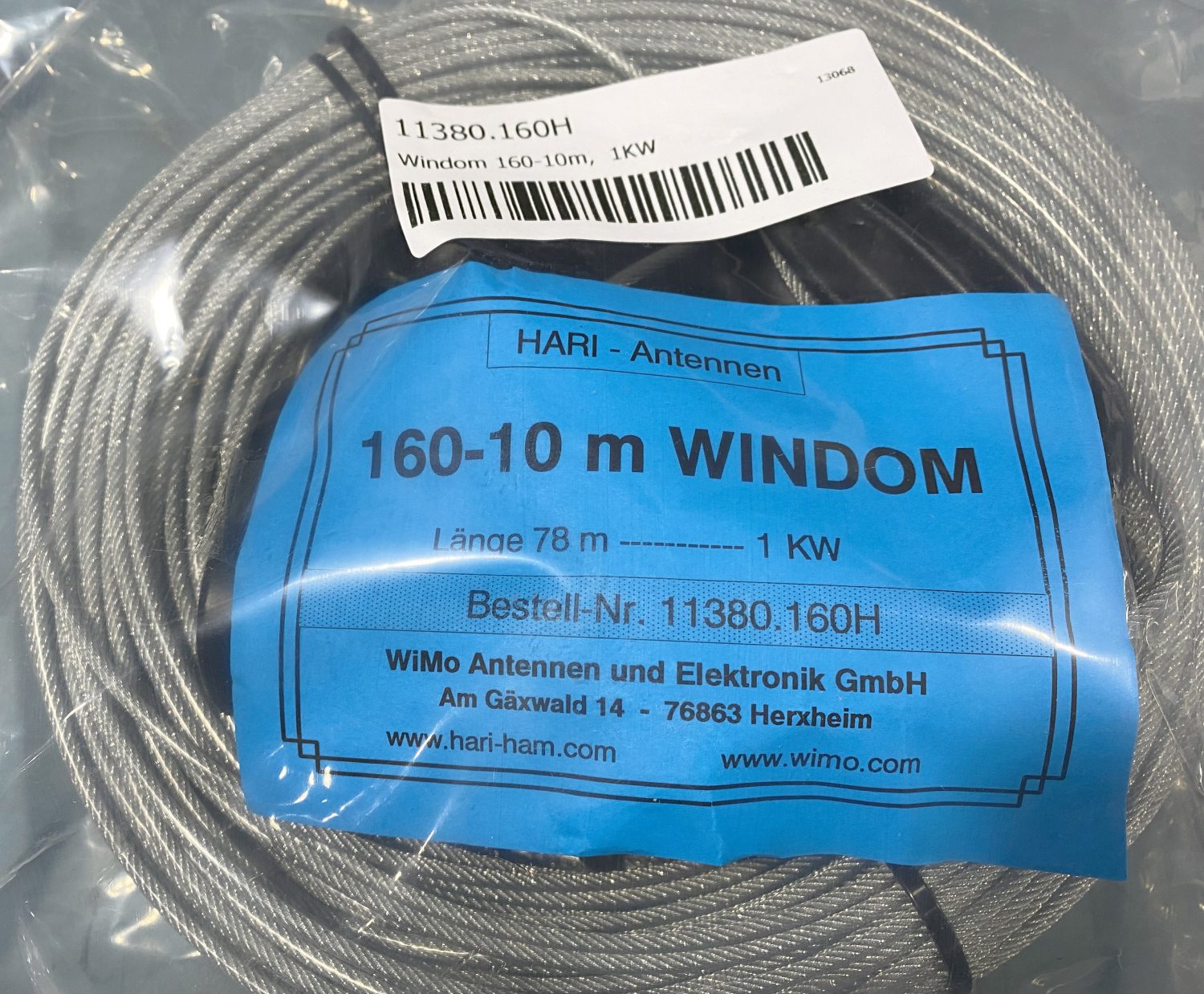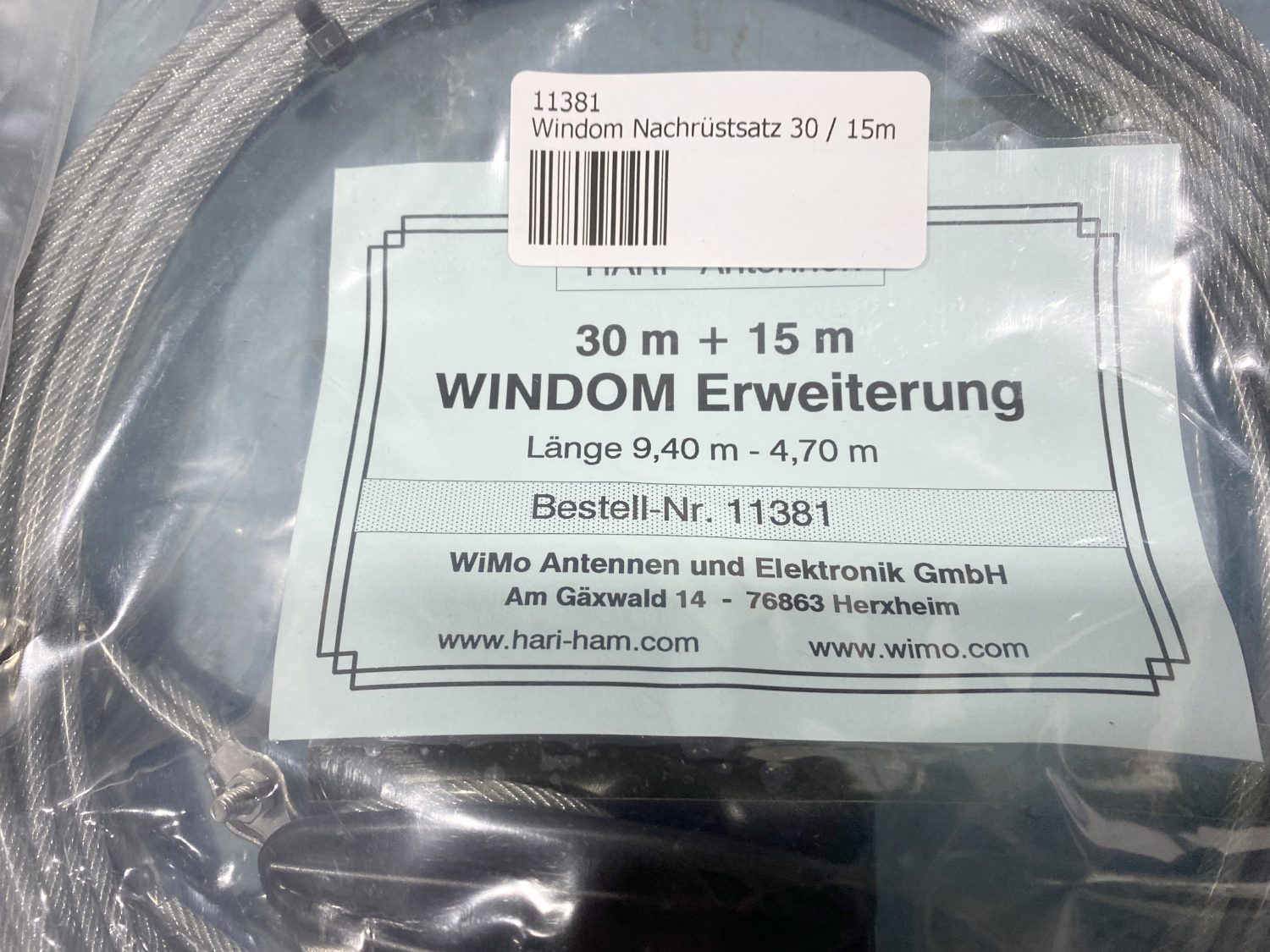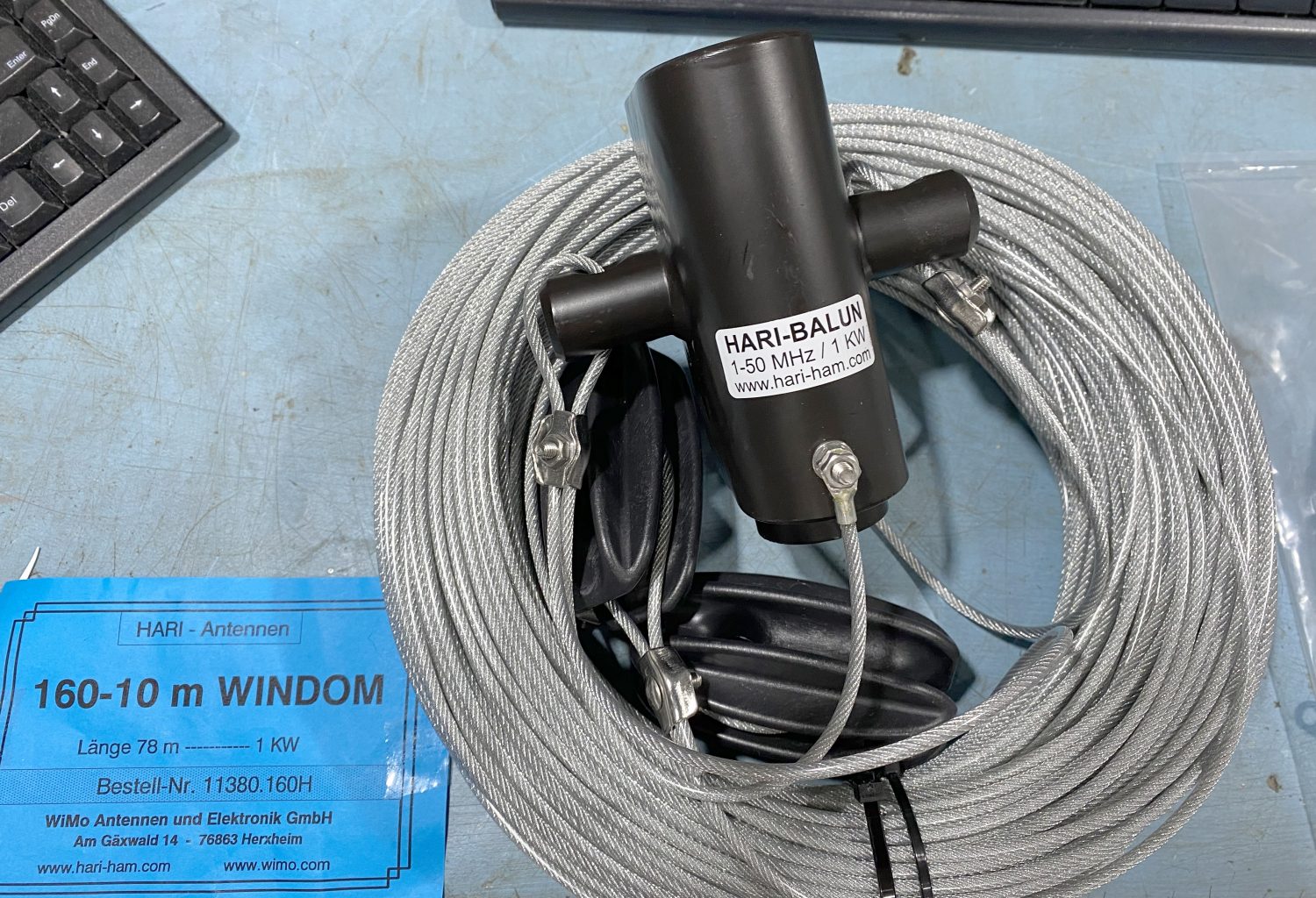 The Wire used is Multi-stand Wire of some sort and wrapped up in a see-through nylon coating.
The only small gripe that I have here was the lack of washers, but this is only a minor gripe and can be forgiven.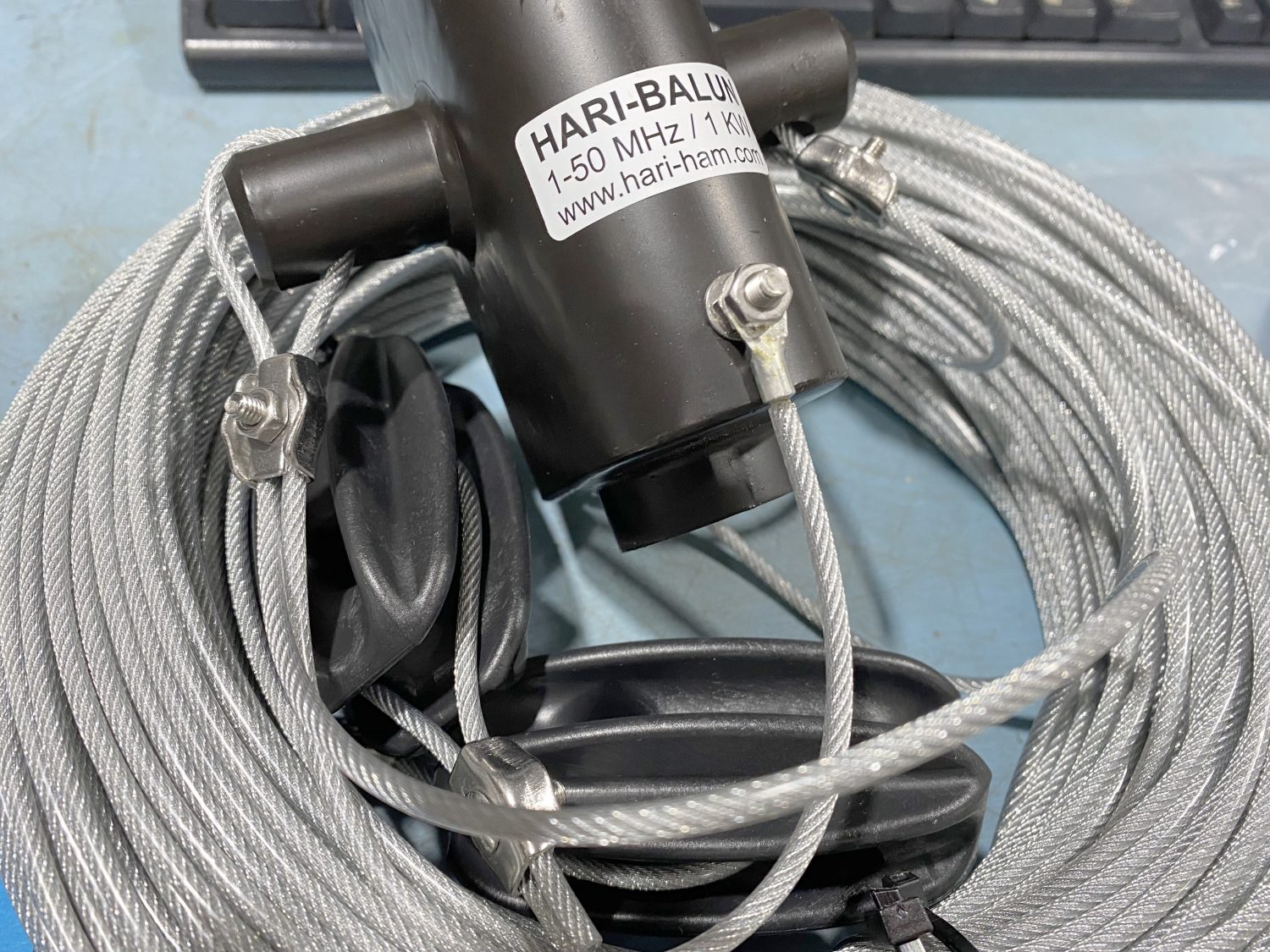 All of the parts used here are top notch and well thought-out, well except for a minor issue I came across with the ad-on kit which I will point out later.
I like the recessed SO-239 Connector, but it used to be a real pin when you used poor quality cheap PL-259's that we have all used in the past,  but thankfully the new Messi and Paoloni Connectors are not only build like a tank but they have a nice hex head built in to the bottom of the threaded part that you screw on to the HARI 4:1 balun and just by luck it sticks out just below the skirt on the HARI 4:1 balun meaning that it can be tightened up really easily and hopefully undone years later if needed.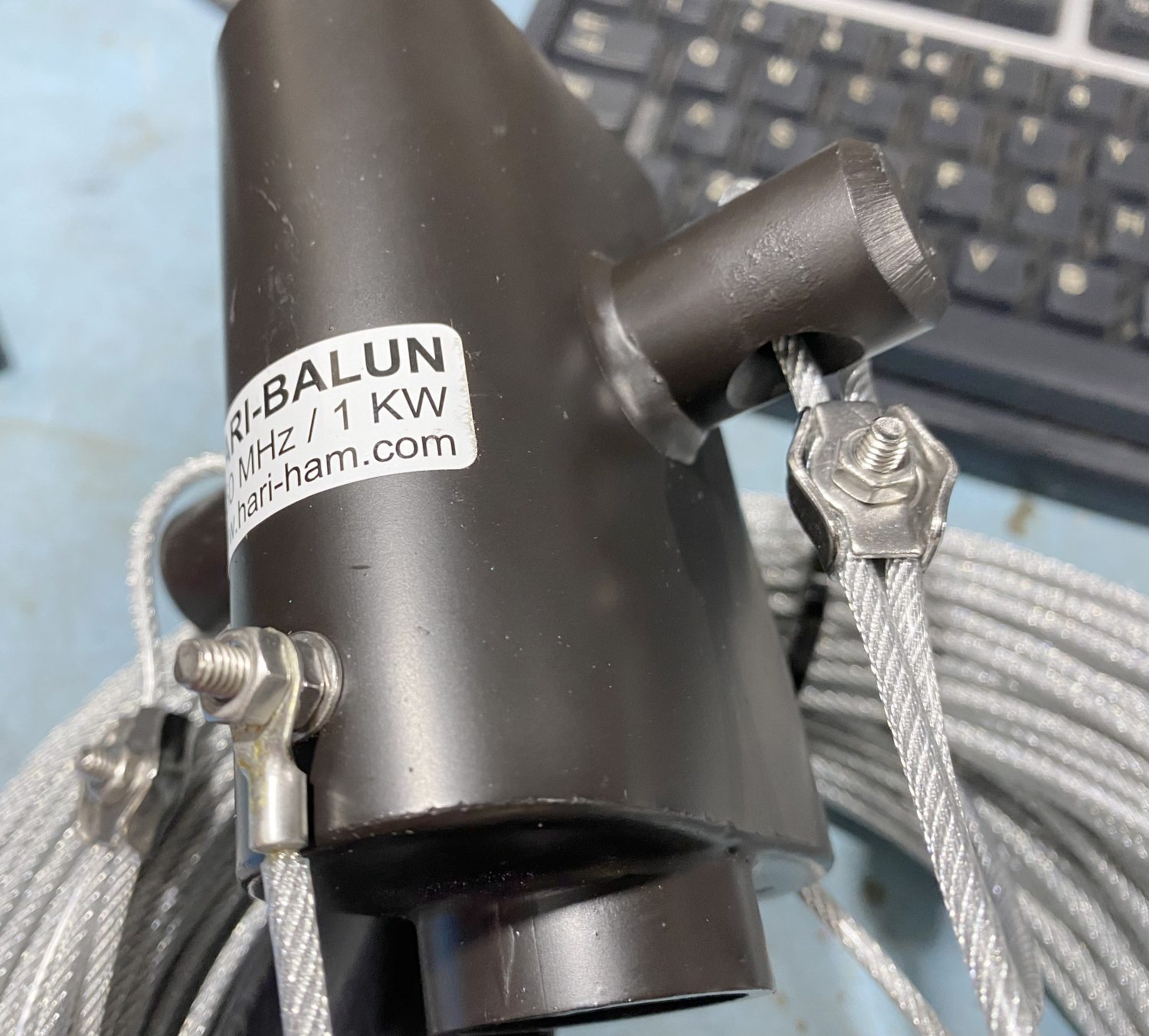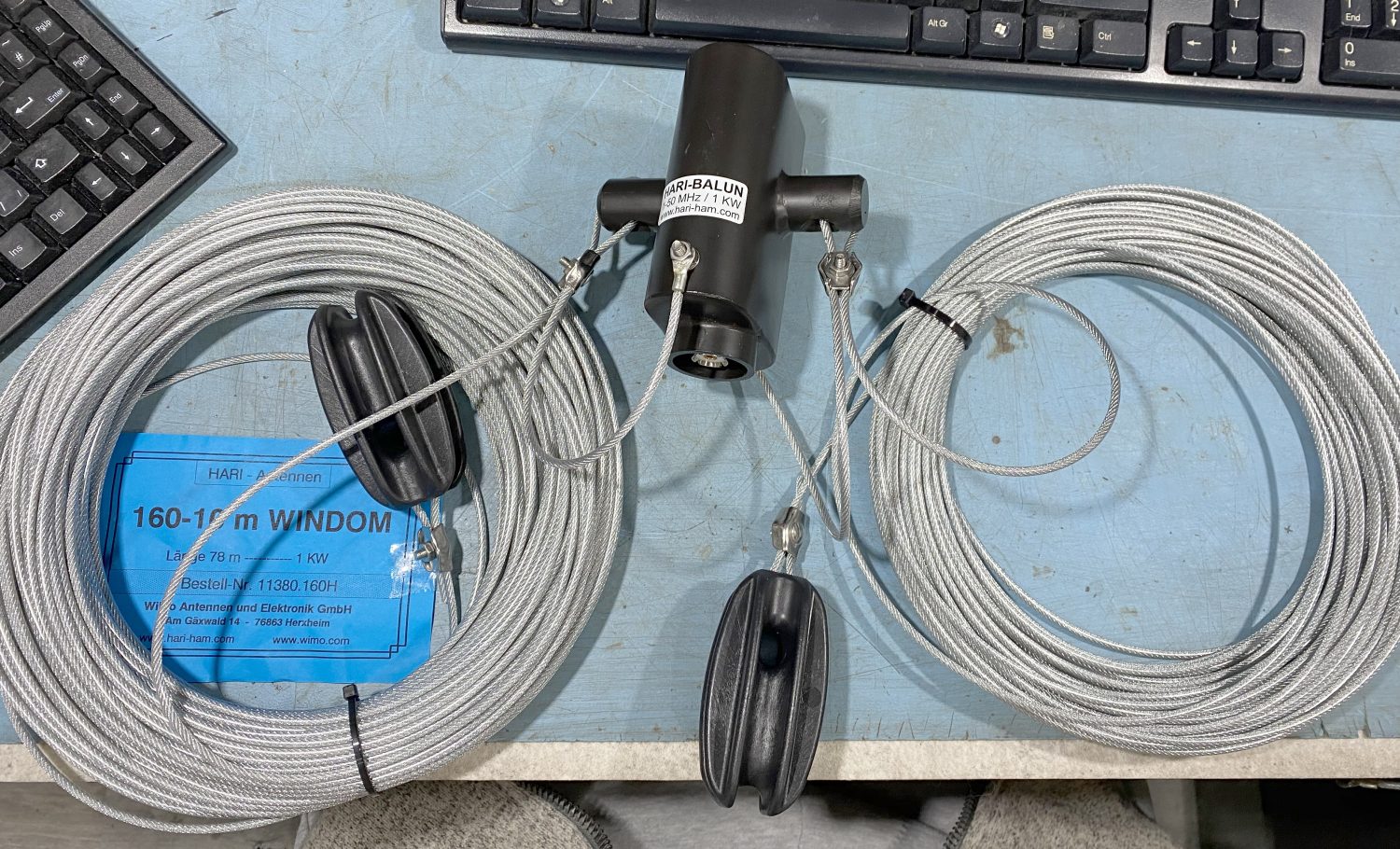 I quickly noticed that the Add-on Kit which is supplied with the same crimped end that is used in the antenna's build, but as it is crimped, it will not pass through the hole that is used to take up the strain for the main wires.
You do not get any documentation for this antenna, not that any is needed, and it is straight forward to work out, the Windom is a 'Off Center Fed' Antenna, meaning that it has a long and a short side.
The HARI 30m & 15m Add-on kit also comes with two neatly coiled lengths of wire, one does look a lot longer than the other.
All you need to do is make sure that the Short side of the HARI 160m Windom Antenna is matched with the shorter length of the HAR 30m & 15m Add-on Kit.
Use a little common sense here and it will sort itself out.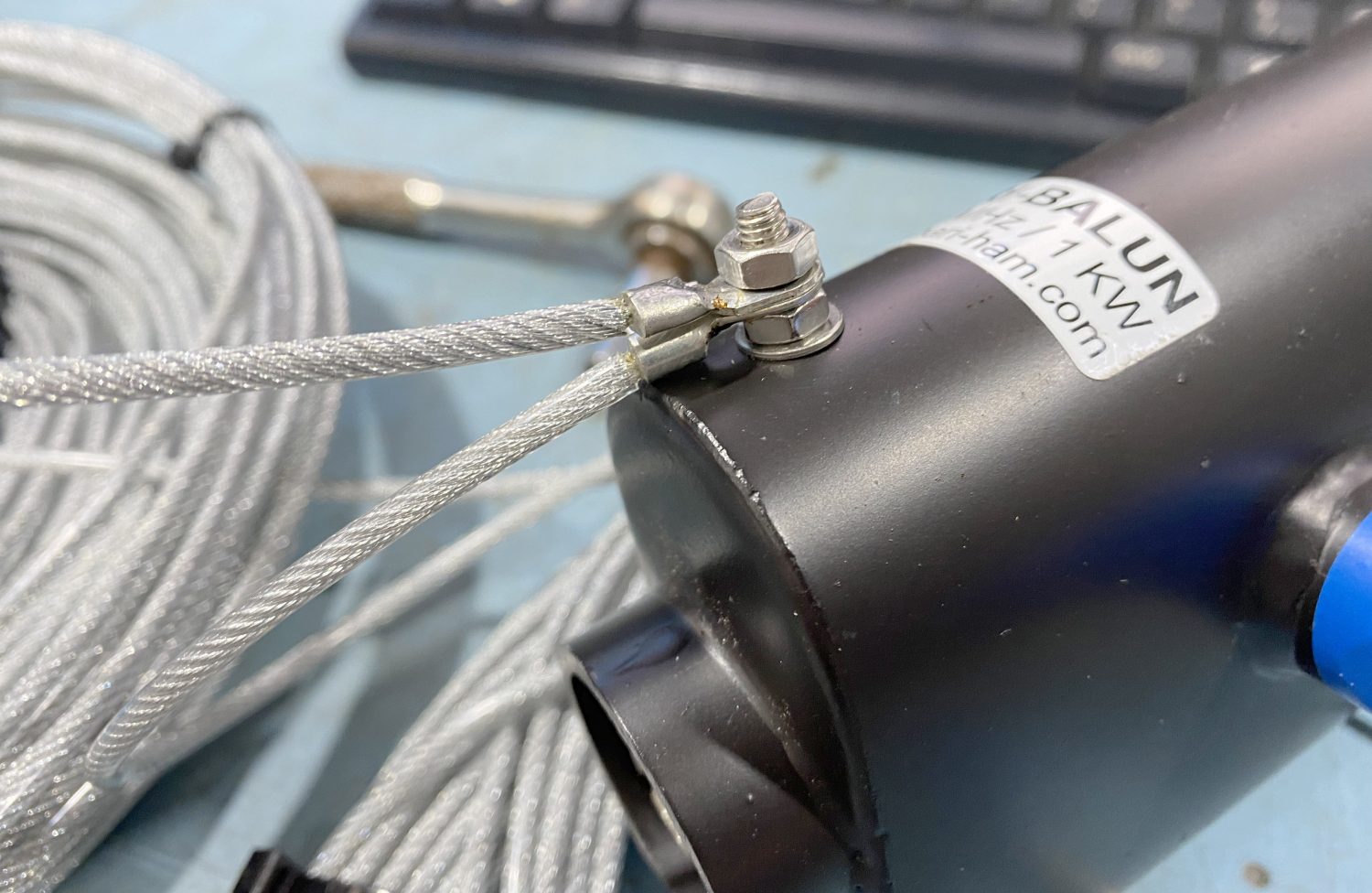 If this is something other than a 1 day Antenna for a Field Event or DXpedition you may not feel the need to tape up the connections.
But I am hoping that this will be up for at least a few years to out live me.
I would normally add a good reel or two of good quality "Self Amalgamating Rubber Repair" Tape to use it by it's full name, that said I could not locate any so I chose the second best for me which was Electrical Tape.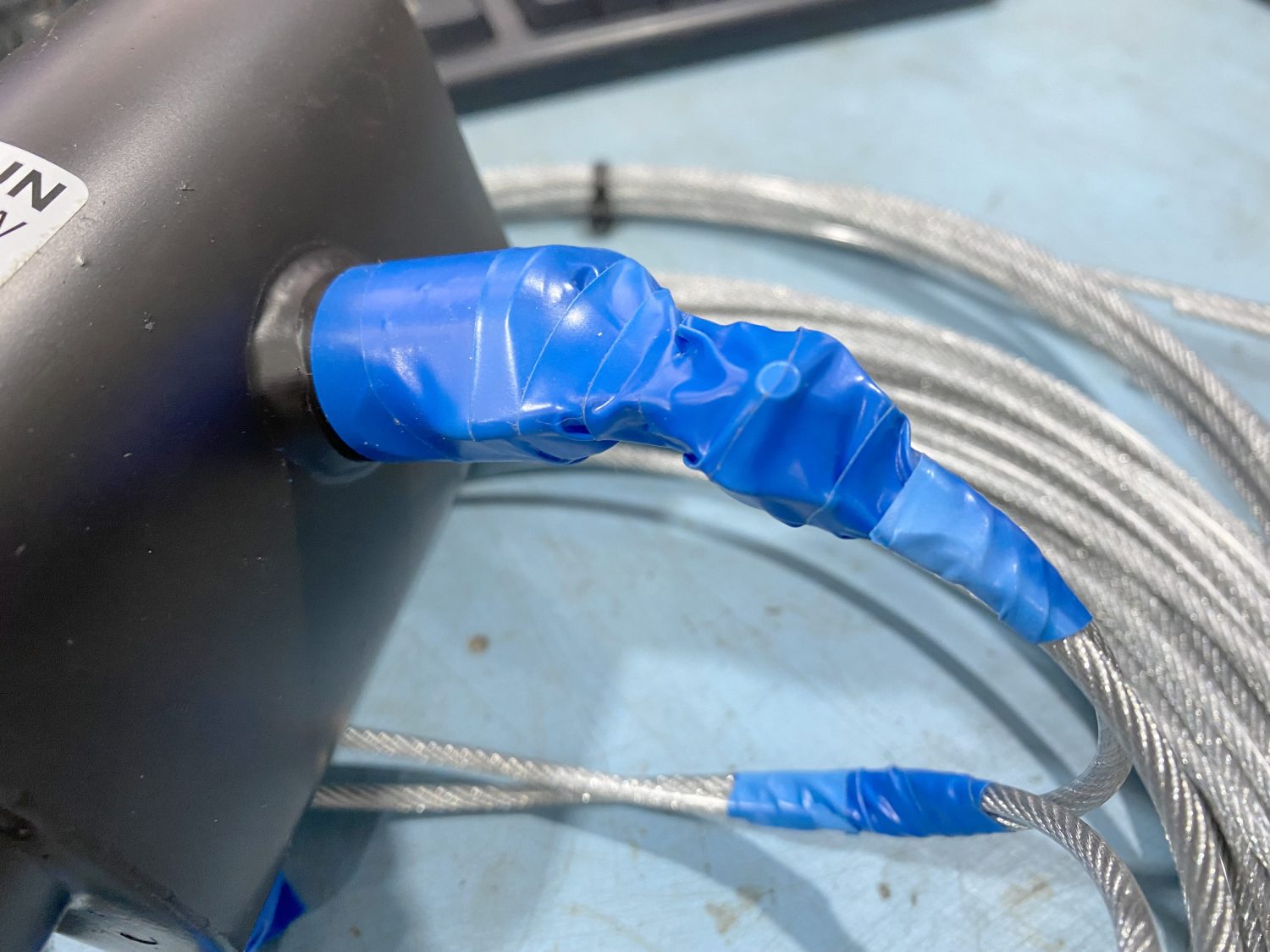 It offers a bit of protection.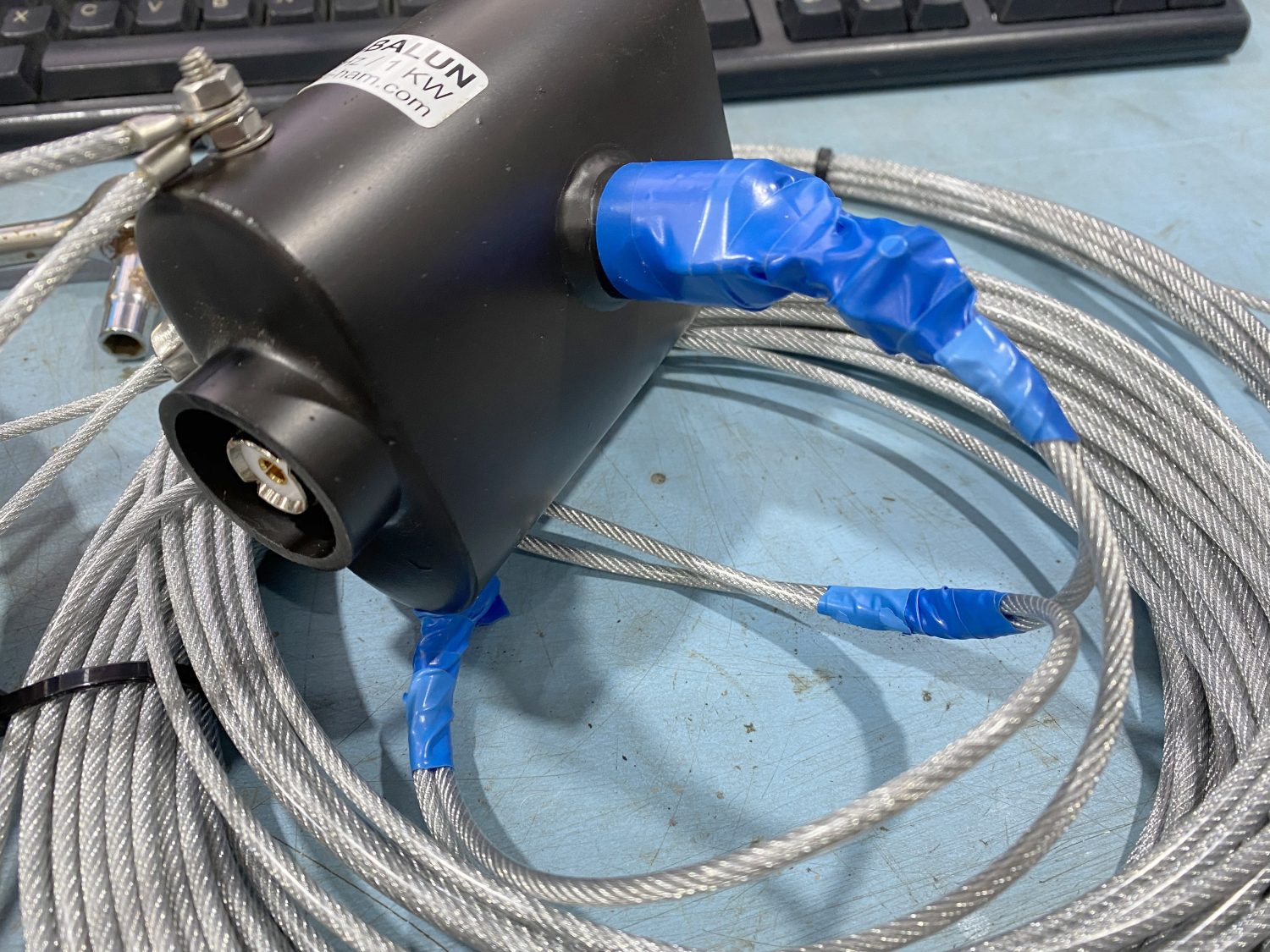 Being that the Add-on kit is connected directly to the HARI 4:1 Balun it does therefore not have any real strain relief and the elements are basically pulling on the connections to the balun itself so I have tried to offer it a small amount of support by using Electrical tape which I know will not last a week, but as they are smaller elements I am also hoping that the wind will not apply as much stress to the connections as the longer elements would.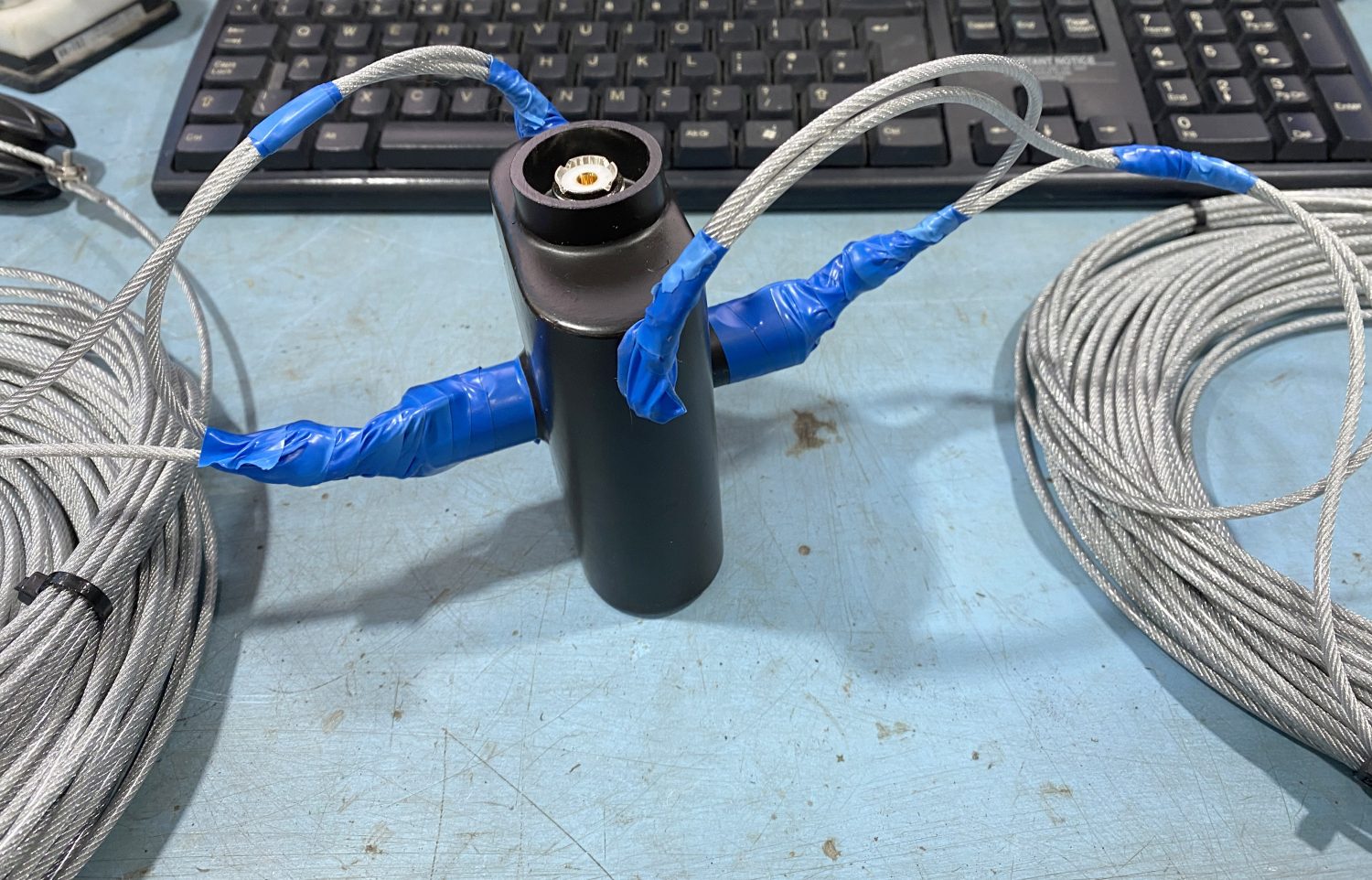 There is another rather annoying bit which does gripe me when using any HARI balun, and that is that there is no eyelet in the top of the Balun to help you support it, so it will always dip down a little in the middle which is a tad annoying if you want to mount the antenna on a scaffold pole as I do, I just wish that they would just either add a big loop in the moulding process or fit an eyelet to the top of the Balun for such needs.
I will just carefully tie a small rope carefully around the side parts and raise it up the pole, it is not pretty but it will do the job.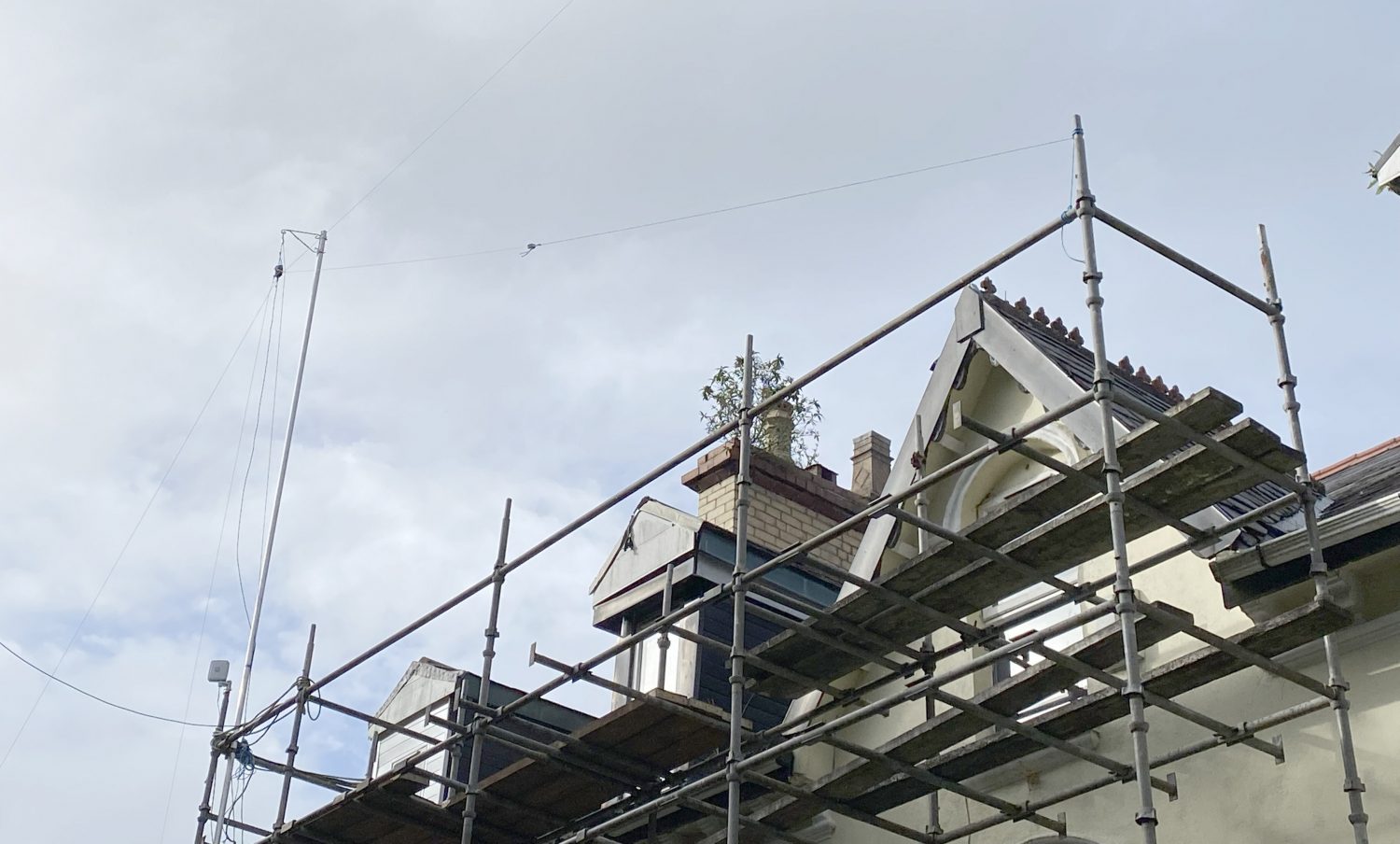 It is good that we have the odd amount of scaffolding at the house, especially or wire antennas, the likes of the SteppIR, Hygain TH-11DX or even the Big Mosley Pro-67-C3 will have to wait till I am fitter and the installation of the Masts has been completed which will not happen whilst I am in this condition.
For the testing I am going to use the preferred AIM-4300 from Array Solutions and also just to check and compare the AA-600 from Rig Expert.
Please 'Click' on the Images to see the full file.
Notes on the way that the plots look.
The Plot from the Rig Expert certainly looks a lot better than the Array Solutions unit, but to be fair I could have improved the way that AIM-4300 Plot looked but was too late after I had already started taking screen shots.
The Array Solutions AIM-4300 is so much more than an Antenna Analyser, and has so many more features than the Rig Expert AA-600 Analyser.
In Fact the The Array Solutions Analyser, although this model is no longer made, the units from Array Solutions are just simply the very best that you can find that are affordable, and are way more advanced than the NanoVNA's that seem to be flooding the market of late.
My Thoughts here on the HARI 160m to 10m Windom Antenna.
Ok Build quality is great, and the wire is certainly better than what a lot of companies use and hopefully strong enough to handle the rough weather that we get in the middle of the Irish Sea.
But on Testing the Antenna once it was up I am pretty blown away.
It is a wire antenna that means you expect a few compromises, but the SWR within the HF Bands are actually good enough to use even without a tuner, and yes there are few heading north of 2:1 and you reaslly would not want to use any of those frequencies without a tuner.
It is always a good Idea to get to 1.0:1 or as near as dam it so save yourself from burning out the rear end of your costly transceiver.
So Build quality is Good, SWR on the Bands is OK to Good, I was not expecting it to work on 60m or 6m, and I will of course try them out with a Tuner but I am not expecting greatness.
But as far as this antenna goes for me, I would certainly recommend it and say that as far as I am concerned, if you have the room, then it is worth getting one. No Wire antenna is perfect, and yes single band dipoles can be a lot better with regards to low SWR, but they are an even bigger compromise with other Bands, I did think about a W3DZZ Trapped Dipole, but have used them in the past and they have been great, and for 3 Bands you get low SWR from a good antenna, but out of the bands that it was made for you can basically forget it as wwe are back to that word again 'Compromises'.
Marks out of 10, 8 and Happy…